There are many types of roofing these days. Due to its excellent advantages, such as a variety of thicknesses, colors and easy construction, metal roofing material is very common.
Today, let's go with Cunmac deeper to understand the 3 most common metal roofing materials and find a suitable roll forming machine.
Standing Seam/ Seamlock



The standing seam looks terrific. And it can handle a wide range of conditions well. Proper ventilation and an air gap between the roof and the decking must be carefully designed, however… a properly installed seam lock roof will last for several decades.
While tin was once made for this form of roofing, today's metal roofing is specially painted steel. That makes it last even longer than that.
Corrugated metal roofing
Corrugated metal roofing sheet is one of the common and less costly metal roofing materials. With the new paints and finishes available, it may be a fantastic-looking roof.
It can also potentially last for decades, although even a perfectly installed corrugated roof will typically not last as long as a standing seam roof is perfectly installed.
The corrugated iron coil is designed into rolls, 1200mm flat, is put into the corrugated roll forming machine
Corrugated metal roofing panel is commonly used for roofing in a wide range of applications include:
Household constructionssuch as houses, kiosks, shops, restaurants, etc,…;

Industrial workshops such as warehouses, factories, offices, …;

Public buildings such as hospitals, clinics, schools, commissars, departments, theater or amusement parks.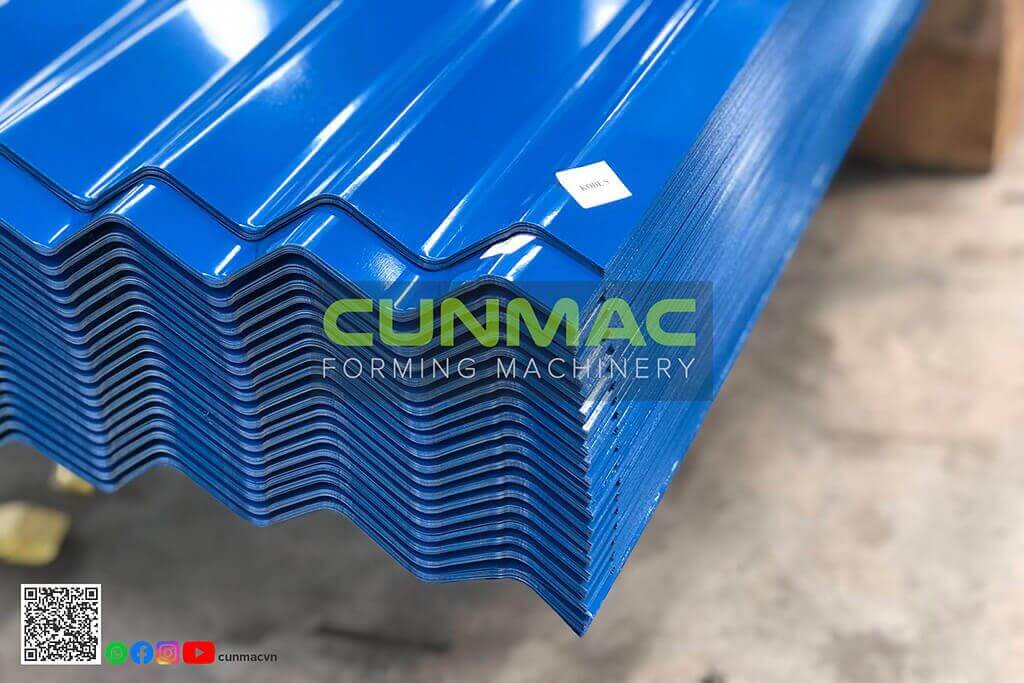 Cunmac is a global corrugated roofing machine manufacturer from Vietnam
Outstanding advantages of corrugated metal roofing sheet:
After rolling, the useful gauge when roofing with 1 wave is 1000mm, making it easy to calculate the number of sheets and the length.

The circular wave design helps the corrugated iron cross-section in contact with rainwater low, so it reduces noise perfectly and is well insulated.

Zinc, cold and colored corrugated iron are all rolled around corrugated iron

The average thickness of corrugated iron from 0.30mm (3 dem) to 0.50mm (5 dem) helps people have many choices for many different uses.

Specification, cutting length as required
Read more Cunmac corrugated roofing roll forming machine
Metal tile roofing material
For all metal roofs (other than bad installation problems), the main complaint is NOISE. Because rain can produce far more noise than most people would imagine.
On the other hand a metal roof, many people still enjoy the sound of rain for the strength of this roofing material is undeniable.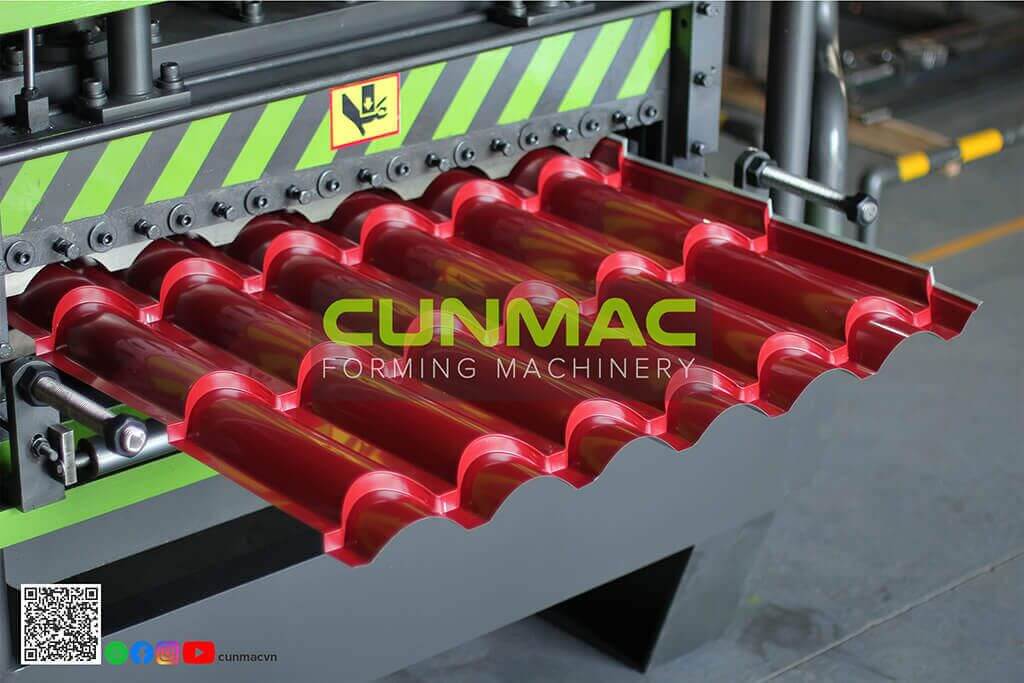 Read more Cunmac tile roofing roll forming machine
All Cunmac machines are professionally and reasonably made in Vietnam for a variety of metal roofing materials. Our goal is to provide flexible machines with the best quality and customized designs that give customers unique benefits and experiences.
Consult from an expert NOW:
Whatsapp: +84 981 402 902
Mail: cs@cunmac.com
Factory: 331, Lien Huyen street, Thuan An district, Binh Duong province, Vietnam