Laminated PE foam roll forming machine, including standard roll forming machine and OPP machine, produces PE foam roof panels with effective heat insulation.
About polyethylene foam roofing sheet (PE foam roof panel)
Polyethylene foam roofing sheet is a material covered with a layer of PE-OPP. That can protect the roof from moisture, absorbs shocks, reduces noise, retains heat, and is highly flexible. 
PE foam panels are commonly used in different constructions: household buildings, commercial buildings or industrial buildings. Laminated PE foam sheet is an ideal and cost-effective solution for weather resistance, particularly in the face of global warming challenges today.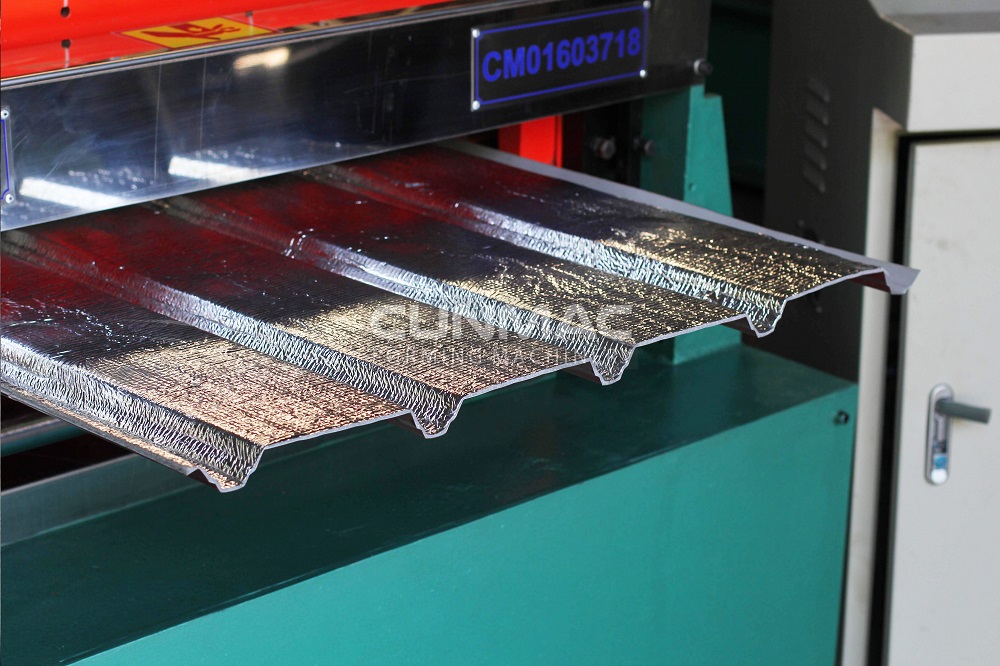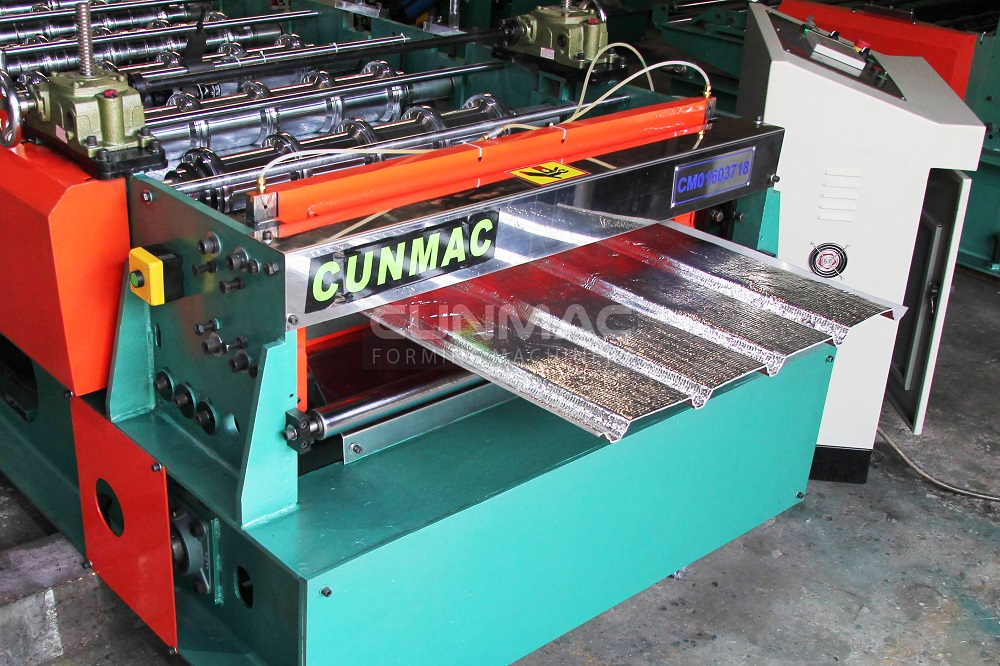 Laminated PE foam roll forming machine, including standard roll forming machine and OPP machine, produces metal PE foam roof panels by forming shapes of metal sheets then automatically glued to foamed PE insulating layer during the roll forming process. The PE foam layer fits perfectly with the roofing sheets.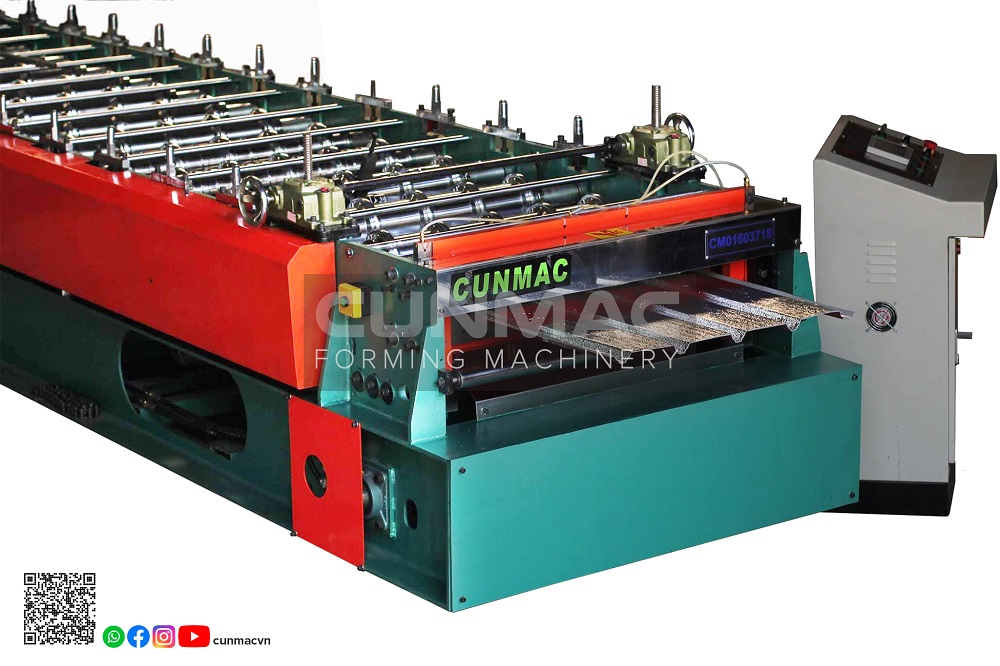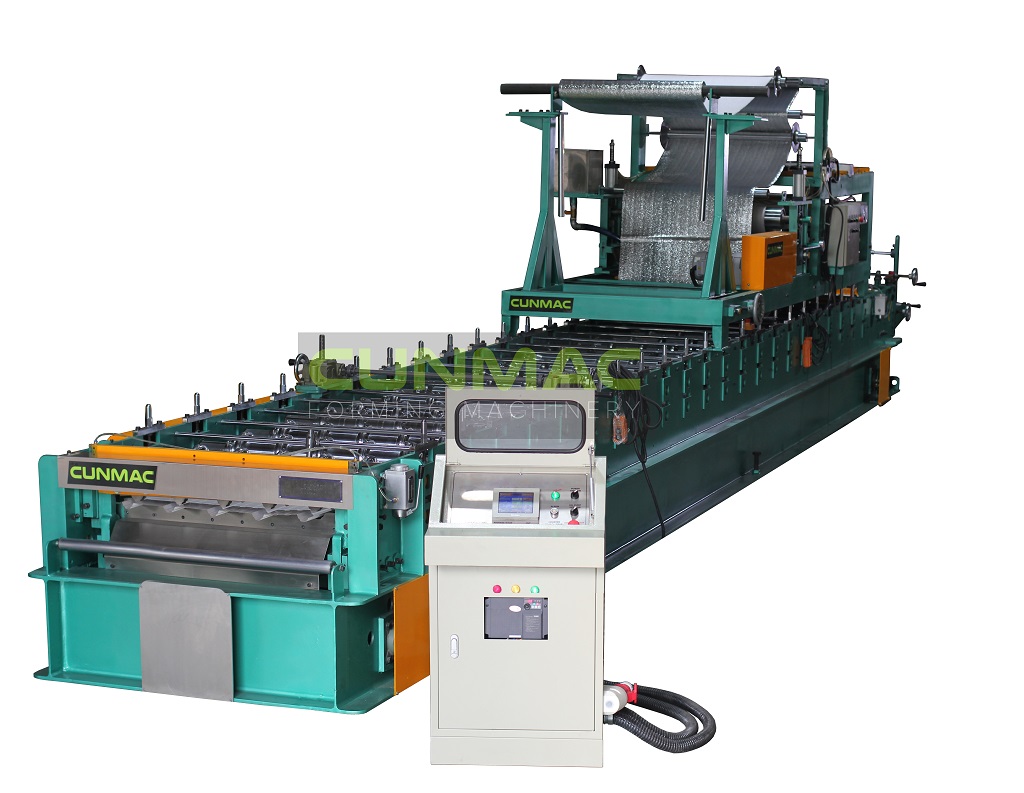 Combined standard roll forming machine and OPP machine: ideal for customers seeking to optimize factory space utilization.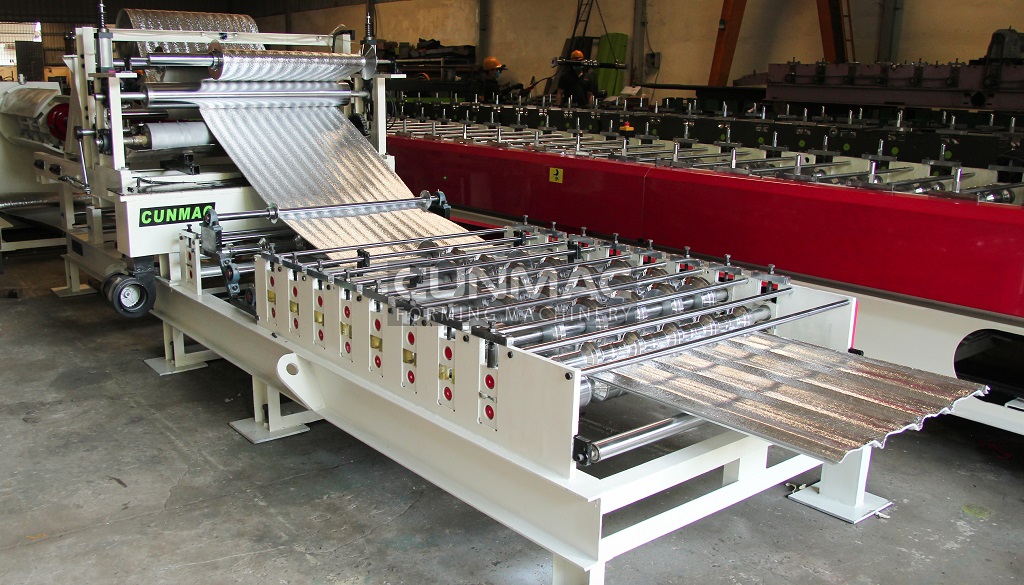 The separate PE-OPP machine: perfect for customers looking to enhance existing roll forming machines with PE insulation.
CUNMAC laminated PE foam roll forming machine is fully automatic and is easy to operate with a friendly HMI panel, consists of one decoiler, sheet guiding equipment, roll forming section, PLC control system, hydraulic cutting. Their main advantages are beautifully customized designs, easy and stable operation with a strong body frame, and reasonable price.
Read more: Standard roofing roll forming machine
SPECIFICATIONS & EQUIPMENT
Automatic roll forming and cutting with Inverter, PLC, HMI

Automatic programmable length settings via the touch panel

Roller and blade are fabricated from alloy and SKD11 steel 60-62HRC

Electrical and hydraulic components made from Japan, Germany

Save history for orders in 30 days

Customize design

Stable operation with strong power and body frame
STANDARD roofing roll forming machine with OPP machine
SPECIFICATION
 Items
Details

Total power

7.5kW

Total weight

11 tons

Dimension (LxHxW)

11×2.2×1.8m

Station quantity

18 – 21 stations

Thickness of material

0.15 – 0.7mm (G300-G550)

Thickness of PE

5-9mm (depending on request of customer)

Material width

914; 1200; 1219; 1450mm

Speed

Without PE: 18 – 22m/min

With PE: 12 – 16m/min

Tolerance of lengths

±2mm/6000mm

Frame material

I beam 400mm

Control system

Automatic with Inverter, PLC, HMI, hydraulic

Cutting system

Hydraulic cylinder (rear & front cutting)

Transmission system

Hydraulic motor

Heating fan

Controlled
EQUIPMENT
 Items
Details
PLC (CPU)
SIEMENS (Germany)
Touch panel (HMI)
SCHNEIDER (Japan)
Electric motor
HITACHI/TOSHIBA (Japan)
Encoder, relay
OMRON (Japan)
Inverter
MITSUBISHI (Japan)
Hydraulic components
YUKEN (Japan)
Bearing
KG (Taiwan)
CB/MCCB
FUJI (Japan)
Cunmac proudly provides Laminated pe foam roll forming machine in domestic and international markets including Asia, Australia, Middle East, Africa, America.
All Cunmac machines are professionally and reasonably made in Vietnam, our goal is to provide flexible machines with the best quality and customized designs which give customers unique benefits and experiences.