What is a Kliplock roll forming machine?
Kliplock/Klip-lok roll forming machine is also called Kliplock profile/Cliplock/Cliplock roofing sheet roll forming machine, which can produce corrugated Kliplock roof and wall cladding profile by forming metal sheets.
There are some popular types of kliplock roofing profile such as kliplok 700 and kliplok 406 with the nominal cover width 700mm and 406mm respectively.
Kliplock cladding is ideally suited to low pitched and flat roofs as well as vertical and horizontal ribbed walling. This roofing sheet is also lighter and stronger thanks to its materials of high yield steel or aluminum. Kliplock roofs are ideal for anyone looking for an easy-to-install, cost-effective and long lifespan material.
Kliplock roll forming machine is fully automatic and is easy to operate with a friendly HMI panel, consists of one decoiler, sheet guiding equipment, roll forming section, PLC control system, hydraulic cutting. Their main advantages are beautifully customized designs, easy and stable operation with a strong body frame, and reasonable price.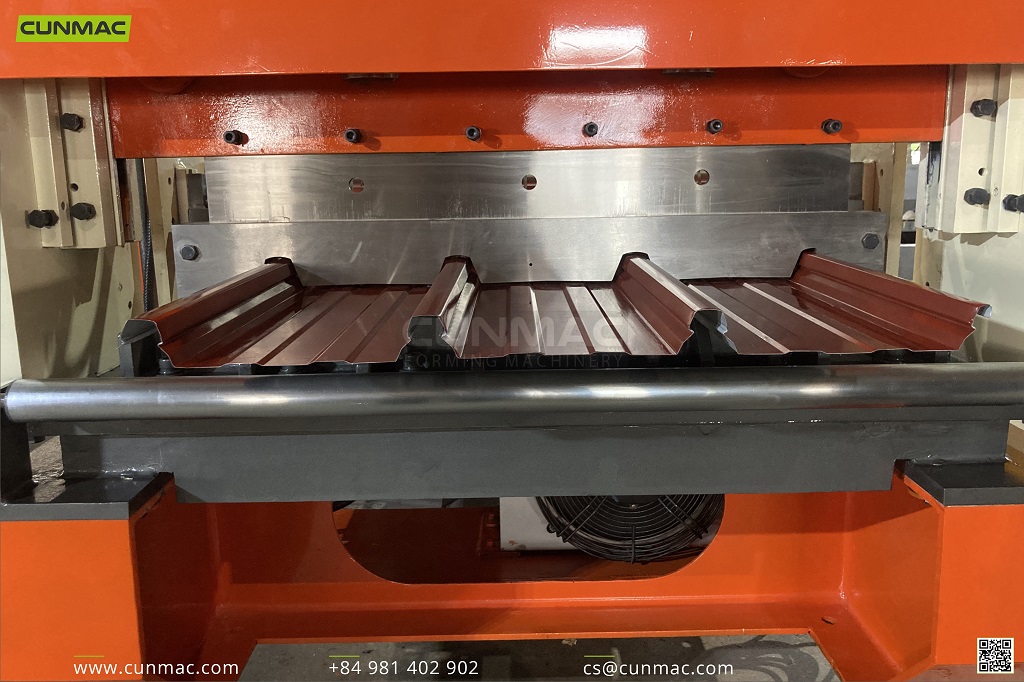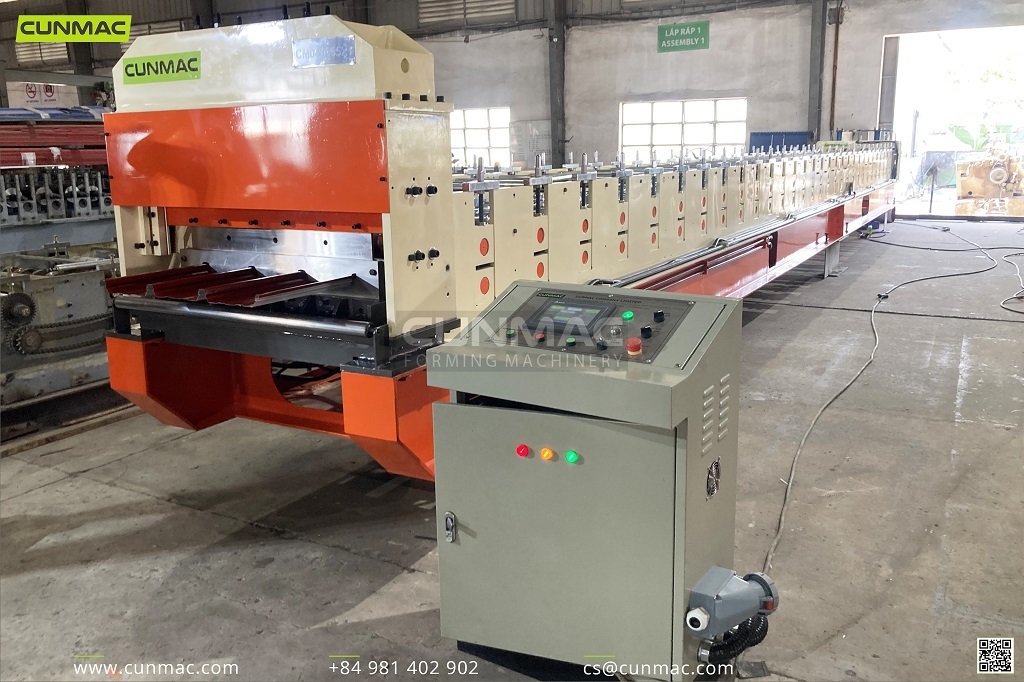 Kliplock roll forming machine

SPECIFICATIONS & EQUIPMENT
Automatic roll forming and cutting with Inverter, PLC, HMI

Automatic programmable length settings via the touch panel

Roller and blade are fabricated from alloy and SKD11 steel 60-62HRC

Electrical and hydraulic components made from Japan, Germany

Save history for orders in 30 days

Customize design

Stable operation with strong power and body frame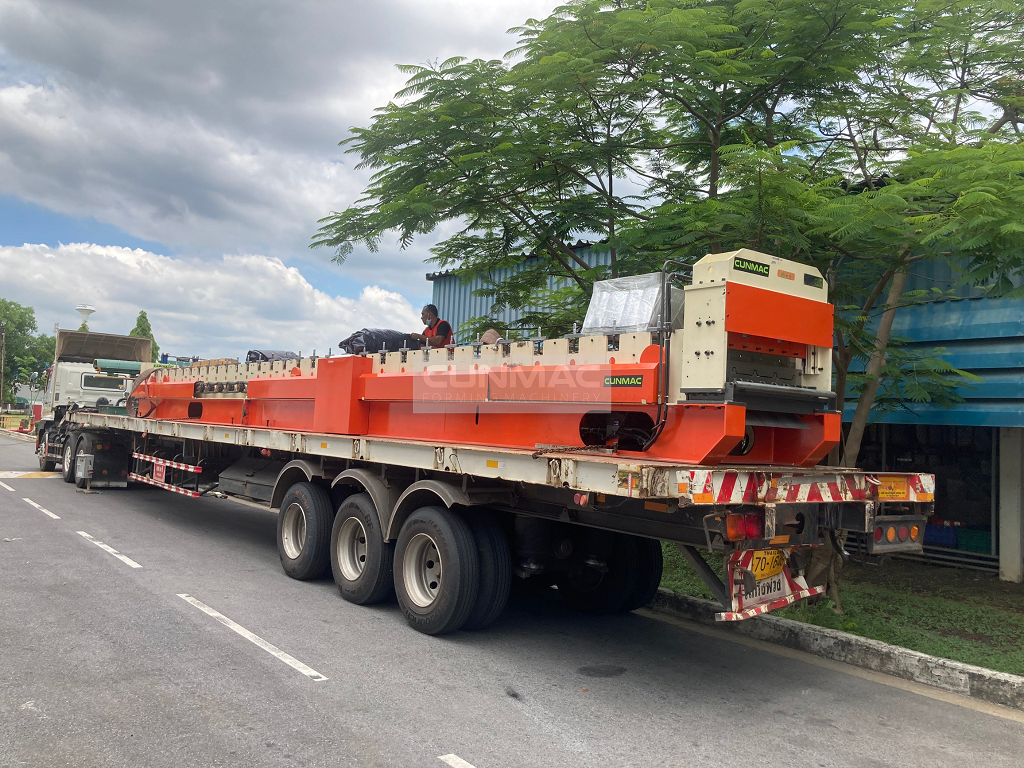 CUNMAC mobile Kliplock roll forming for onsite manufacturing
Due to the typical point of Kliplock roll forming machine that it is often carried out to construction sites, Kliplock machine is required to be stronger and more solid than others.

SPECIFICATION
 Items
Details

Total power

11kW (3 phase, 50hz, 380v)

Speed

18 – 22m/min

Dimension (LxWxH)

~14.0m x 1.6m x 1.5m

Weight of machine

~13 tons

Roller station

30 – 33 pairs

Material thickness

0.2 – 0.7mmBMT, G400 – G550 (galvanize, zincalume, color coating steel)

Material width

610mm,

914mm

Transmission system

Hydraulic

Cutting system

Hydraulic (pre-cutting system, profile cutting system)

Control system

Automatic with inverter, PLC, HMI, hydraulic
EQUIPMENT
 Items
Brand
 PLC (CPU)
SIEMENS (Germany)
 Touch panel (HMI)
Schneider (Japan)
 Electric motor
HITACHI/TOSHIBA (Japan)
 Encoder, relay
OMRON (Japan)

Inverter

MITSUBISHI (Japan)

 Hydraulic components
YUKEN (Japan)
 Cutting blades
SKD11 (Japan)
 Rollers
S45C, SKD11 (Japan)

Gear box

LIMING (Taiwan)
Cunmac proudly provides Klip lock roll forming machine in domestic and international markets including Asia, Australia, Middle East, Africa, America.
All Cunmac machines are professionally and reasonably made in Vietnam, our goal is to provide flexible machines with the best quality and customized designs which give customers unique benefits and experiences.