Go with Cunmac will open the world of floor deck, decking floor, steel decking roll forming machine regarding definition, structure and application, pros and cons and how to make them the right way. So now go for it!!!
1.

What is a floor deck?
Deck floor (also called Metal deck floor) is a steel corrugated iron floor composed of reinforcement and concrete poured onto the corrugated board with embossed patterns manufactured into grooves with regular spacing. The embossed lines allow the concrete to bond with the metal panel as the concrete hardens.
The floor deck sheet plays the role of formwork during deck construction, which needs to be calculated to bear all kinds of loads due to the self-weight of wet concrete, reinforcement mesh, concreting equipment, and manipulators, etc.
The deck slab is rolled into sheets with 50mm ÷ 75mm high waves. The commonly used thickness is from 0.75mm to 1.5mm. To prevent rust, the decking board is galvanized on both sides.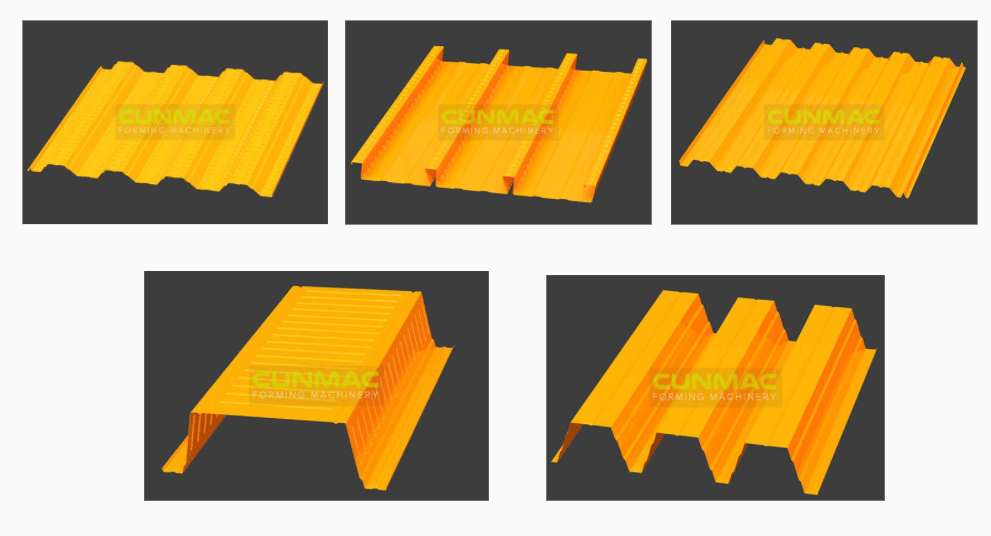 What is bondek? Difference between floordeck and bondek
LYSAGHT® BONDEK® II is an effective steel floor slab product with diverse applications such as formwork, sublayer reinforcement, and ceiling systems for concrete floors. Profiled steel floor slabs are widely used in high-rise and industrial construction because of their efficiency and fast construction speed
The original name in steel formwork, BONDEK® is an efficient, versatile and robust structural decking and ceiling system for concrete slabs. It is a highly regarded formwork product offering efficiency and speed of construction.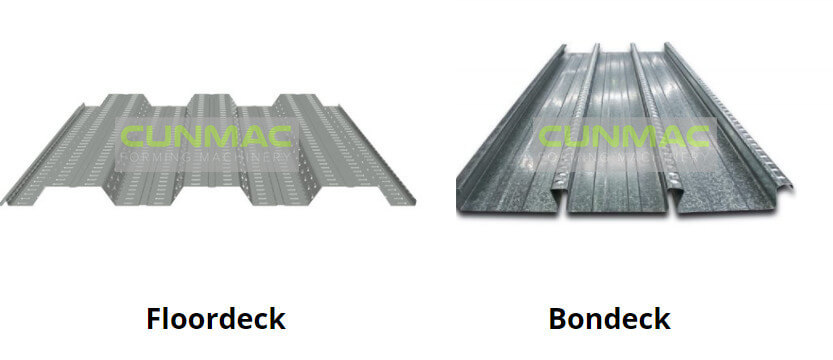 Read more: 5 must-have machines to start your roofing business
2. Structure and application of floor deck board



Structure: The decking corrugated board is a part of the composite steel-concrete floor structure including: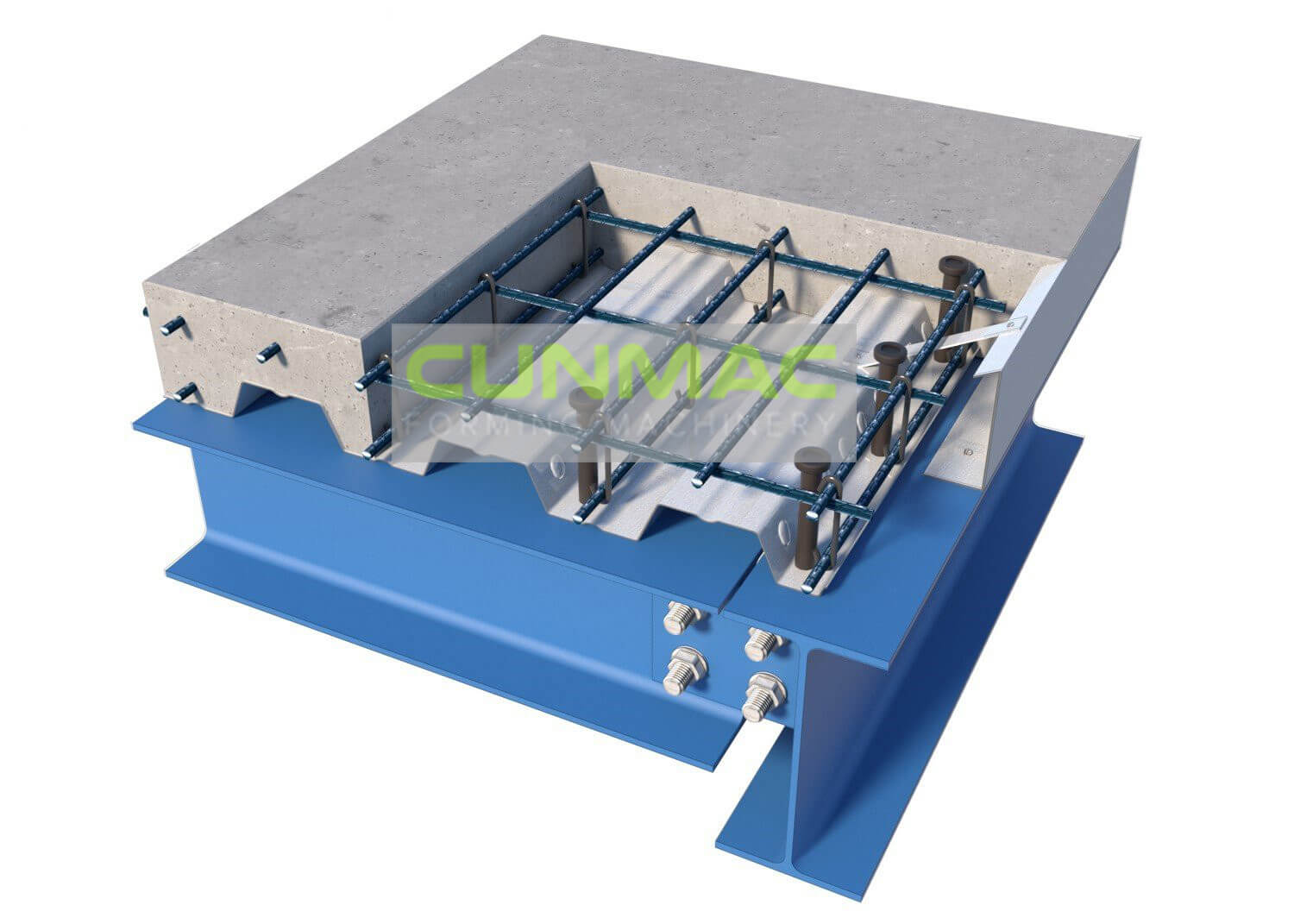 Floor corrugated board: The commonly used thickness is 0.75mm; 0.95mm and 1.15mm

Fastener: Welding screw

Floor wire mesh: Welded wire mesh or normal steel can be used

Concrete: Concrete floor grade M250 or M300
Application:
The floor is linked to the steel structural beam system by welding nails, which replaces the floor formwork and combines with the reinforced concrete floor to help speed up the construction progress more than the normal reinforced concrete floor.
The metal floor decking is laid and fastened to a support structure, this can either be done with a composite or non-composite deck. Structural concrete is then poured over the metal decking, in turn becoming a part of the floor structural system itself.
Deck floor solution is applicable to all-steel frame buildings, multi-story factories, which can include the following types of works:
Construction of the office floor in the factory

The floor of high-rise steel frame building, office

The floor of restaurant, showroom, supermarket

Construction of steel frame townhouse

Steel decking floor pros and cons
3. Steel decking floor pros and cons
PROS:
Save costs and reduce construction costs.

Floor decking lowers the amount of concrete needed for structural requirements, while also being a faster alternative to cast-in-place concrete floors

Handle large loads,

suitable for all types of projects that require highly concentrated loads: The deck corrugated board has a light steel grid system reinforced inside the concrete layer; helps the floor withstand loads from external impacts.

High durability and aesthetics, so there is no need to plaster or make false ceilings.

Lightweight compared to other materials helps to reduce load pressure
Reduce auxiliary materials (compared to traditional house types)
Make the most of your factory space. High synchronization. Easy to scale up.
Fire resistance: Depending on the thickness of the floor and the type of concrete is used, the fire resistance time will be different. Normally, with simple reinforcement, the floor can be fire-resistant for up to 120 minutes. To prolong over time we can add reinforcement bars.
CONS:
Although with many of the above advantages, decks also have disadvantages.
Because the deck sheet is manufactured in the factory according to its own standards, it will be very difficult to shape the floor slab.

For floor slabs that are triangular, circular, irregular polygons… or have complex beam systems, the deck will be very difficult to construct and ineffective in such cases. It is most suitable for common square or rectangular floors.

Higher initial cost.

Wood frame is much cheaper than a steel structure building, but steel structure lasts much longer compared to 10-15 years for a wooden structure. Floor decking might be more cost-efficient for long-lasting buildings.
4. Standard deck construction
5. Producing floor deck and commonly used types
Depending on the requirements of each project such as type of decking, thickness, length… The coil is put into the rolling machine and produces the required product.
Some common types of floor decks 
Check the video below to see how the floor deck is made and learn more specifications and equipment here Floor deck roll forming machine
Now that you understand the floor deck application and you wonder how it is made and you are ready to get the price of the floor deck roll forming machine. Our sales reps have decades of experience with metal decking machines and would be happy to assist you. For more information on different types or you are ready to purchase please contact our consultant today.
Who is CUNMAC?
As a global manufacturer of roof panel roll forming machines with over 15-year experience, Cunmac believes in building partnerships and provides comprehensive customer services. Through resources, innovative solutions and expert service, we are committed to a stable production with good quality and great services. Cunmac products have been trusted and used by customers all over the world, which demonstrates Cunmac's reliability and trustworthiness. 
To give a better quotation and meet exactly your requirements, could you advise detailed information as below:
Which kind of roof roll forming machines do you need?

Profile or sample's pictures

Thickness and width of coil
Click Get quotation of floor deck roll forming machine