The metal roof sheets which are corrugated in waves and folds by rolling mills across their width and length, widely used as a wall or roof of factories, warehouse, cinema, garage, exhibition centres etc, have majorly been in demand because of the ridding contribution of construction sectors and real estate to India's GDP
These corrugated roof sheets are basically a derived demand i.e the demand for these roof sheets is derived from and depended on the perfect of its major end-user, the construction sector which has solely contributed ₹2.7 trillion to the India's GDP in FY 2019.
Market potential:
These corrugated roof sheets are made of mild steel,  then galvanised to seek the advantage of
a) Resistance against corrosion
b) increased durability of its service life.
These galvanised sheets serve as a base material for different types of corrugated sheets like by PVC plastisol coated roof sheets
The Agricultural buildings use these sheets because of their lengthy life span and economic efficiency.
The industrial plants like factories, warehouses make use of these as roofs and walls because of its limited maintainability, I.e once in every 5-10 years
The commercial uses of these roof sheets goes as far providing roofs and walls in garages, porches, sheds etc because of their economic efficiency in India I.e price range of ₹250 sq meters to ₹500sq meters.
 License required for Roof Sheets Business:
• Factory license in India under FA 1948
• Factory permit from local authority
• Manufacturing licence under product certification scheme of Bureau of India standards (BIS)
• ISO 9001:2015 certificate
 I.   Investment Required for Roof Sheet Business:
| | |
| --- | --- |
| INVESTMENT | METRICS |
| 1.   Plant capacity | 20 MT/ DAY |
| 2.   Land and building (1500 sq. Mt ) |  ₹90 lakhs |
| 3.   Plant and machinery |  ₹26 lakhs |
| 4.   Working capital for 2 months |  ₹7.26 crore |
| 5.   TOTAL CAPITAL INVESTMENT |  ₹5.56 crores |
Profits for Corrugated roof sheets business:
| | |
| --- | --- |
| CONTENT | PERCENTAGE (%) |
| a)  Rate of return | 41% |
| b)  Break even point |  39% |
        Target consumers for Roof Sheet Business:
The consumers who are interested in and could be the potential users of corrugated roof sheets can be categorised as follows :
·       Industrial consumers, who derive demand for corrugated sheets because of the nature of their production process, shed for warehouses, factories etc
·       Commercial consumers, who aim for economic efficiency and make minimal use of corrugated roof sheets as walls /roofs for garage, porches, sheds etc
·       Governmental consumers, agricultural laboratories, buildings who require polyester painted sheets in the form of corrugated roof sheets as a shed to carry on their processes.
Raw materials required for Roof Sheet Business :
• Steel, metal, aluminium
• Water, power and electricity
• Boilers
• Furnace
• Oils
• Paints
• Coil
• Feeding table
• Feeding conveyor
   I.        Area required
·       The total land area for the envisaged plant could vary between 1000 sq.mt – 2000 sq.mt  in India
·       In addition to that additional space can be required for warehouse and storage purposes as well.
 II.        Machinery required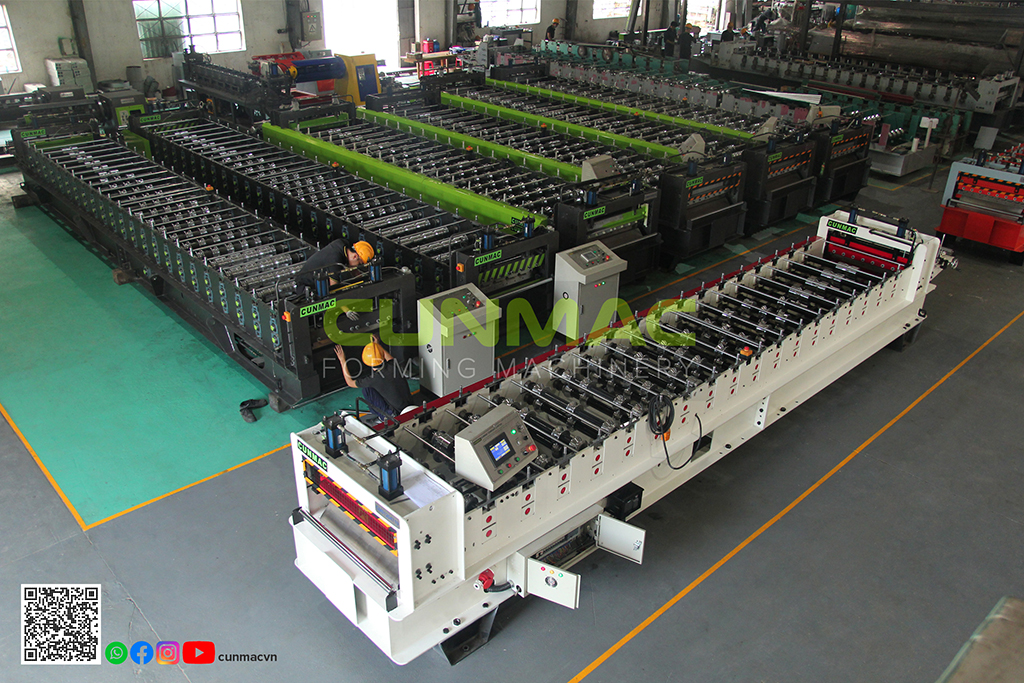 ·       Roll forming machine/corrugating machine
·       Colour coating sheet making machine
·       Metal sheet ribbing machine
·       Hydraulic crimping curve machine (chemical industry)
·       CZ purlin forming machine
·       Correcting machine and cutting machine
·       Crane (10 tons) for loading and unloading
Read more: 5 must-have machines to start your roofing business
Technical specifications :
·       Coil input width: 1220 mm
·       Covered width. : 100 mm
·       Supply width.    : 1100 ± 10
·       Pitch                   : 200 mm
·       Crest height      : 28 mm
III.        Manpower required :
·       The trading, manufacturing, exporting and importing of corrugated roof sheets required between 51-100 of  manpower
·       The recruitment of this manpower comes with ample training regarding :
·       Use of machinery, health and safety measures, on the job
and off the job training, accident prevention measures, written guidelines, equipment handling procedure etc
The business model consists of four dimensions which contribute to it and in case of a corrugated roof sheet manufacturing business the model goes as follows :
a.    Value proposition : The unique selling point and the value of this business comes from
·       Nature of these sheets : corrosion resistant, water proof, light weight and water proof
·       Consistent demand : The demand for roof sheets that too corrugated is as lasting as longs as factories, warehouses and porches are constructed.
b.   Target customer base : The variance in corrugated roof sheets targets different customer bases :
·       Coated steel sheets : unique building material with elements of zinc alloy for structural and decorative buildings
·       PPGL sheet : Ranging from colours sky blue, terra cotta red, off white, mist green used by architect as a sign of prestige and security against fire
·       Used by both commercial and industrial spaces as roofs and walls for factories, warehouses, garage, sheds etc
c.    Competitor review :
·       Since corrugated roof sheet manufacturing plant is a part of the steel manufacturing plant, it caters to a niche market.
·       Creating demand for a niche product comes with competing against major niche competitors in the market
·       The main competitors in the market for corrugated roof sheets in India are Tata steel, JSW, bushbury cradling, Bansal roofing, etc
d.   Marketing strategy :
Being an industrial good, it's marketing strategy doesn't require the extensive marketing but is  limited  to highlighting its  premium quality roof sheets with low maintenance and durability through a mere word of mouth and Media advertising could be suffice.
 V.        Growth:
·       The corrugated roof sheet demand has been fueled highly from the commercial and agricultural sectors
·       Non residential and residential requirements as walls and roofs for factories and warehouse has been increasing because of the rise in the production capability of the constructional sectors of the Indian economy
·       The present contribution to the India's GDP by the construction sectors goes as far as ₹2.7 trillion
·       This is likely to increase by 2027, presenting the demand for corrugated roof sheet niche to increase simultaneously
VI.        Profit margin
The profit margin for this business varies between 60-70%
Currently it goes as far as 54.38 %
 Final words
To conclude,
·       The corrugated roof sheet manufacturing is a booming industry with an omnipresent demand from commercial, industrial and agricultural sector consumers
·       This business even though might require a heavy  amount of investment, comes with less need for maintenance and a precise profit margin varying between 60%-80%  every financial year and suffice rate of return.
·       Lastly, this business serves a niche group of consumers, having regular demand and easy to establish local and global reach.
Source: https://www.startupyo.com
About Cunmac Machinery
Cunmac offers a wide range of products and good solutions for companies operating in sheet metal, construction, manufacturing industries. Our products include:
All Cunmac machines are professionally and reasonably made in Vietnam, our goal is to provide flexible machines with the best quality and customized designs which give customers unique benefits and experiences.