Trapezoidal Profile Roofing Sheets are profile sheets that have trapezoidal shaped profile shape and these are coated with multiple beautiful colors to give attractive appearance. These sheets are available in white, grey, green, blue, terracotta, ivory, brown and more beautiful colors. These roofing sheets provide the perfect combination with the roofing to match the attractive look of the houses.
Material Structure:
The materials used on surface layer are ultra-weather resin which helps to prevent the effect of UV rays coming from sun and along with reduce the coefficient of heat conductivity. All these notable features ensure durability and excellent resistance to chemical corrosion. The intermediate and underlying layers are made up of materials that ensure excellent strength and excellent insulating nature.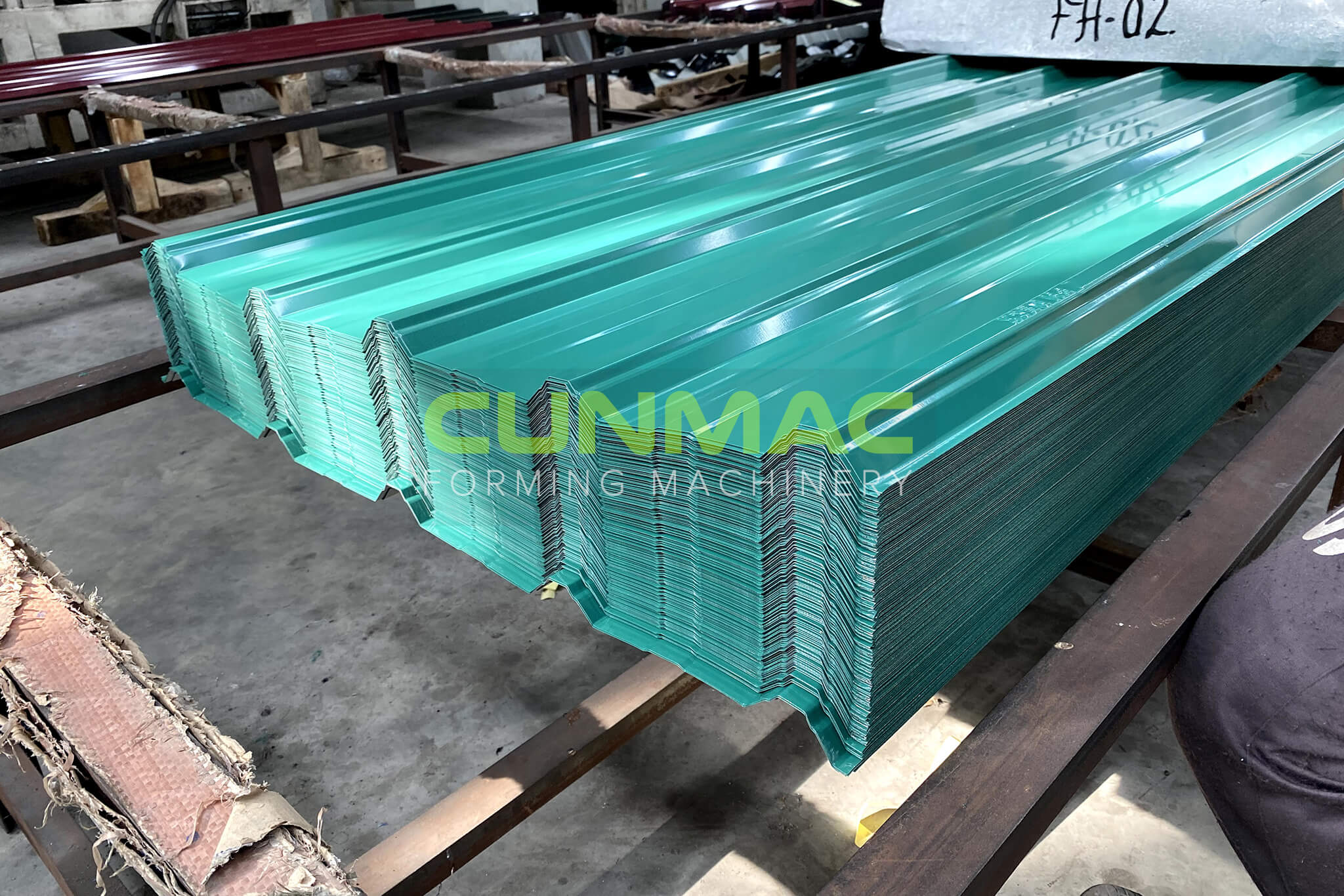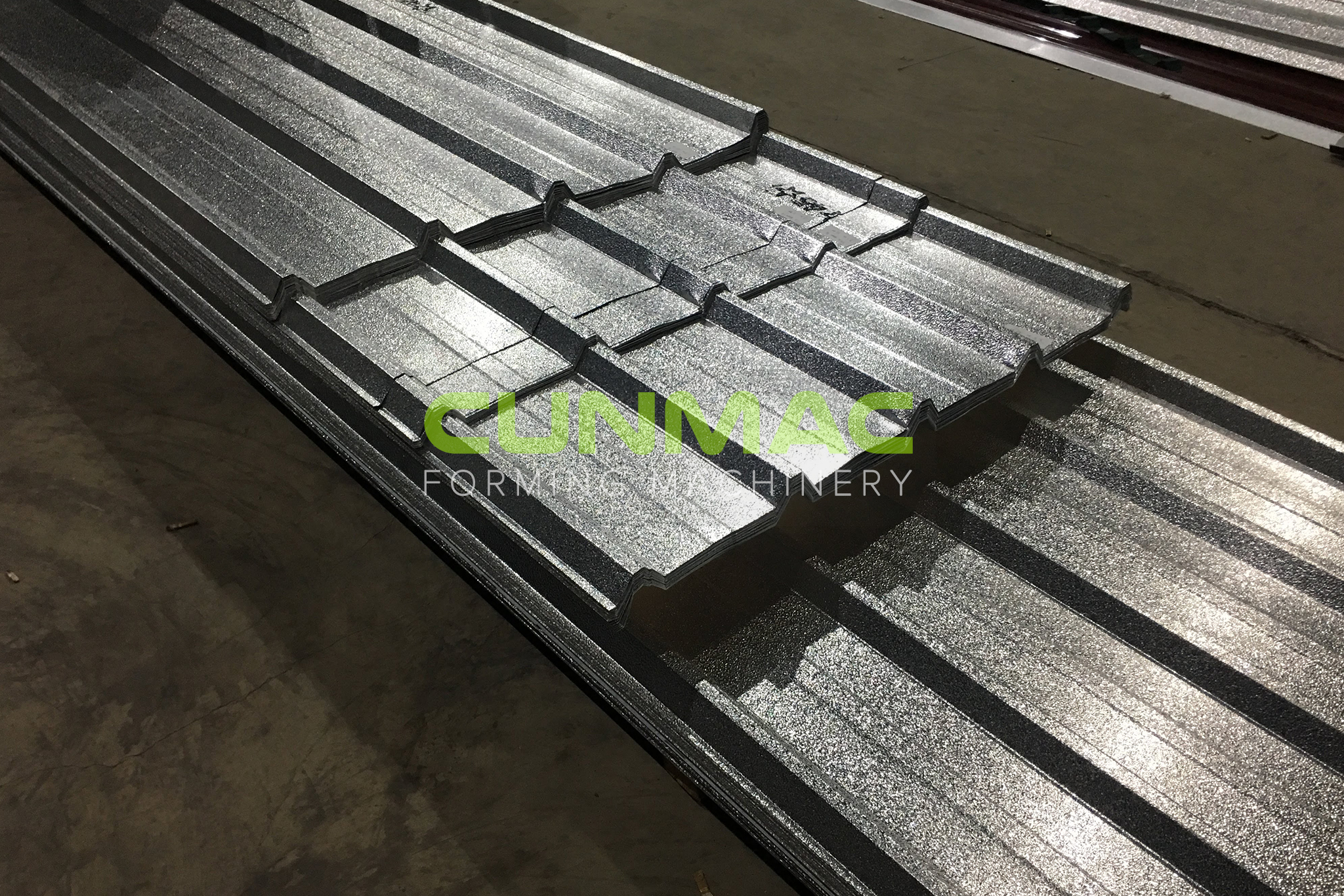 Features :
Fine Finish :

These sheets are uniform quality and the colors are coated uniformly colored coating. The colors are chosen from the latest color coating line.

Corrosion Resistance :

Manufactured using superior quality of steel and aluminum, these sheets have excellent anti-corrosion properties.

Good Heat Insulation :

The color coating on these sheets has strong insulating properties and thus these sheets give the excellent protection against heat.

Water Resistant :

Water cannot stay on these sheets owing to the waterproof feature of these sheets.

Weatherproof :

Without getting damaged, these sheets can bear extreme weather conditions.

High Strength:

Better tensile strength makes these sheets to bear heavy loads.

Beautiful Appearance :

With their availability in wide range of colors, these are attractive in look.

Economical :

Requirement of extra costs like installation and maintenance costs are minimum due to which these sheets have excellent economical value.
Applications :
Architectural Roofs

Auditoriums

Gymnasiums

Exhibition Halls

Household Roofing

Commercial Buildings

Industrial Buildings

Airports
Trapezoidal profile's drawing




How to make Trapezoidal Profile Roofing Sheets? 
Trapezoidal Roofing Roll Forming Machine can create trapezoidal profiled roofing sheets by forming metal/steel coil. They can be called differently upon countries as below:
Rib-type Roofing Roll Forming Machine

Spandek

Roofing Roll Forming Machine

Trimdek

Roofing Roll Forming Machine

4 Angles

Roofing Roll Forming Machine

5 Wave Roofing

Roll Forming Machine

 
There are various rib-type profiles depending on the country, including 5/6/7/8/9/10/11/12/13/14 rib type, but the most common is the 5 rib-type profile.
Watch video below to understand how Rib-type profile roll forming machines operate:
Rib-type profile roll forming machine is fully automatic and is easy to operate with a friendly HMI panel, consists of one decoiler, sheet guiding equipment, roll forming section, PLC control system, Hydraulic cutting, collection table. Step by step, the rollers inside the machine will shape sheet metal to become a metal roofing sheet panel.
Their main advantages are beautifully customized designs, easy and stable operation with a strong body frame, and reasonable price. There are 3 models as below:
SPECIFICATION
 Items
ECO model
STANDARD model
HIGH SPEED model
 Total power
5.5 – 7.5kw
7.5 – 11kw
11 – 22kw
 Speed
16 – 18m/min
22 – 24m/min
44 – 46m/min
 Dimension (LxWxH)
(9-11)x(1.6-2.2)x1.8m
(9-11)x(1.6-2.2)x1.8m
(9-11)x(1.6-2.2)x1.8m
 Weight of machine
6 – 8 tons
7 – 10 tons
9 – 12 tons
 Roller station
16 – 18
18 – 21
20 – 24
 Material thickness
0.15 to 0.7mm (G300-G550)
0.15 – 0.7mm (G300-G550)
0.15 – 0.7mm (G300-G550)
 Material width
914; 1200; 1219; 1450mm
914; 1200; 1219; 1450mm
914; 1200; 1219; 1450mm
 Transmission system
Hydraulic motor
Hydraulic motor
Electric motor with gear box
 Cutting system
Hydraulic cylinder (front cutting)
Hydraulic cylinder (rear & front cutting)
Electric motor with gear box (rear & front cutting)
 Control system
Automatic with PLC, HMI
Automatic with PLC, HMI, Inverter
Automatic with PLC, HMI, Inverter
Read more details here: Trapezoidal/ Spandek/Trimdek/4 angles roofing roll forming machine
Now that you understand the Trapezoidal ( Rib-type) Roofing Roll Forming Machine and you are ready to get a quotation. Our sales reps have decades of experience with metal panel roll former and would be happy to assist you. For more information on different types or you are ready to purchase please contact our consultant today.
To give a better quotation and meet exactly your requirements, could you advise detailed information as below:
Which kind of roof roll forming machines do you need?
Profile or sample's pictures
Thickness and width of the coil
Get a quote
cs@cunmac.com – whatsapp:+84 981 402 902
WHY CUNMAC?
As a global manufacturer of roof panel roll forming machines with over 15-year experience, CUNMAC believes in building partnerships and provides comprehensive customer services. Through resources, innovative solutions, and expert service, we are committed to a stable production with good quality and great services. CUNMAC products have been trusted and used by customers all over the world, which demonstrates CUNMAC's reliability and trustworthiness.
Hotline: +84 981 402 902
Mail: cs@cunmac.com
Factory: 331, Lien Huyen street, Thuan An city, Binh Duong province, Vietnam