It is obvious that if the input material is out of flat, it will negatively affect the following processes and lower the overall manufacturing quality. With an aim of fixing this problem, we will introduce you to a type of machine called a leveling machine. Let's go with CUNMAC to check its efficiency as well as how it levels materials!
1. What is a leveling? How does the leveling machine work?
Leveling is a process designed for coil shape correction. This process is carried out by a machine called a leveling machine. During the leveling process, the leveling machine bends the coil strip back and forth as it passes through two series of small diameter offset rolls which contact both the top and bottom sides of the coil surface as the substrate passes through. The process of leveling corrects shape issues to make the surface flat and relieves internal stress that causes issues for the coil.
The leveling machine is also named the leveler, roller leveler, coil leveler or entrance leveling machine for thick metal coil. The metal coil thickness is usually about 2-5mm.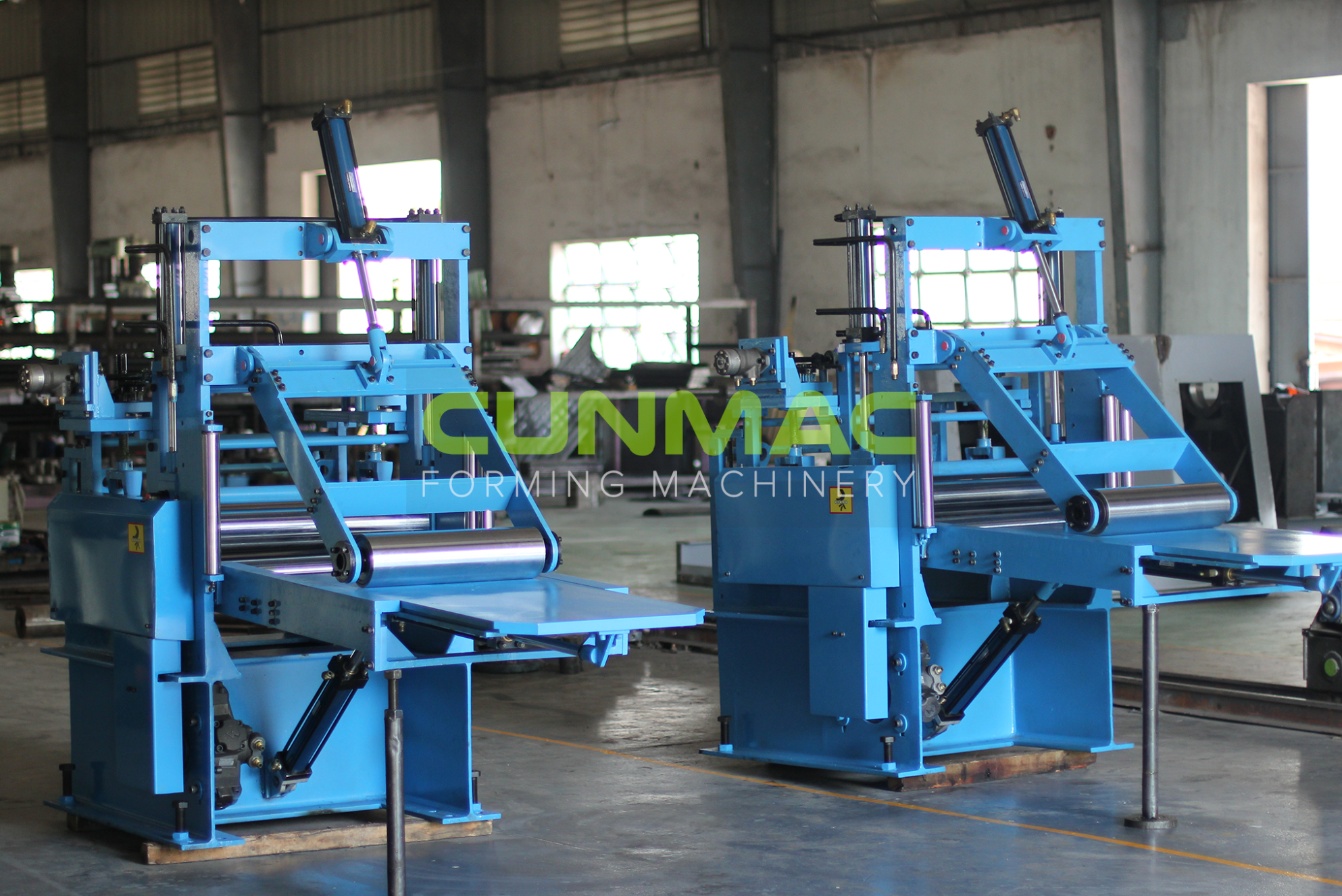 Leveling machine (coil leveler)
2. Materials can be leveled by the leveling machine
It is possible to level all metals with an ultimate elongation of at least five percent and a distinct yield strength. The usual rule can be followed is that if the material can be bent without breaking, it can be leveled.
However, some items which may not be leveled include tubes, pipes, anything that is 3 dimensional or already formed.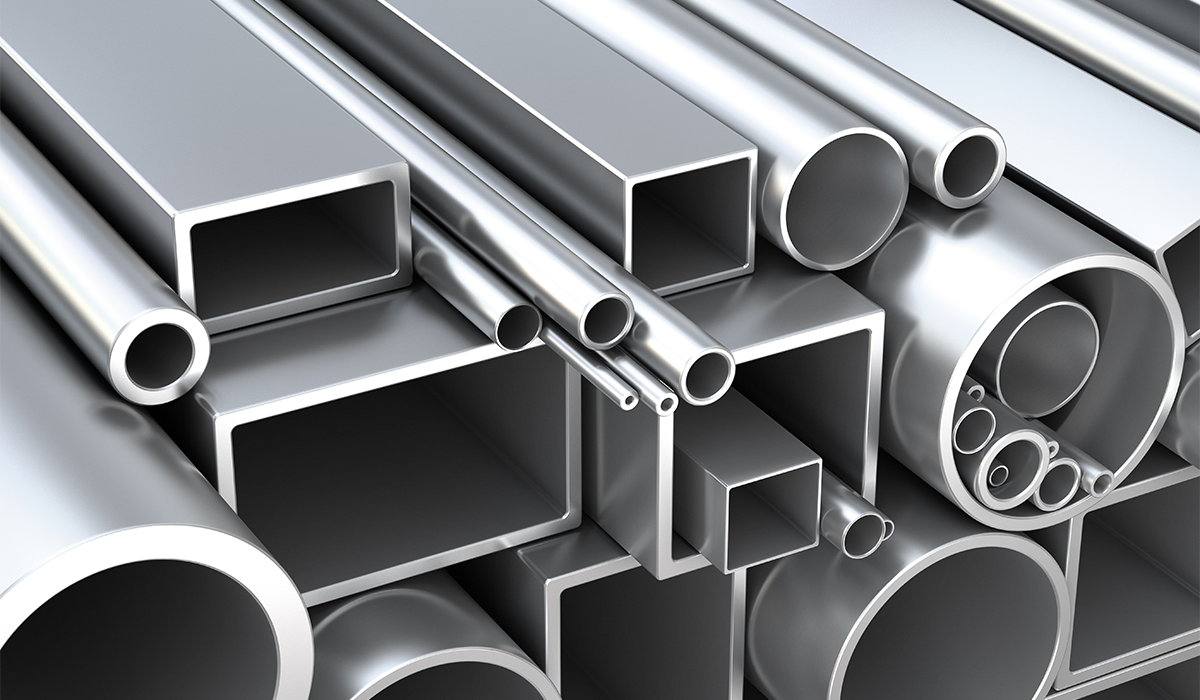 Items cannot be leveled
3. The importance of the leveling machine
Various causes create internal stresses and shape issues in sheet metal such as residual stresses from the rolling mill or mechanical and thermal cutting, which are big problems for subsequent processes.
The most common flatness defects are coil set and crossbow. Coil defects are usually caused by the transportation process, the milling process or the following cutting operation.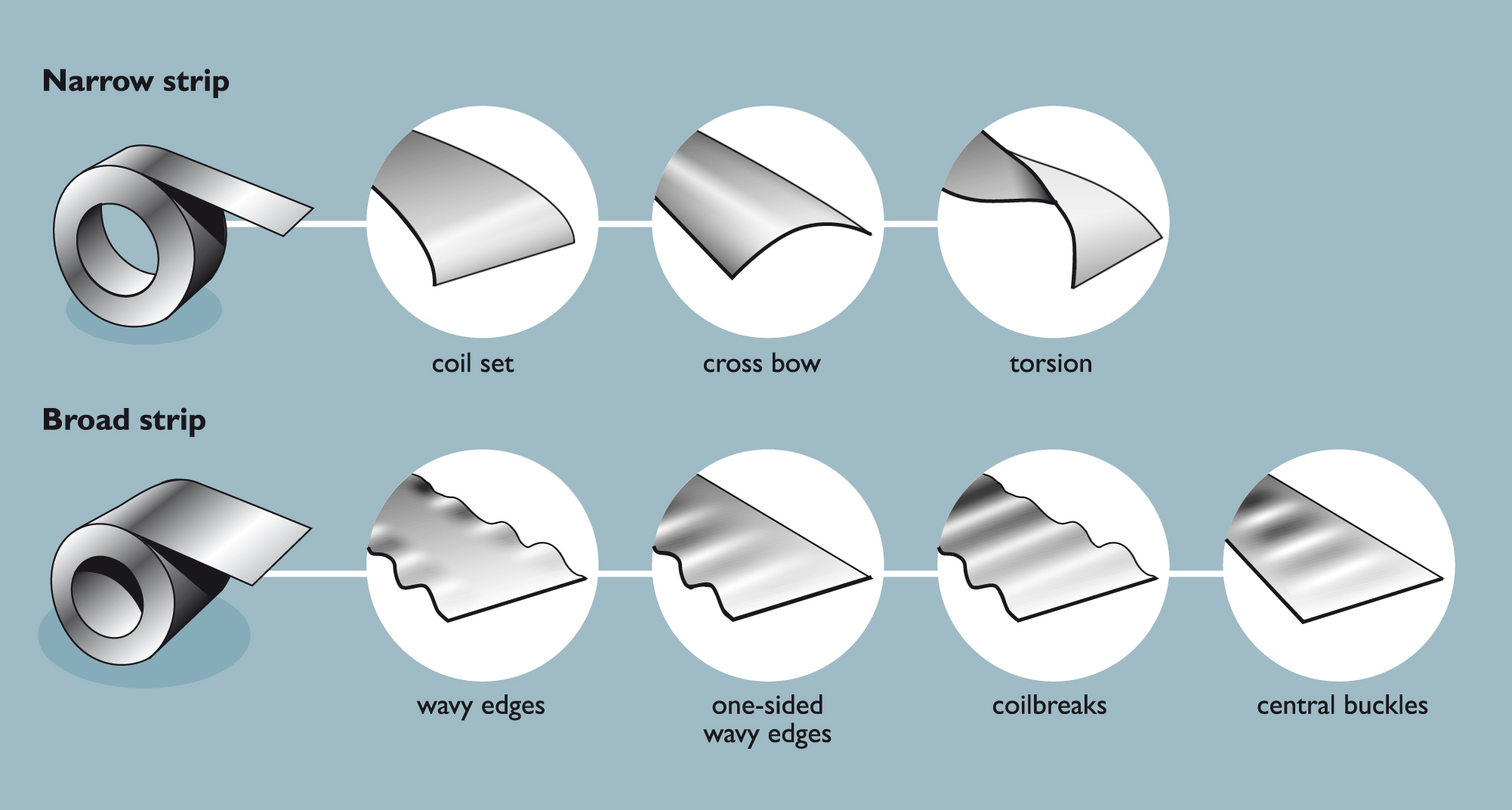 Shape issues in sheet metal
For instance, before letting the metal thick metal coil into the roll forming machine, we use the entrance leveling machin not only to make the coil surface flat but also to reduce inner stress. Therefore, the following process will be easier and smoother.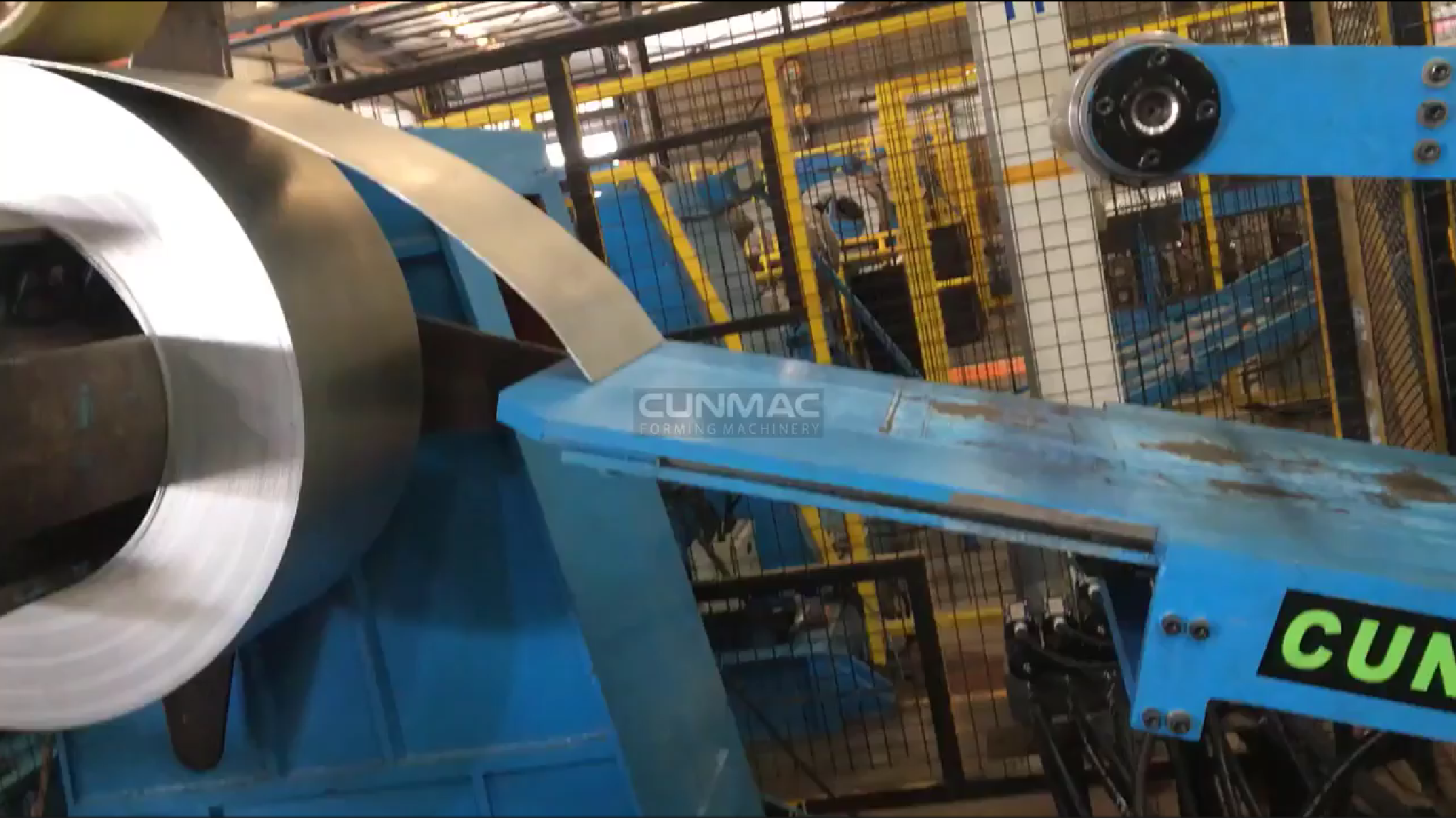 The leveling process by an entrance leveling machin for thick metal coil
4. Experience to choose a proper leveling machine
Depending on the material and application requirements, there are many factors to consider when selecting a leveler. These factors may include:
Both maximum and minimum gauge material to be processed
Maximum and minimum material width,specifically the minimum and maximum width are 1″ (25.4 mm) and 144″ (3,658 mm) respectively
The maximum and minimum yield strength of the material
Speed or production rate required
Temperature of incoming material
Material handling of plate before, during, and after processing
5. Leveling & cutting to length machine of CUNMAC
Leveling & cutting to length machine of CUNMAC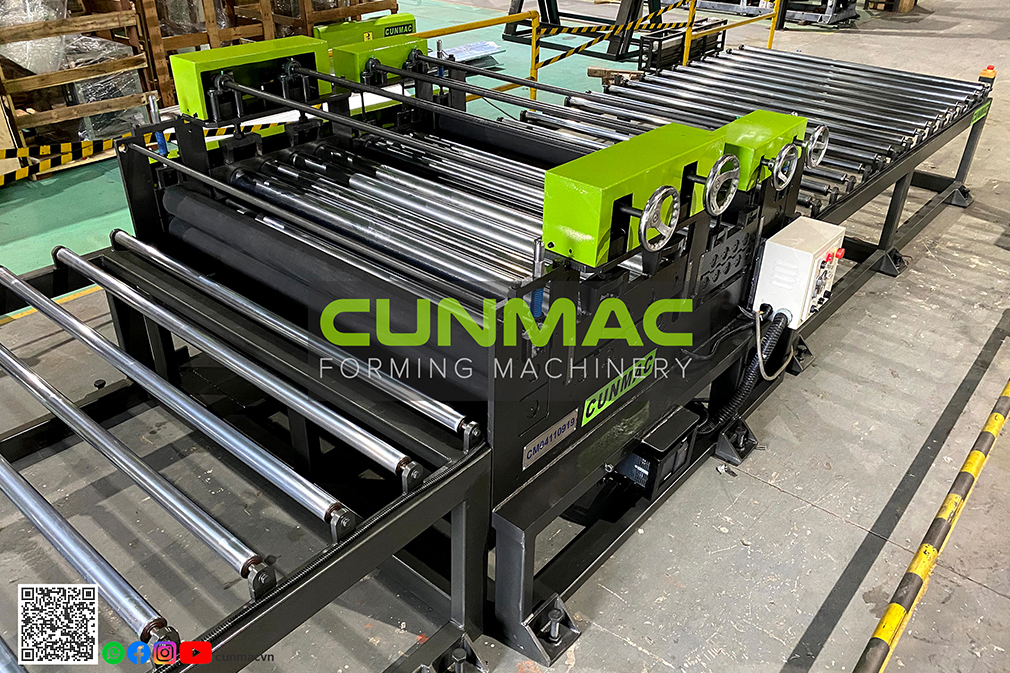 Leveling and Roller Run-out table
Some specifications about this machines:
– Automatic roll forming and cutting with Inverter, PLC, HMI
– Automatic programmable length settings via the touch panel
– Roller and blade are fabricated from alloy and SKD11 steel 60-62HRC
– Electrical and hydraulic components made from Japan, Germany
– Save history for orders in 30 days
– Customize design
– Stable operation with strong power and body frame
We also provide an other convenient option: Leveling + Slitting + Cutting to length machine combined with auto decoiler:
6. About CUNMAC Machinery
We, a roll forming machine manufacturer, customize design and manufacture a wide range of good solutions and products for companies operating in the sheet metal, construction and manufacturing industries. All CUNMAC machines are made in Vietnam. Our goal is to provide made-in-Vietnam flexible machines with good ease of use and high quality, where our designs and solutions give customers unique benefits and experience of our products.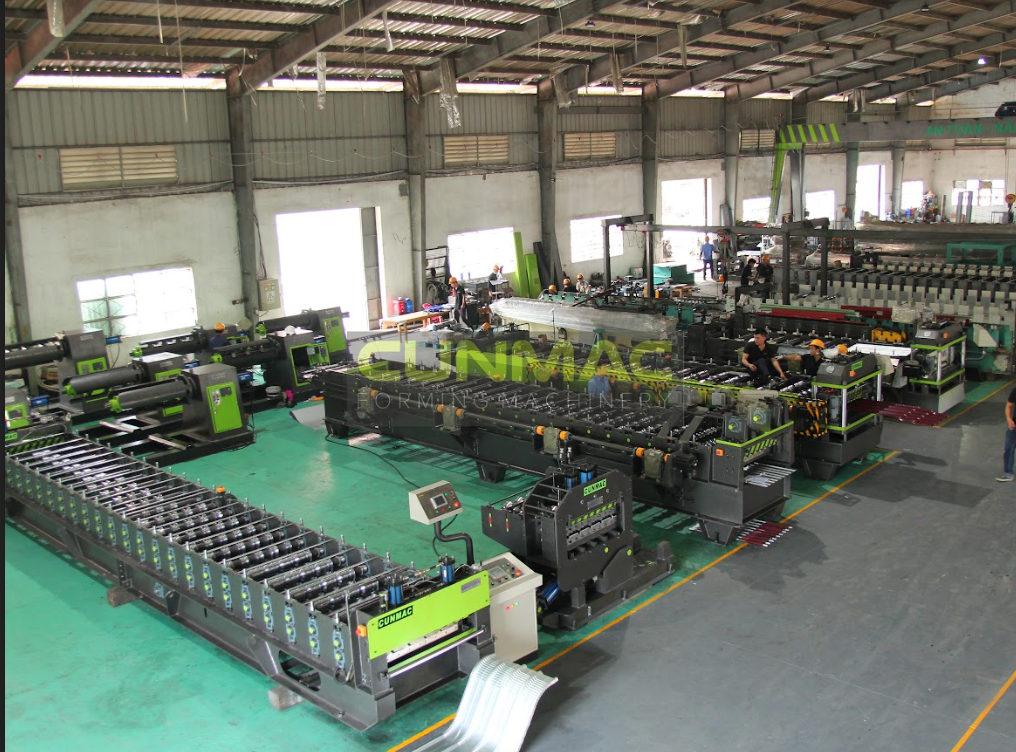 Still got more questions?
If you are still unsure if your materials can be leveled? Then please contact us anytime, we would love to analyze your materials for you to see what is possible. We even offer comprehensive leveling tests to ensure our levelers can meet your flatness requirements.
Hotline: +84 981 402 902
Mail: cs@cunmac.com