Metal deck comes in different profiles, but B-Deck is known as the most common structural metal decking in the industry. So, what is B-Deck? Let's jump into this article to know!
1/ What is B-Deck? Advantages of B-Decking
B-Deck is a commonly used panel for structural metal decking. In practice, it can also be used in roofing and siding applications. With a high strength-to-weight ratio and availability in a variety of gauges and finishes, B Deck is an economical, high-performance and easy-to-install metal decking choice.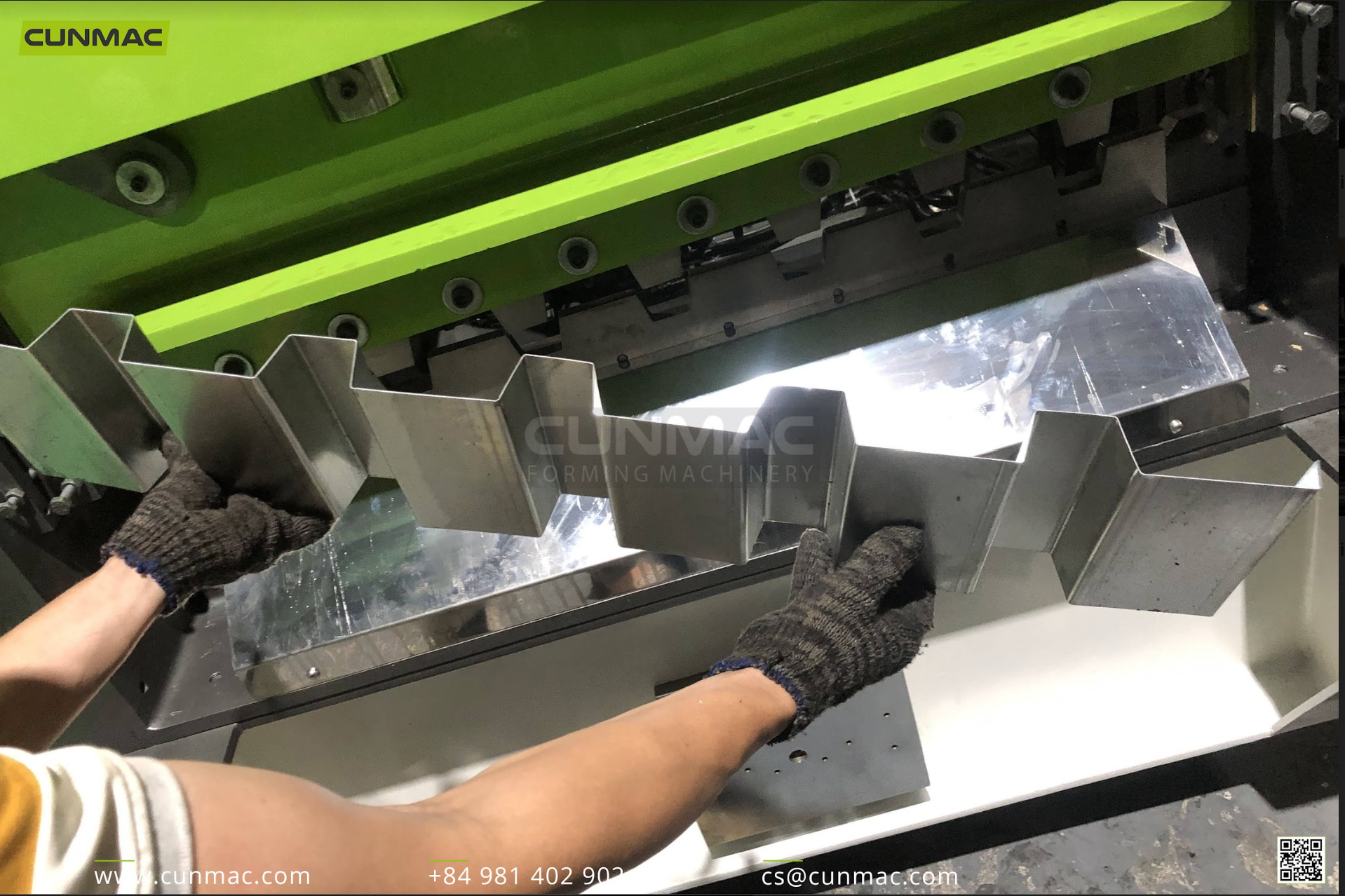 B-Deck panel
Xem thêm: Metal Roof Decking Profiles: B Decking & N Deck
2/ Types of B-Deck and its application
2.1 For purpose of us
B-Deck is manufactured into Type B Roof Deck and Type B Floor Deck. Each type has unique points but identical dimensions 36" coverage and 1.5" rib. Type B Roof Deck is a smooth non-composite structural metal roof deck panel. It provides strong capacity to support the built-up roofing. Meanwhile, Type B Floor Deck is a composite metal floor deck panel to have concrete poured over it.
B Roof Deck
Xem thêm: Roofing roll forming machine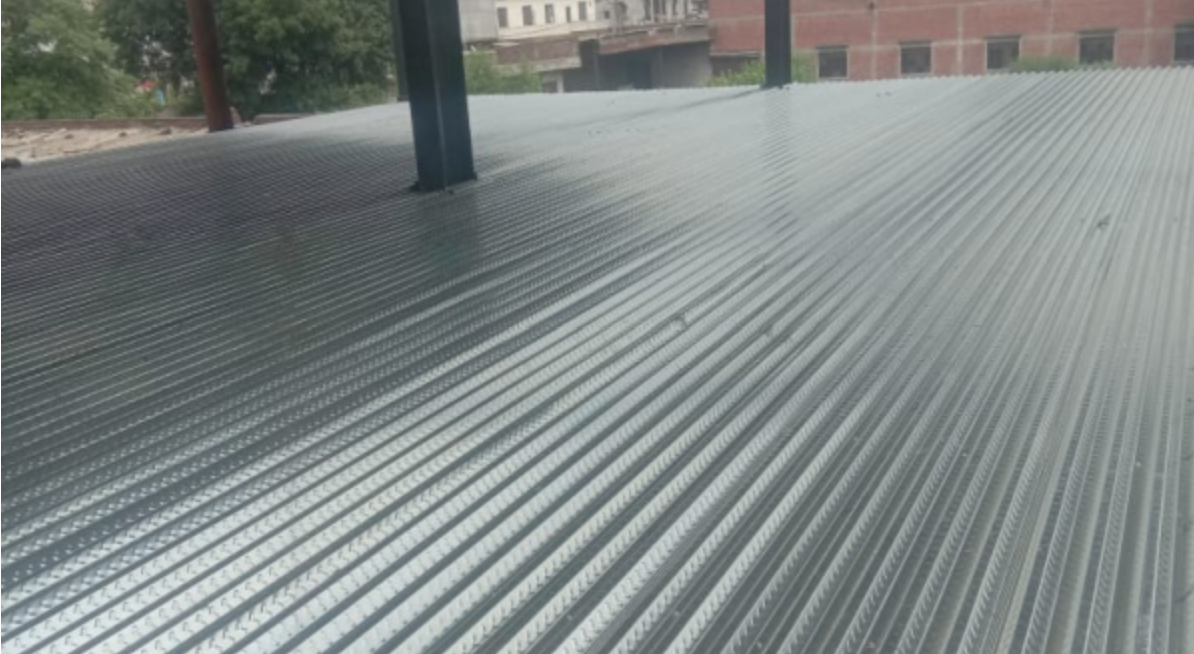 B Floor Deck
2.2 For gauge (thickness)
The gauge or thickness of metal decking is an important  property of B Decking. It will affect the span and load capability as well as the diaphragm shear value.
The gauge of the decking sheet is the main factor that determines the price per square foot of the B-Deck. The heavier or thicker the gauge is, the more it costs per square foot and vice versa.
B Deck usually comes in the following gauges:
16 gauge (weighs 3.5 pounds per square foot)
18 gauge (weighs 2.9 pounds per square foot)
20 gauge (weighs 2.3 pounds per square foot)
22 gauge (weighs 1.9 pounds per square foot)
20 gauge is generally the most commonly used gauge for B-Deck sheet as it reaches the balance between weight and cost, and is suitable for a wider range of structural projects.

 B deck sheet dimensions
2.3 For sidelap 
Most types of metal decking have a male and female sidelap. It is the lip at the end of each sheet that connects with an adjoining sheet.
Steel decking sheets are connected together using various techniques:
Button punch: A button punch tool is used to attach metal deck panels along the male/female joined sidelap as a way of reinforcing the connection between the panels.
Stitch screw: The sidelap of a stitch screw metal deck sheet has a slightly different shape. The female side is extended with a lip and the male side is decreased resulting in a tight interconnecting form. Screws are then used along each length to fasten the panels together.
Nested: The male and female sidelaps have an almost identical ridge form allowing them to nest snugly together providing a large contact area that is reinforced with self-drilling screws.
2.4 For finis
Type B Deck is available in different finishes. It can come with a Galvanized or Prime-painted finish.
Prime-painted is an acrylic primer which is applied to cold-rolled steel. Prime-painted finish is the most economical option for Type B Deck. It provides adequate protection to the metal decking during the construction process and for the life of the decking if the environment is properly enclosed and dry. If the steel decking will be exposed to weather, prime-painted finishing provides temporary protection.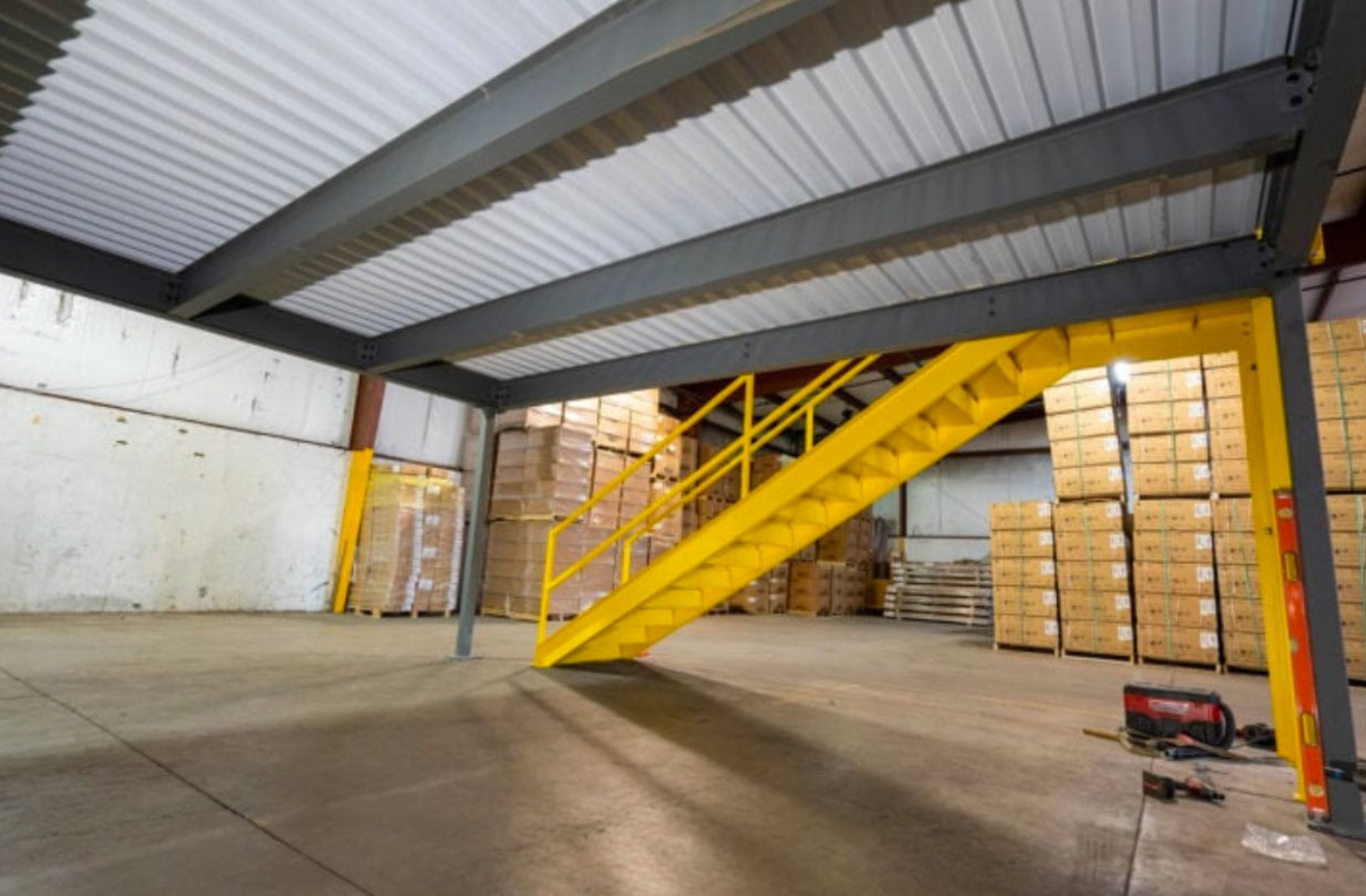 B-Decking white prime-painted bottom finish
Galvanized is a zinc coating over cold-rolled steel. Galvanized coating is the best choice to protect against corrosion. Galvanization is measured in ounces of zinc per square foot of metal and there are a number of options available, the most common being:
G30 – 0.3 ounces of zinc
G60 – 0.6 ounces of zinc
G90 – 0.9 ounces of zinc

B-Decking galvanized bottom finish
3/ How is B-Deck made?
B Deck is made using a metal deck roll-forming machine named B-Deck roll forming machine. It feeds metal sheets of the desired gauge from a roll through a series of weighted and carefully positioned rollers that gradually press and form the metal sheet into what we know as B Deck.
The detail specification and equipment of B-Deck roll forming machines can vary to suit different types of metal decking such as embossing or different decking profiles.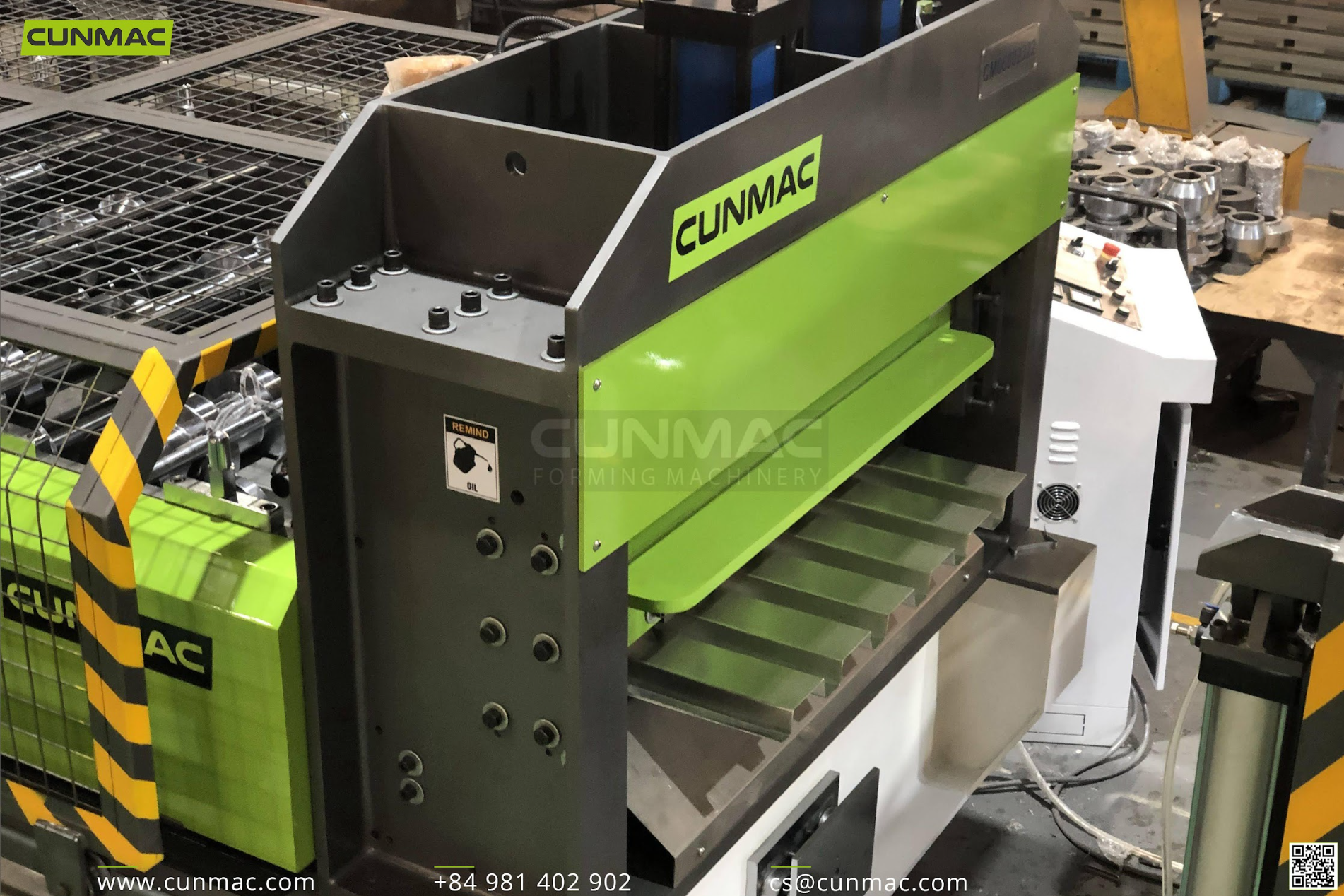 B Deck roll forming machine
Read more: B-Deck roll forming machine
4/ B-Deck roll forming machine of CUNMAC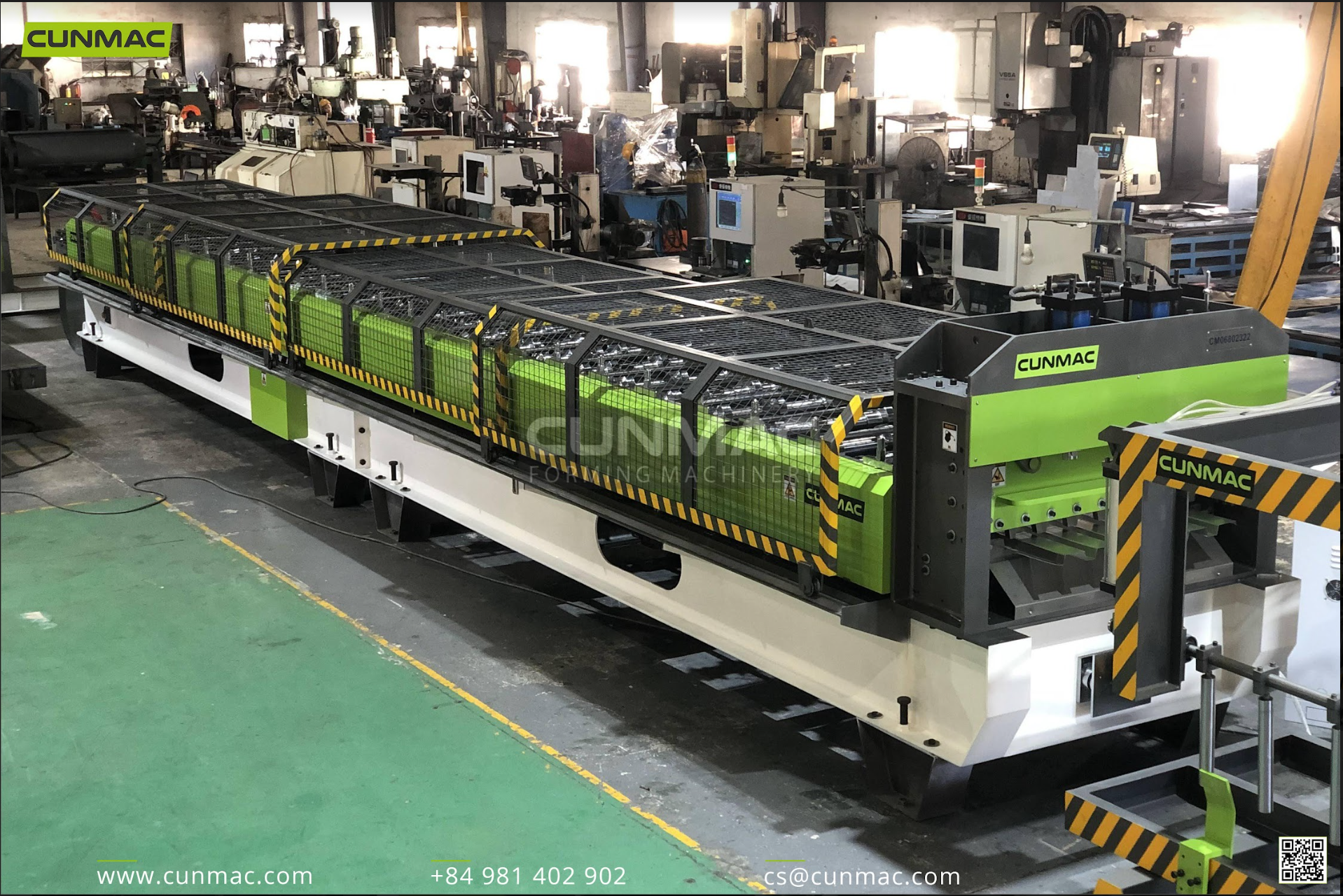 B-Deck roll forming machine of CUNMAC
Other requirements of customers such as:
One beam welding
Good weld treatment
Bolts keeping brackets from moving top the plate
Two bolts bottom the seat
The exquisite processing technology makes our machine more smooth in operation and it has a longer service life. The profile produced by our roll forming machine is straight and horizontal, with high accuracy in flatness and distortion, and the length accuracy can be controlled within plus or minus 1mm. The machine can be disassembled into 2 sections for easy transportation and installation.
Watch our B Deck roll forming machine obviously here:
About CUNMAC Machinery
Our over 15 years of experience in manufacturing roll forming machines is a result of our high-quality awareness to operate in a continuously innovative process. This process is based on market needs and desires for innovation, automation, and quality. Our quality covers not only employees and suppliers but also production methods, products, and partners. All parts of products are fabricated from alloy steel by CNC precision machines. Electrical and hydraulic components derive from reputable brands such as Siemens, Schneider, OMRON, Hitachi, Yuken…
All CUNMAC machines are professionally and reasonably made in Vietnam, our goal is to provide flexible machines with the best quality and customized designs which give customers unique benefits and experiences.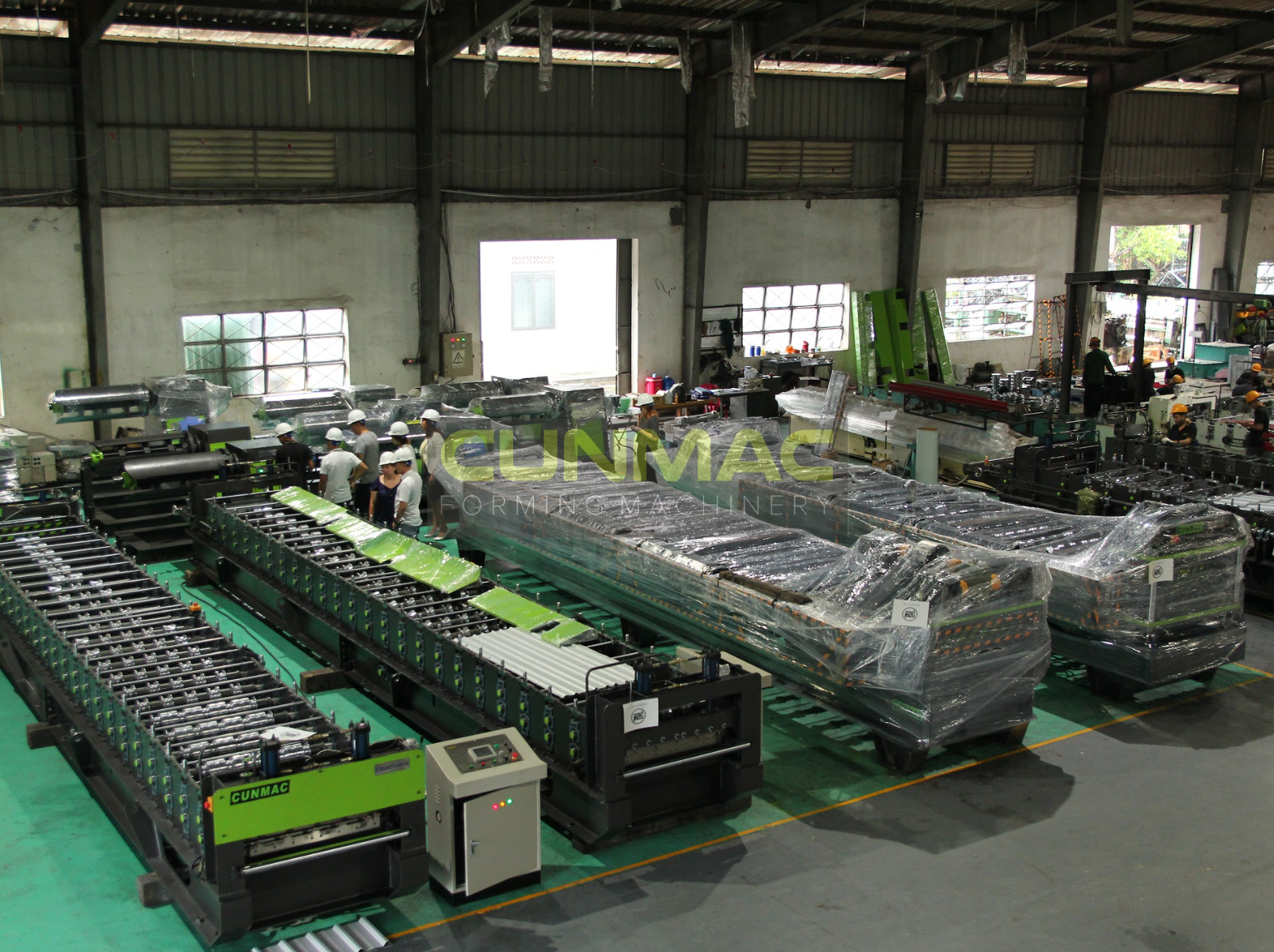 If you are ready to get more information please contact our consultants today, we would be really happy to assist you.
Hotline: +84 981 402 902
Mail: cs@cunmac.com