CUNMAC has a successful shipment of a set of B-deck roll forming machine and other machines to our valued customer in the USA. Read this article to find out more!
CUNMAC Vietnam is delighted to announce the successful shipment and delivery of the product – B Deck roll forming machine – to our valued customer in the USA.
This achievement marks another highlight in the company's commitment to delivering high-quality machinery solutions to customers worldwide.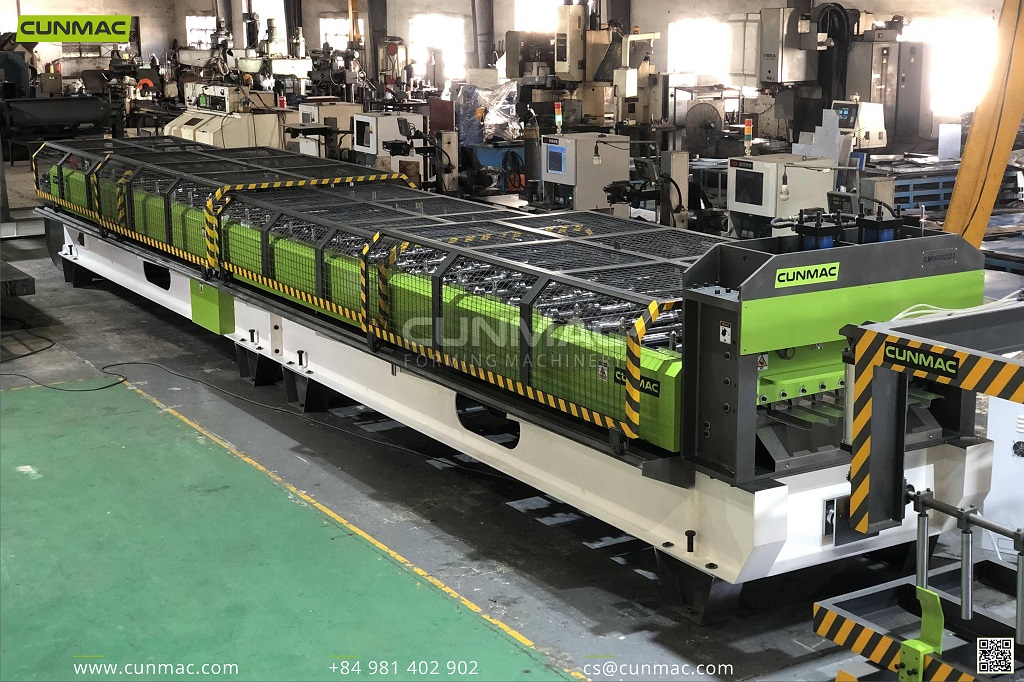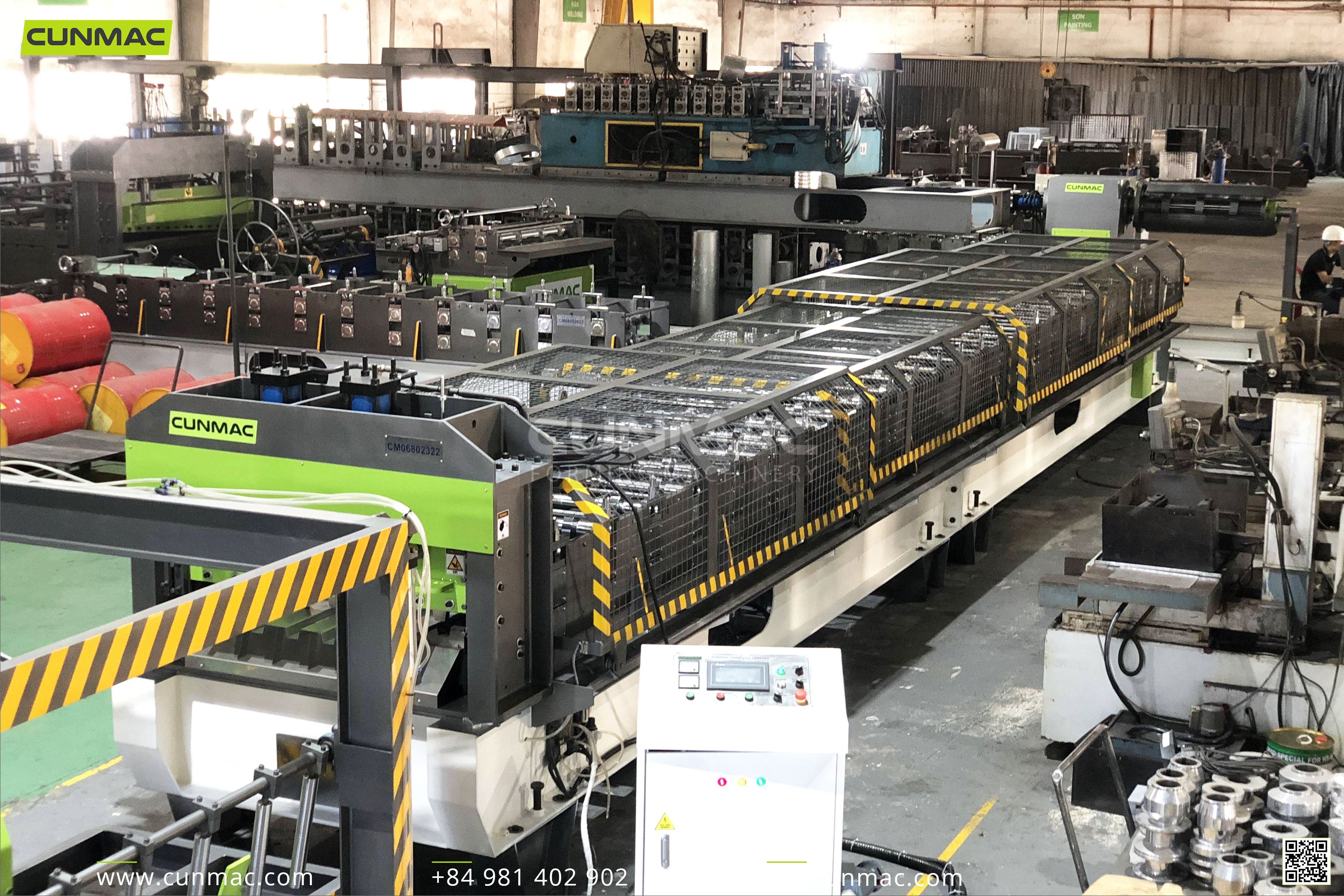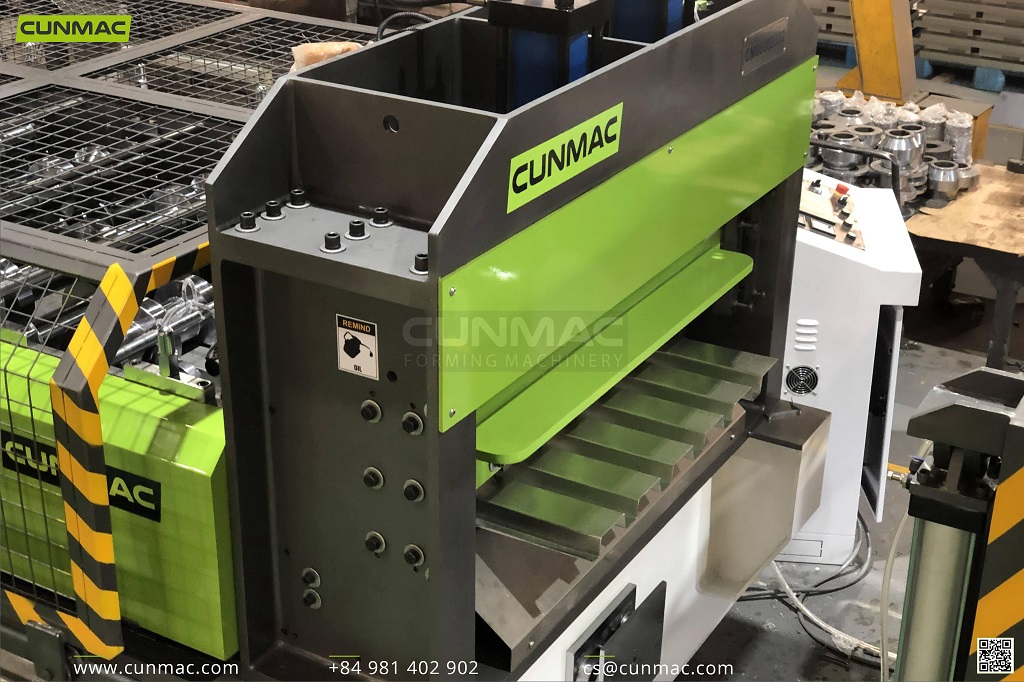 B-Deck Roll Forming Machine – CUNMAC Vietnam
The B-Deck Roll Forming Machine designed and manufactured by CUNMAC, is an innovative and efficient solution for producing a popular structural metal decking used in the construction industry, especially for floordeck. This machine incorporates advanced features and precise engineering, offering excellent reliability, durability, and productivity:
Having speed of 20 – 24m/min and a strong frame H beam 500mm.

With a control system managed by a PLC and touchscreen interface.

Using SKD11 Japan material and a high quality cutting system.

Suitable for material thickness ranging from 22-20 gauge (0.7mm – 0.9mm).
Besides, this machine has a Protection 5ft cover with outstanding points:
This protection cover can be divided into sections to slide in/follow the machine direction.

The machine will stop operating when this cover is opened to ensure safety.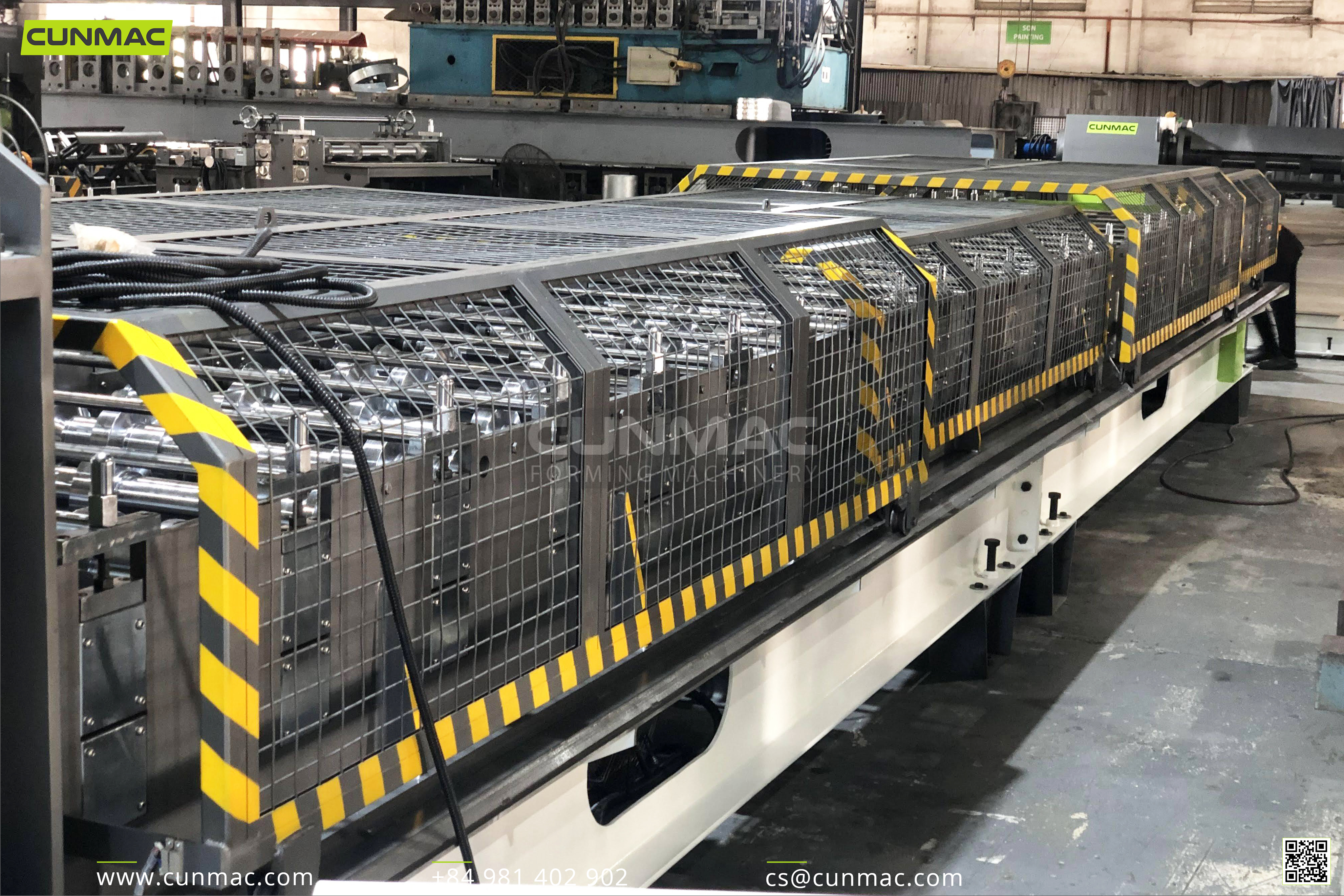 Read more: B-Deck roll forming machine
In addition to the B Deck Roll Forming Machine, the full set of machines includes the Auto Decoiler 8 tons and the Auto Stacker 8m. 
The Auto Decoiler is an evitable part of a roll forming machine to hold and safely pay off the steel strip in the beginning of a roll forming production line with loading capacity up to 8 tons.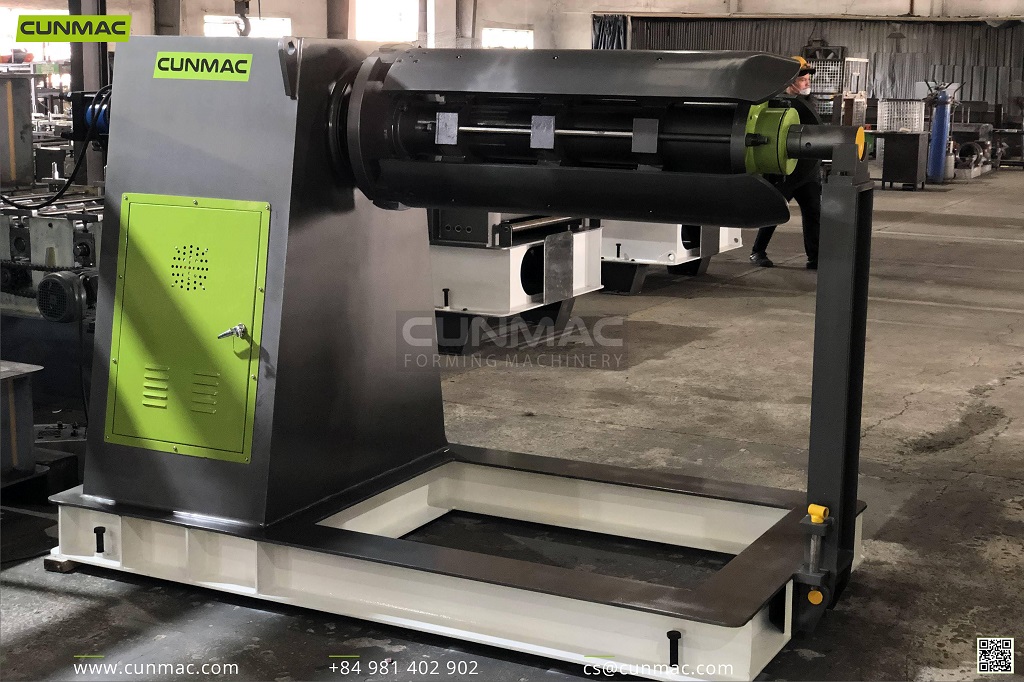 Auto decoiler/uncoiler with pressing arm – CUNMAC Vietnam
Read more: Auto Decoiler/Uncoiler
The Auto Stacker helps handle finished products automatically with advanced system and is controlled automatically from the PLC system of the roll forming machine. It is ideal for high-volume production runs with length of feeding up to 8 meters.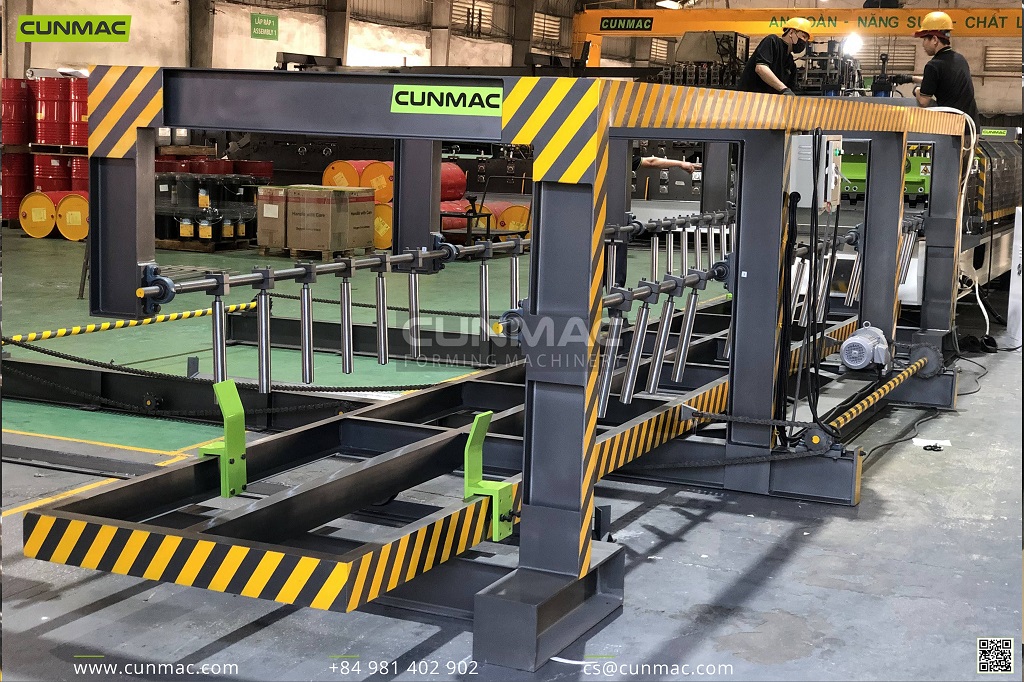 Automatic Stacker feeding 8 meters – CUNMAC Vietnam
Acceptance of B-Deck machine producing decking panels: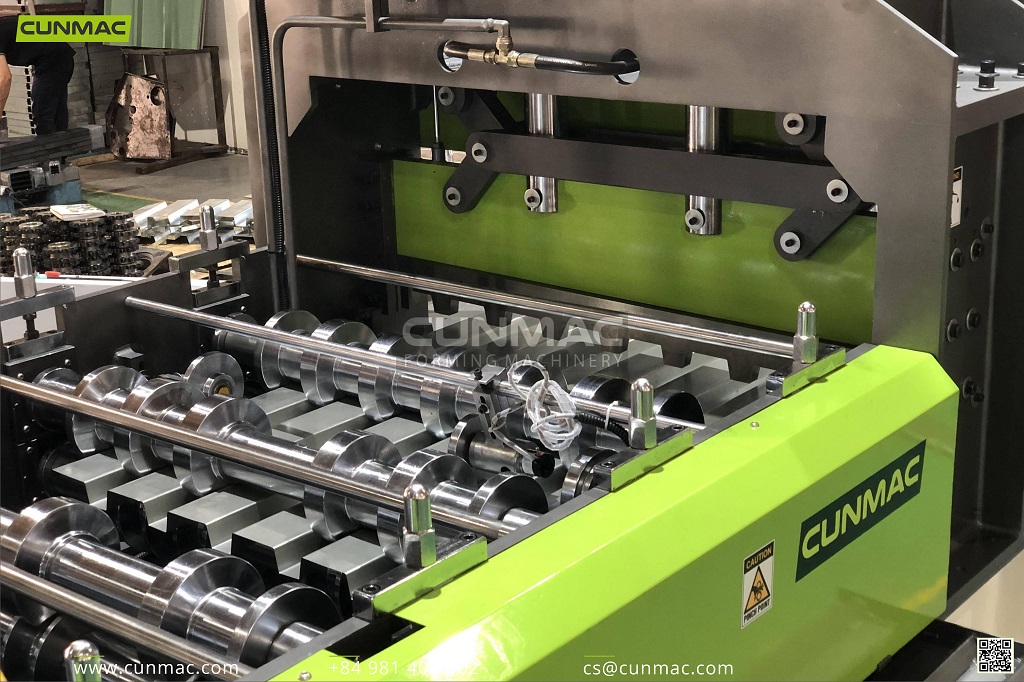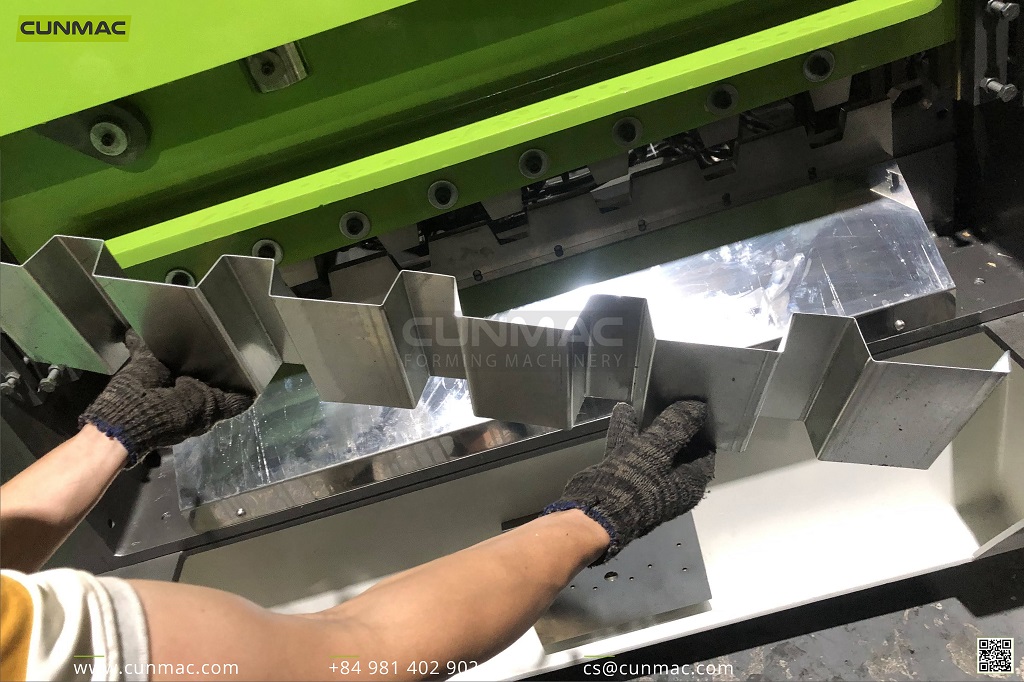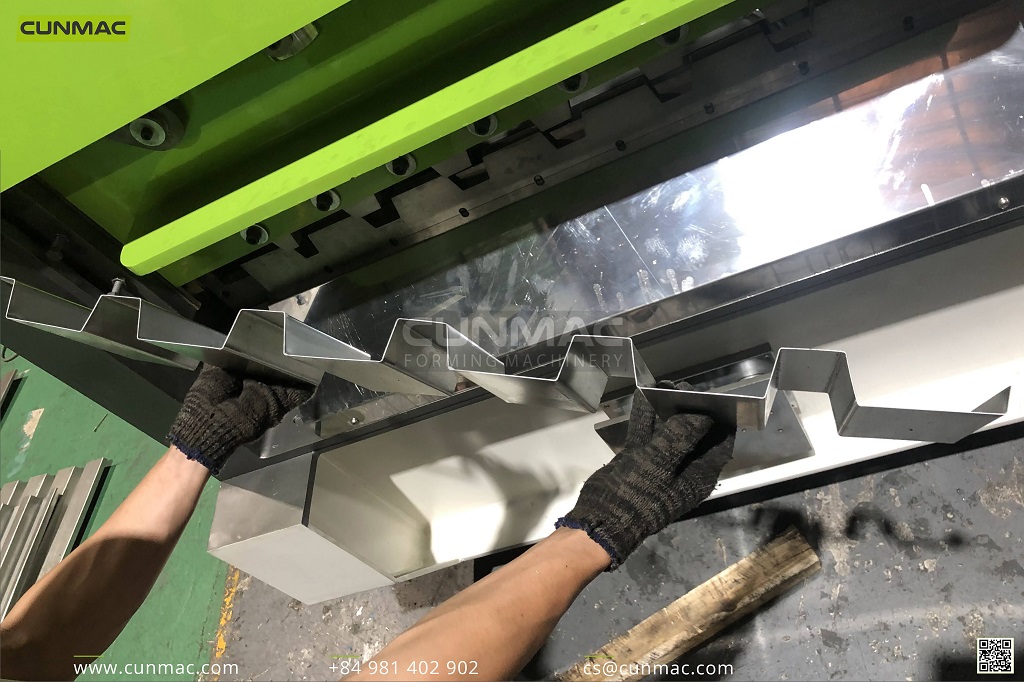 B Deck decking panels
Read more: Floordeck roll forming machine
Besides, we are pleased to share an exciting video documenting the successful delivery journey of our B Deck roll forming machine. Join us on this journey:
At CUNMAC, customer satisfaction is our utmost priority. And we are proud to have received glowing feedback for our B-deck roll forming machine:
"Dear team, I just want to drop a quick note to say how heavy and big of the set, it took us nearly 2 days to unload and reassemble the whole set. Anyway, thanks for providing strong body frame and powerful machines. Have a nice day!👍👍"
– Mr. Arden, customer in the USA – 
We really value and appreciate customer feedback. It drives us to continually improve and provide exceptional products and services.
If you are looking for a roll forming machinery that guarantees superior performance, reliability, and customer satisfaction, look no further than CUNMAC.
CUNMAC is committed to delivering beyond expectations, and the successful delivery of the B-Deck roll forming machine and the auto decoiler, as well as the auto stacker is a testament to our resolute dedication to our customers worldwide.
Contact our expert team today to discuss your specific requirements and experience excellence in roll forming machinery firsthand.
ABOUT CUNMAC MACHINERY
CUNMAC Co., Ltd is a leading manufacturer of cold roll forming solutions that addresses the demands of the modern construction industry. With over 15 years of experience, we have built a reputation for delivering high-quality and innovative roll forming solutions to customers across the globe.
All CUNMAC machines are professionally and reasonably made in Vietnam, our goal is to provide flexible machines with the best quality and customized designs which give customers unique benefits and experiences.
Hotline: +84 981 402 902
Mail: cs@cunmac.com
Please contact our consultants today, we would be really happy to assist you.