Go with Cunmac – Today is a great day! We will have some coffee today and discuss more decoiler machine definition, how decoiler machine works and how to choose suitable uncoiler for your factory.
1. What is decoiler machine?
If you look at the beginning of a roofing roll production line, you can see an evitable part of roll forming machine to hold and safely pay off the steel strip.
A decoiler, also call uncoiler, unwinds steel coil, which can be fed into continuously running machineries such as roll formers or automatic punches. Decoiler machine is suitable for all kinds of coil material feeding and the decoiler can work with straightener.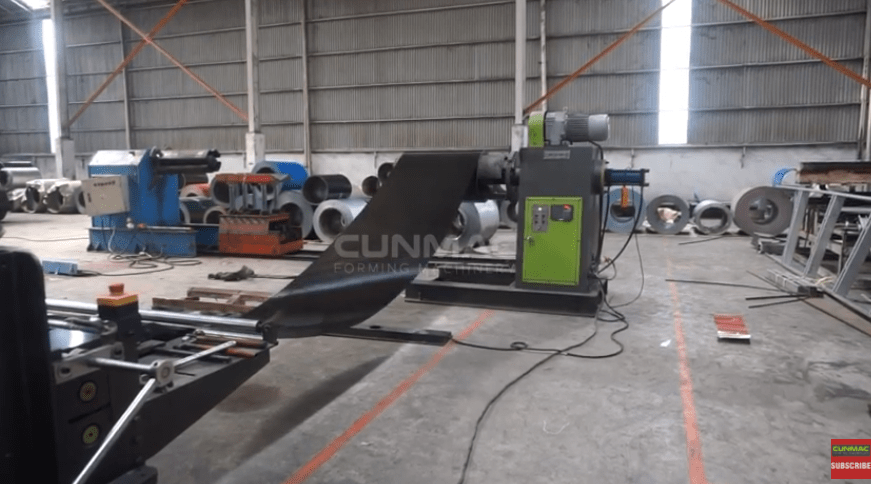 Decoiler is a power driven equipment for automatically feeding the sheet material and adjusting the quantity of the end material hence the total capacity of the complete line.
Some decoiler models have speed control system and automatic or manual turning ability in both directions. Capacities of decoilers are variable. Stop systems can be friction or pneumatic.
Application: Uncoiler and decoiler can be used for most of all roll forming machines such as:
2. How decoiler machine working?
The coil material will be placed on the coil car of the un-coiler to load into the mandrel where it is un-coiled to feed the cut to length or press line. The coil-loading car travels on the rail by hydraulic motor to reach the desired position. The coil is held by the mandrel hydraulically. The pneumatic pressure arm holds down the tip of the coil material at the beginning of the uncoiling. The coil loop is controlled by two photocells and ultrasonic sensor.
Read more: Auto uncoiler with coil car
Cunmac auto uncoiler/ decoiler
– Automatic decoiler machine operation by sensor
– Transmission by gear motor
– Expand and collapse by hydraulic cylinder
– Hydraulic decoiler machine with electrical and hydraulic components made from Japan, Germany
– Stable operation with strong power and body frame
– Customize design
3. How to choose a proper auto decoiler machine?
Decoiler machine function is to uncoil the metal coil, making it flat and cutting it into sheets.
Manufacturers often don't realize how useful an uncoiler is until they realize that, depending on the size of the coil, they can have changeovers six to eight times or more per day.
Having a second coil ready and waiting on the machine eliminates the immediate need for a forklift or crane to load a coil once the first one is out of material. An uncoiler performs a critical function in roll forming environments, especially in large-run operations where the machine may be forming parts across an eight-hour shift, reducing downtime for factory.
Knowing your current specifications and capabilities is important when investing in an uncoiler. However, it's also important to think about the future use of the machine and what possible future projects will be on the roll former. These are all factors that need to be considered accordingly and really help to determine the proper uncoiler.
Uncoiler manufacturers offer a variety of options to ensure roll forming processes can be optimized.
When you are choosing a decoiler/uncoiler for your production line, there are some notes you could take into consideration.
Weight of coil
ID and OD of coil
Width of coil
Coil thickness (min. and max.)
Speed of roll former
If you these above specifications in mind, do not hesitate to contact Cunmac for further consultation of uncoiler and decoiler.