CUNMAC has a successful shipment of a set of 6 rib-type roofing roll forming machine and some other machines to our valued customer in India. Follow this article for details!
CUNMAC Vietnam is delighted to announce the successful shipment and delivery of the product – Trapezoidal 6 rib roofing roll forming machine – to our valued customer in India.
This achievement marks another highlight in the company's commitment to delivering high-quality machinery solutions to customers worldwide.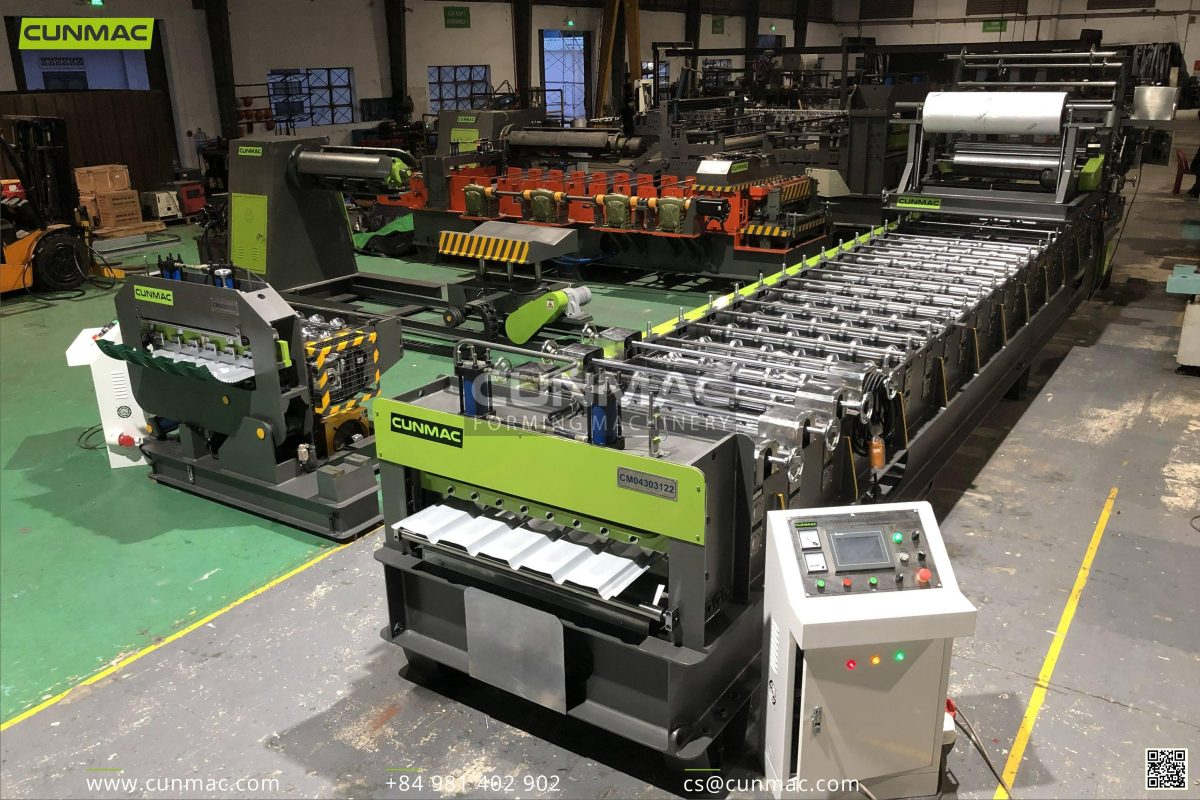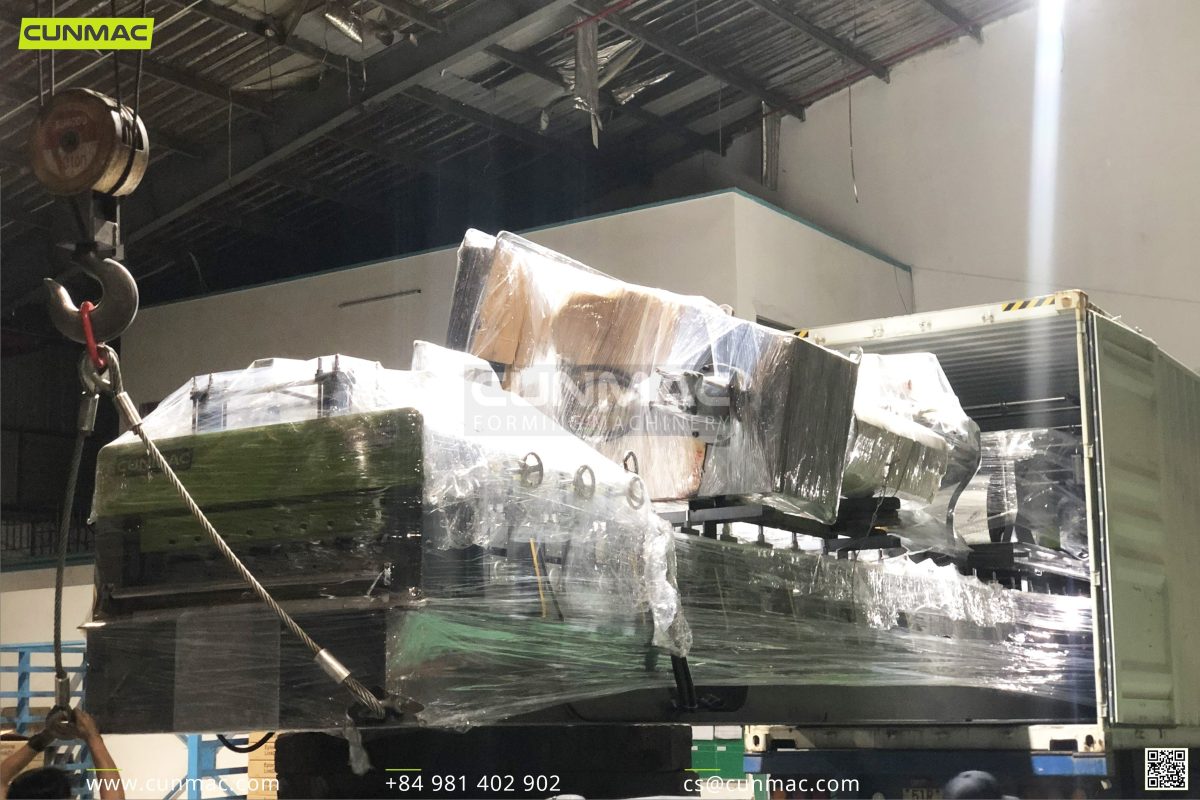 Delivering full set of machines to our customer
The Trapezoidal 6 rib roofing machine with OPP designed and manufactured by CUNMAC, including standard roll forming machine and OPP machine, is an innovative and efficient solution for producing PE-OPP insulated roof panels. Laminated PE-OPP sheets are ideal for weather resistance, can protect the roof from moisture, absorbs shocks, reduces noise, retains heat, and is highly flexible. 
This machine incorporates advanced features and precise engineering, offering excellent reliability, durability, and productivity:
Quantity of roller stations: 22 – 24 pairs (often applied for 6 rib roofing – popular in India market)

Speed of 12 – 16m/min with OPP layer and up to 20 – 22m/min without PE-OPP.

With a control system managed by a PLC and touchscreen interface.

Using SKD11 Japan material and a high quality cutting system.

Suitable for material thickness ranging from 0.3 to 0.6mm, coil width of 1220mm.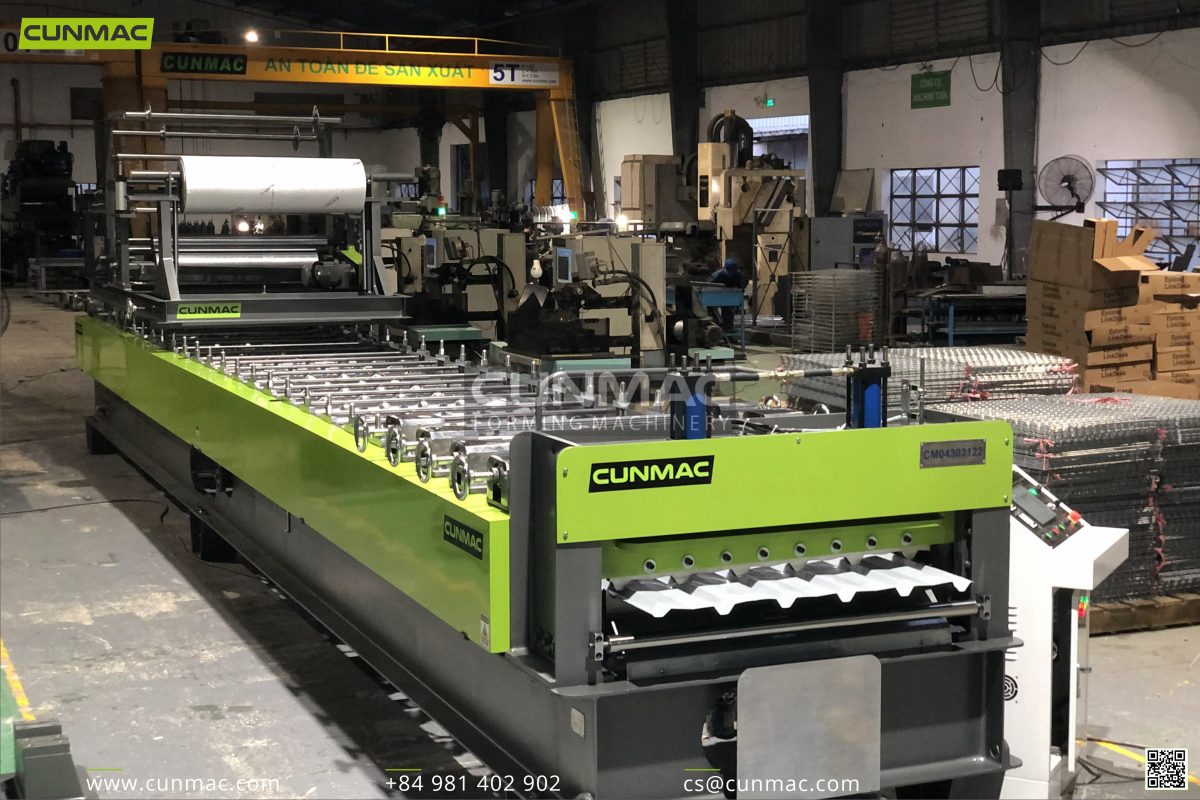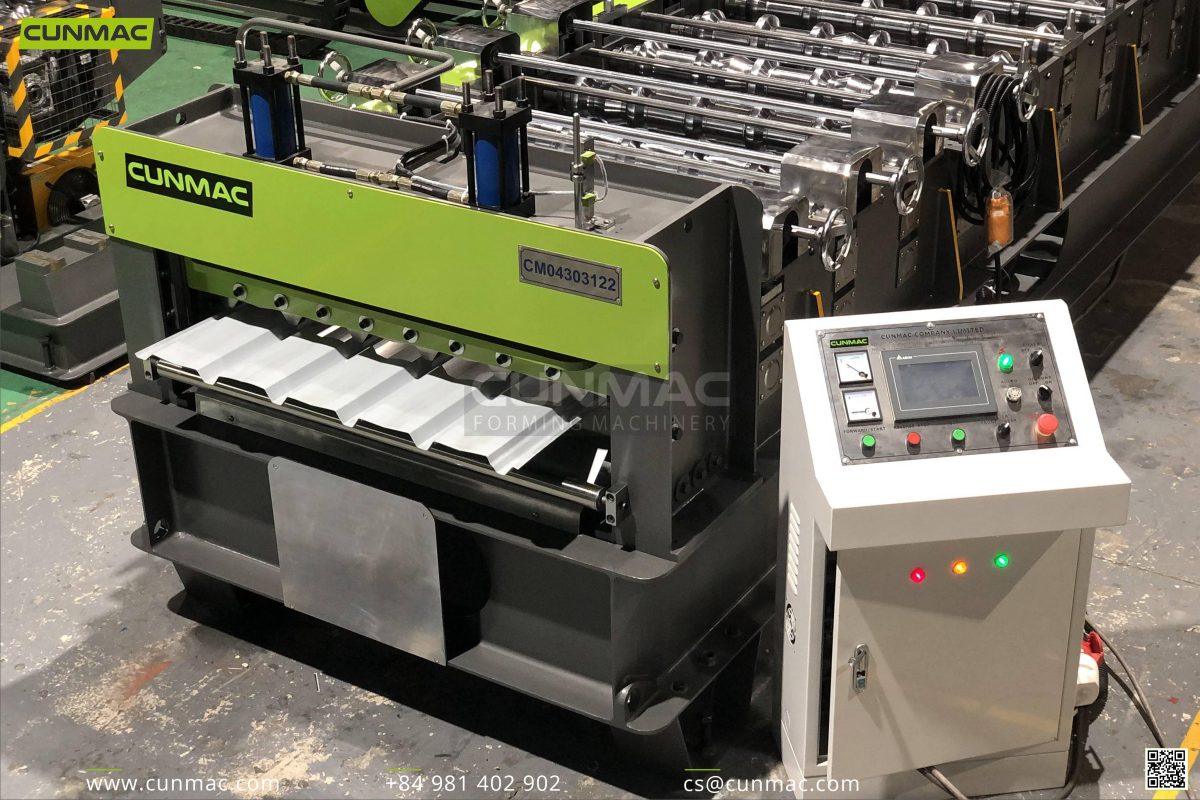 Trapezoidal roofing machine combined with OPP machine – CUNMAC Vietnam
Laminated PE-OPP roofing roll forming machine operating: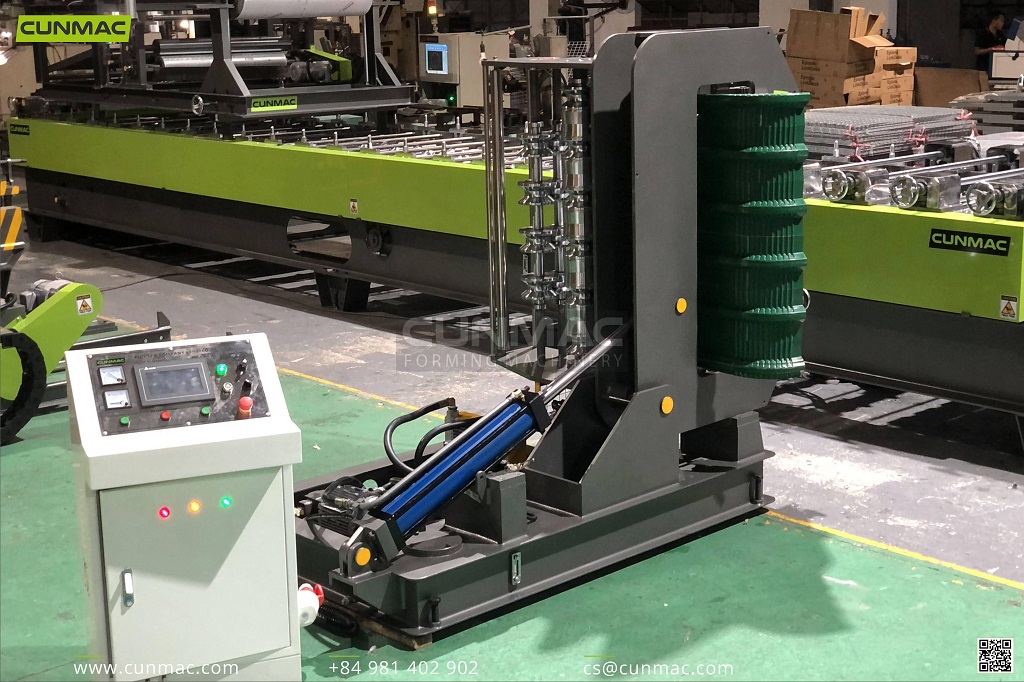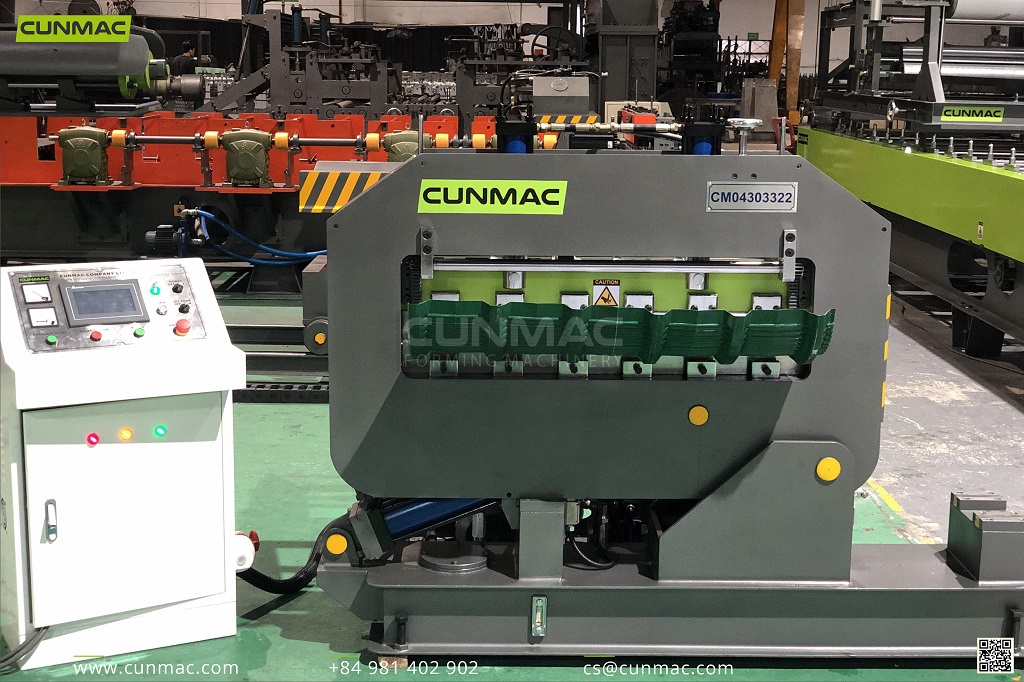 Crimping curve/Pressing curve forming machine – CUNMAC Vietnam
Read more: Standard pressing curve forming machine
We are pleased to share an exciting video documenting the successful acceptance of our crimping curve forming machine before shipment. Join us on this:
The Auto Decoiler is an evitable part of a roll forming machine to hold and safely feed the steel strip in the beginning of a roll forming production line with loading capacity up to 10 tons.
This decoiler is going with a coil car/loading car that makes it simpler and easier to support and load the coil into the decoiler.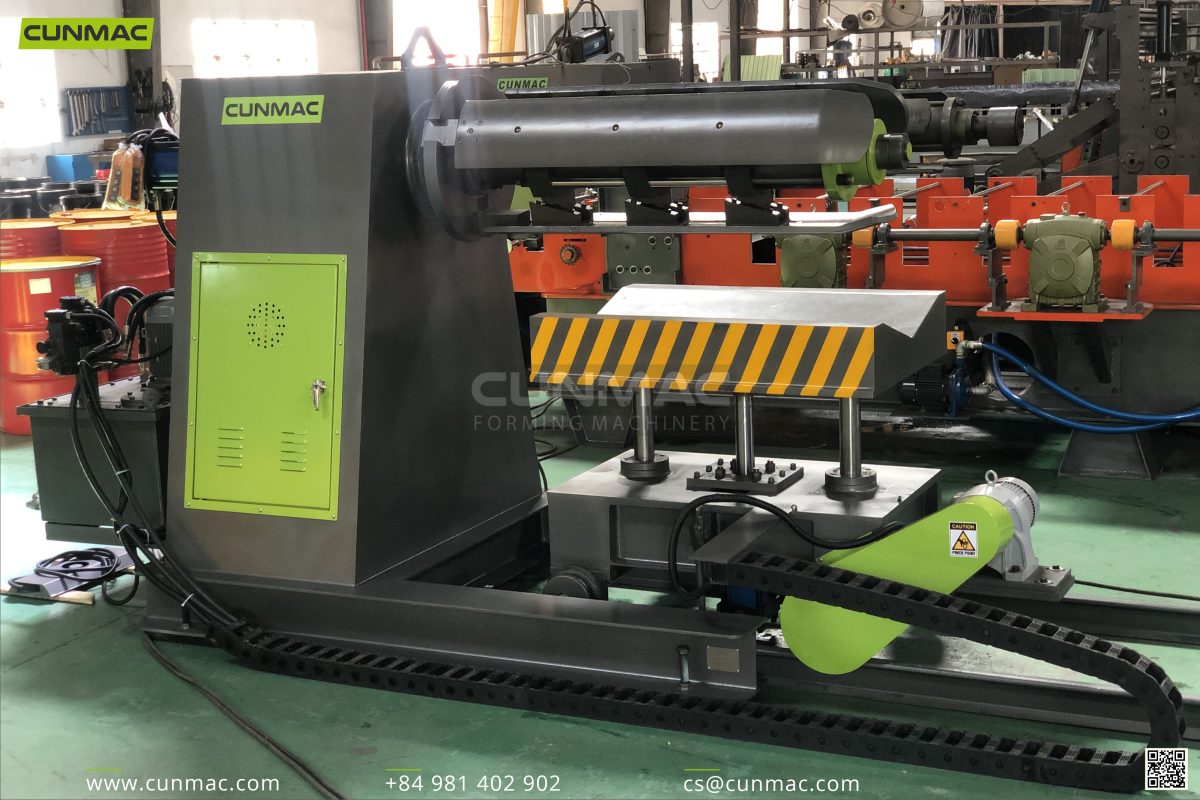 Automatic decoiler/uncoiler 6 tons with coil car – CUNMAC Vietnam
Watch more: Auto uncoiler/decoiler with coil car working
We, a roll forming machine manufacturer, specialize in custom designing and manufacturing a wide range of good solutions and products for companies operating in the sheet metal, construction and manufacturing industries.
Our products are delivered across many markets: America, France, Korea, Australia, India, Ethiopia, Ivory Coast, Thailand, Myanmar, Indonesia, Malaysia, Sri Lanka, Kuwait, Cambodia and Vietnam.
If you are looking for a roll forming machinery that guarantees superior performance, reliability, and customer satisfaction, look no further than CUNMAC.
CUNMAC is committed to delivering beyond expectations, and the successful delivery of the Trapezoidal roofing roll forming machine is a testament to our resolute dedication to our valued customers.
Contact our expert team today to discuss your specific requirements and experience excellence in roll forming machinery firsthand.
ABOUT CUNMAC MACHINERY
CUNMAC Co., Ltd is a leading manufacturer of cold roll forming solutions that addresses the demands of the modern construction industry. With over 15 years of experience, we have built a reputation for delivering high-quality and innovative roll forming solutions to customers across the globe.
All CUNMAC machines are professionally and reasonably made in Vietnam, our goal is to provide flexible machines with the best quality and customized designs which give customers unique benefits and experiences.
Hotline: +84 981 402 902
Mail: cs@cunmac.com
Please contact our consultants today, we would be really happy to assist you.