Go with CUNMAC – Cold-formed steel framing with useful things to know about. Jump into this article to find out!
1. What is Cold-Formed Steel (CFS) Framing?
Cold-formed steel framing, alternatively referred to as light gauge steel (LGS) framing or cold-formed steel truss, refers to thin steel that has been rolled by cold-working processes to form shapes without being reheated.
Read more: Truss roll forming machine
2. Advantages and applications of cold-formed steel truss framing
CFS trusses offer significant advantages for mid-rise, multi story and multi-family projects.
Mid-rise and multi-family structures come with unique challenges and considerations. They are high-traffic, high-usage, and often, high-turnover environments. They are more prone to wear and tear, so they need to be durable, comfortable, and visually appealing to attract and retain tenants while remaining profitable for owners.
CFS trusses address these considerations thanks to some outstanding points:
– Lightweight: lighter loading on buildings than other traditional construction materials.
– Capable of long-spans: easily contribute to larger floor areas and taller buildings because of lightweight material.
– Diverse in configuration: can be formed into diverse desired shapes: C section, U section, hat channel…
– Efficient and cost-saving: simple installation leads to reducing on-site labor cost and material waste.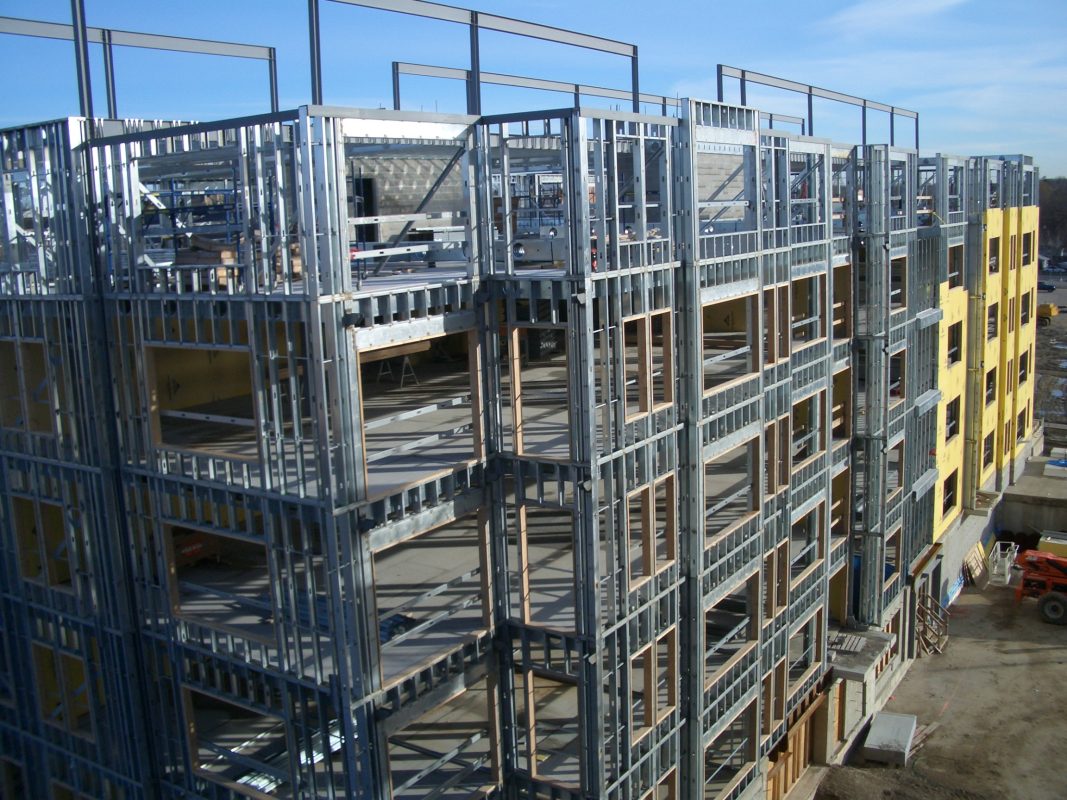 Cold-formed steel framing in mid-rise construction
Cold-forming steel truss framing is also popular in constructions with sloped roofs and challenging conditions.
They outperform other framing materials for various roof profiles:
+ Pitched roofs, flat roofs
+ Cantilevers and overhangs
+ Vaulted ceilings and curved roofs…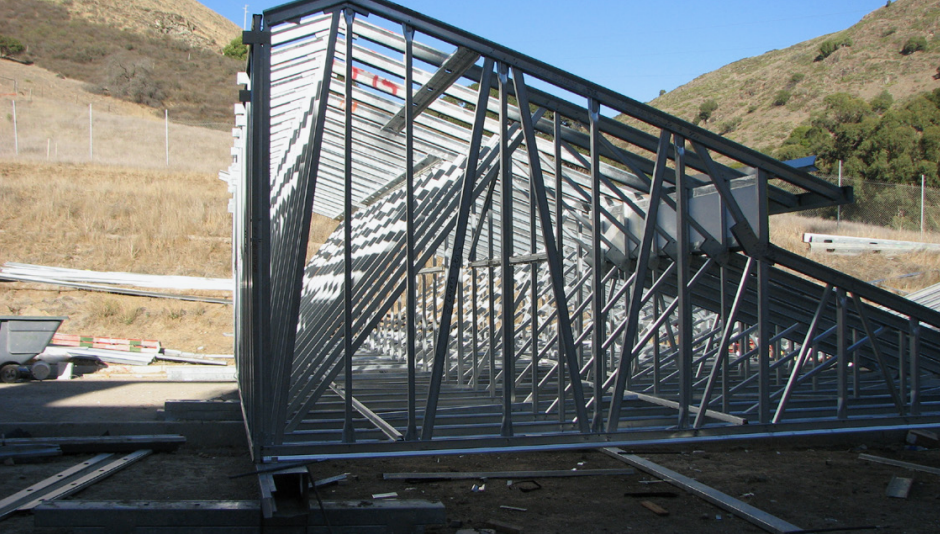 Complex and creative designs with truss configurations
3. Some typical types of cold-formed steel truss sections
C truss/C stud/C section
It refers to cold-formed steel that has been formed into a C-shape with a lip return. These are commonly used as a vertical part in wall or column framing. Deeper sections can also serve as floor joists, roof joists, or beams.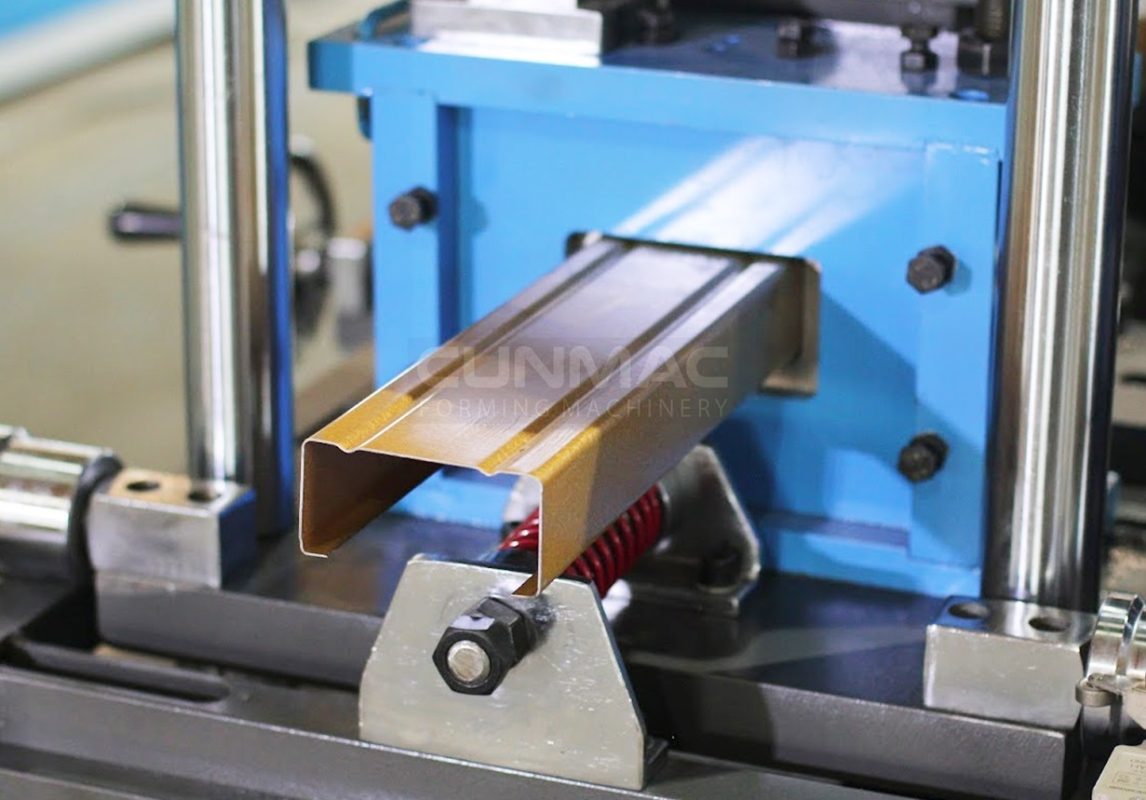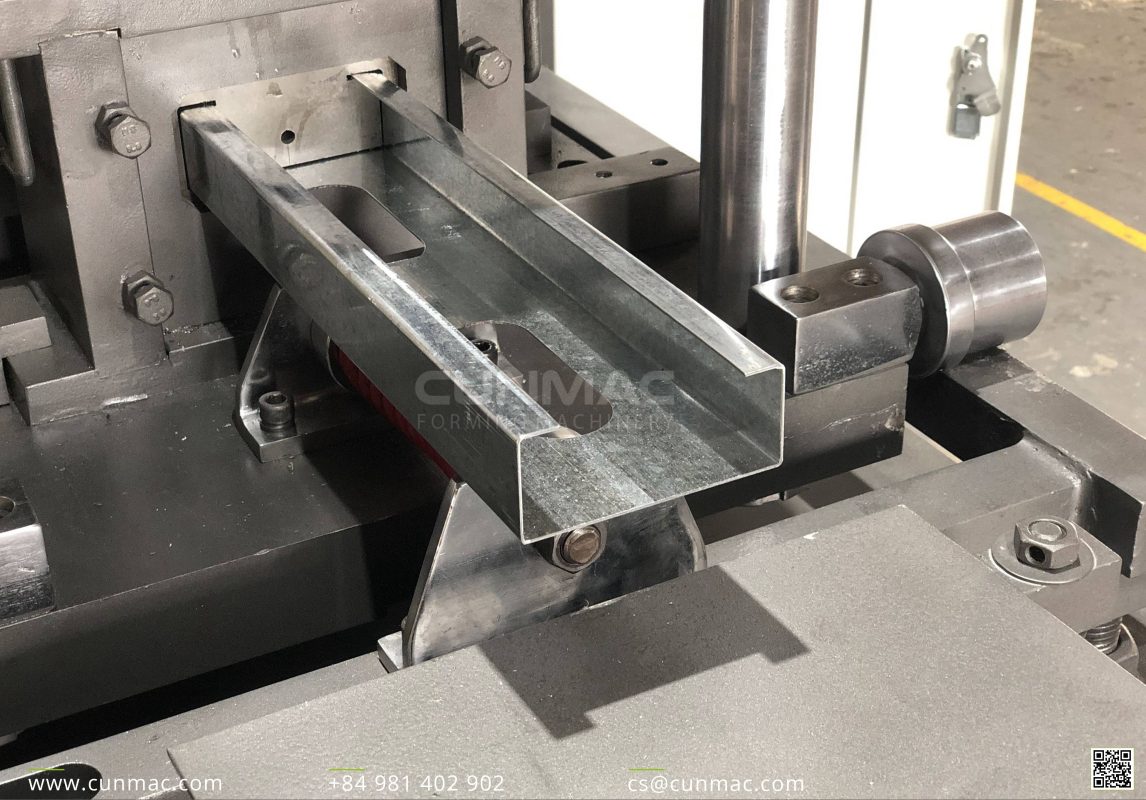 C truss/C stud/C section
Watch more: Metal stud framing machine
Hat channel/Top hat/Batten
Hat channels, also known as battens or top hats, are used to provide a fixing point for roofing materials such as shingles or tiles. 
Generally, C truss/C section and batten are the perfect couple for a great roof structure, especially lightweight structure.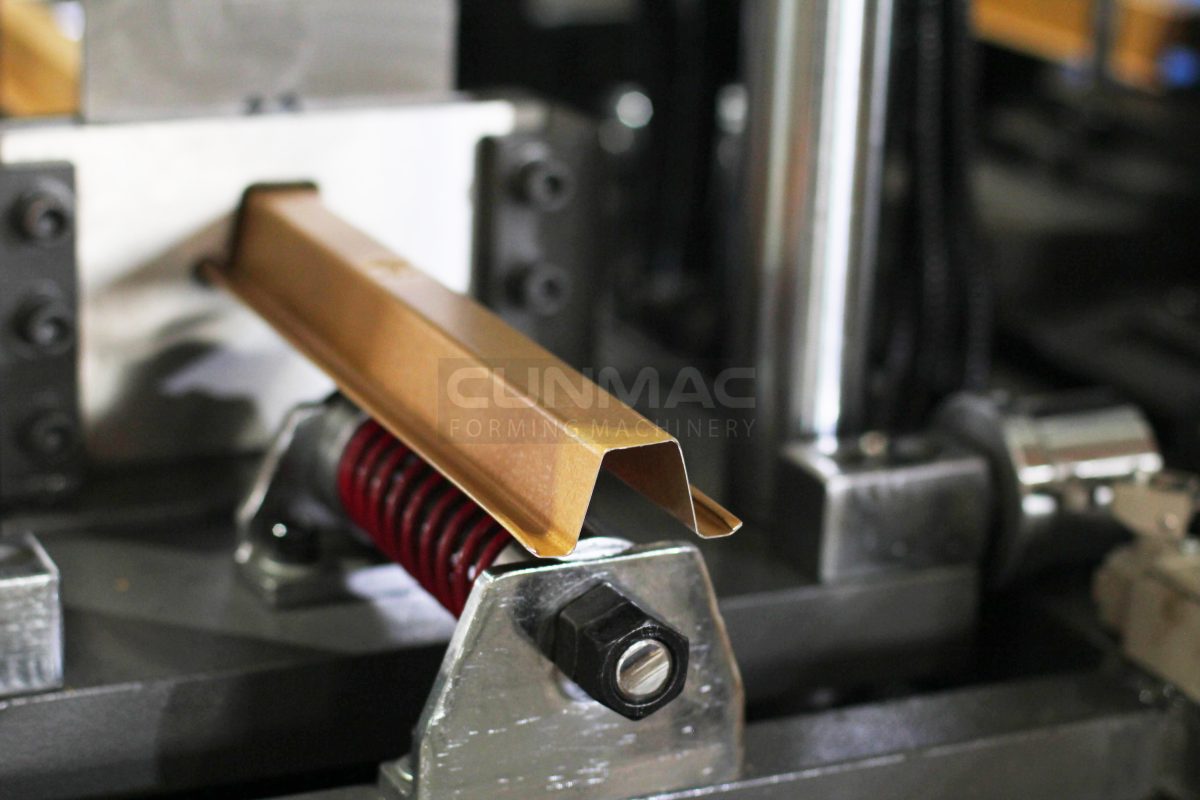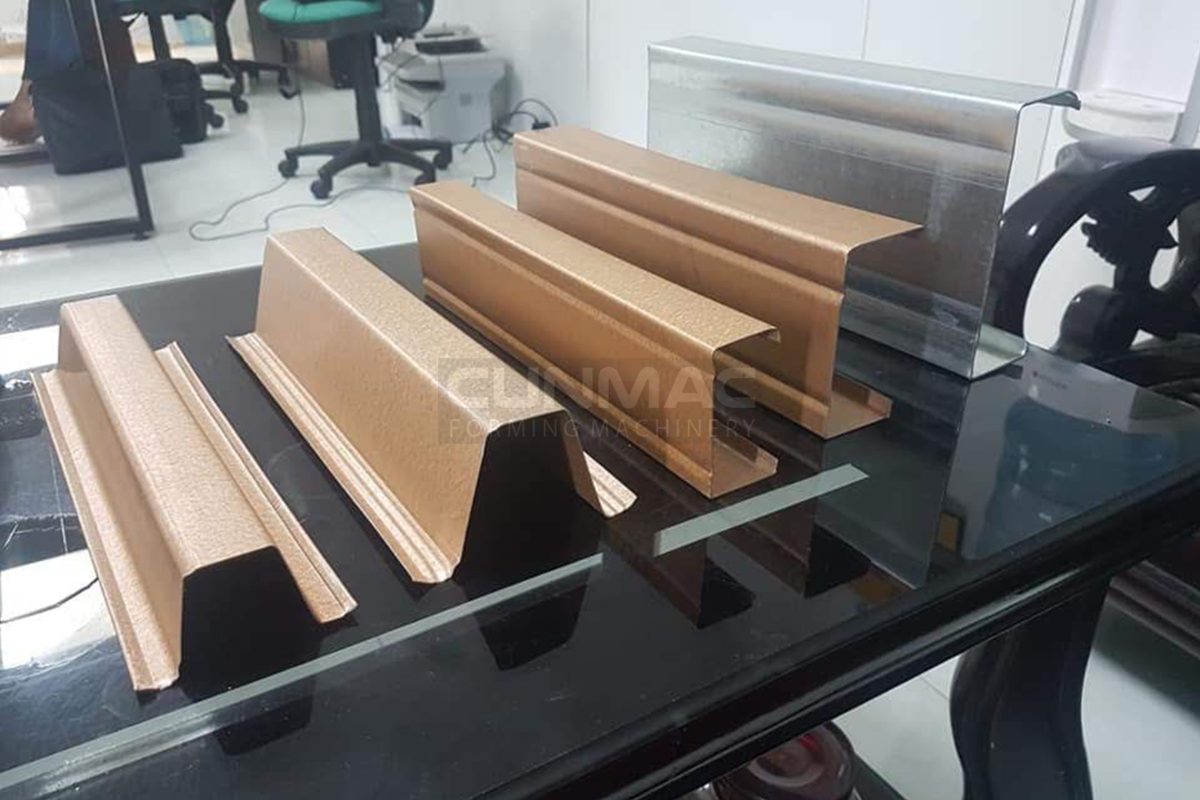 Hat channel (left) – Hat channel with C section (right)
Read more: Understanding full details of roof truss and roof batten
U track
U Track is also a type of cold-formed steel. U track is often used as the horizontal framework of stud partitions, in conjunction with vertical metal studs (C studs). This combination is commonly employed in concealed grid gypsum ceilings for lightweight structure.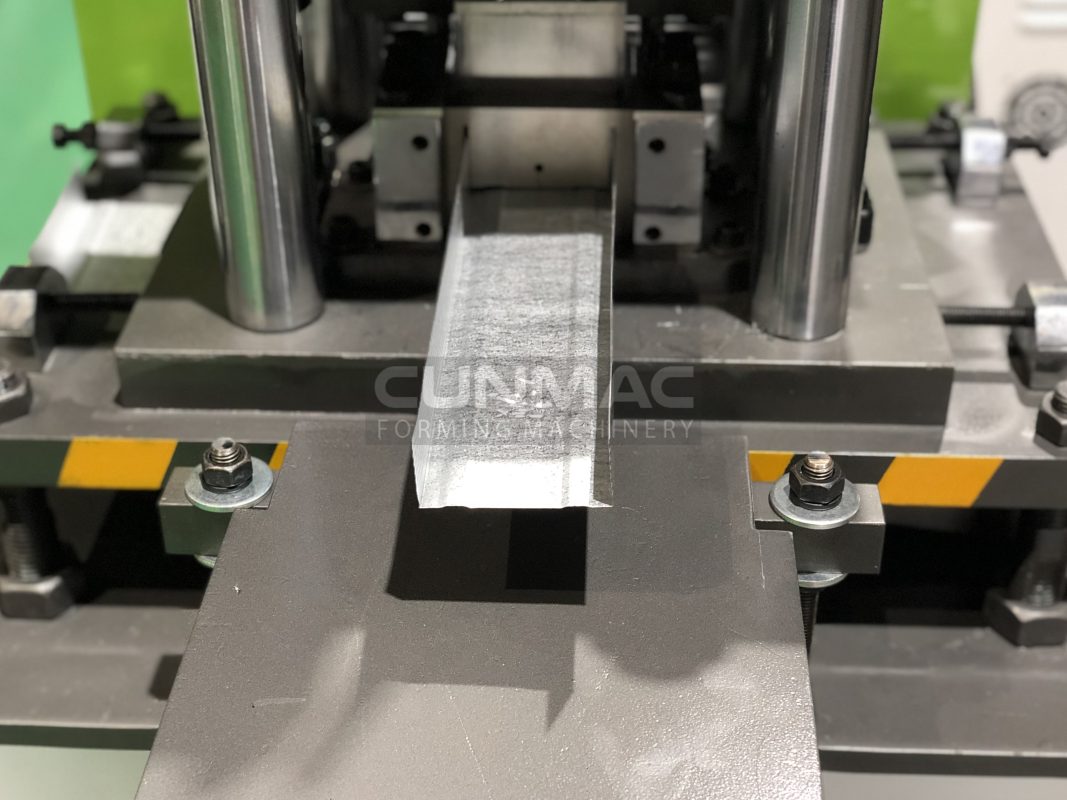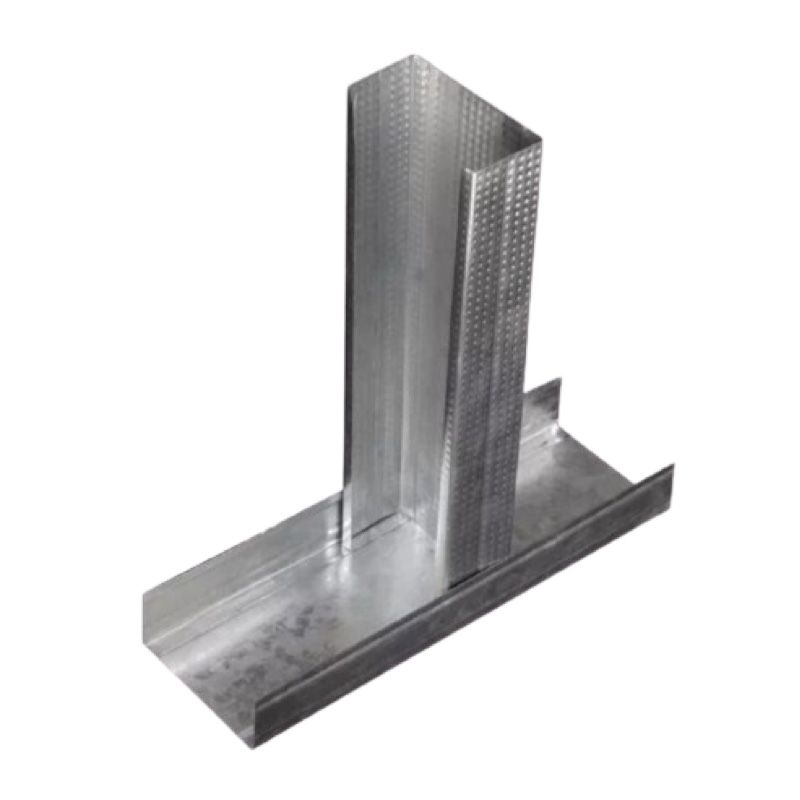 U track (left) – U track with C stud (right)
Read more: Metal stud and track framing – All things you should know
4. Truss framing roll forming machine of CUNMAC
Some types of truss framing roll forming machine that CUNMAC producing:
There are available options for customer preferences:
– Single truss roll forming machine
– Combined 2in1 truss roll forming machine
These machines include:
– Semi-auto decoiler/uncoiler 2 tons
– Run-out table 4m
Workflow of the machine:
Decoiler >> Feeding material >> Roll forming machine >> Cutting >> Run-out table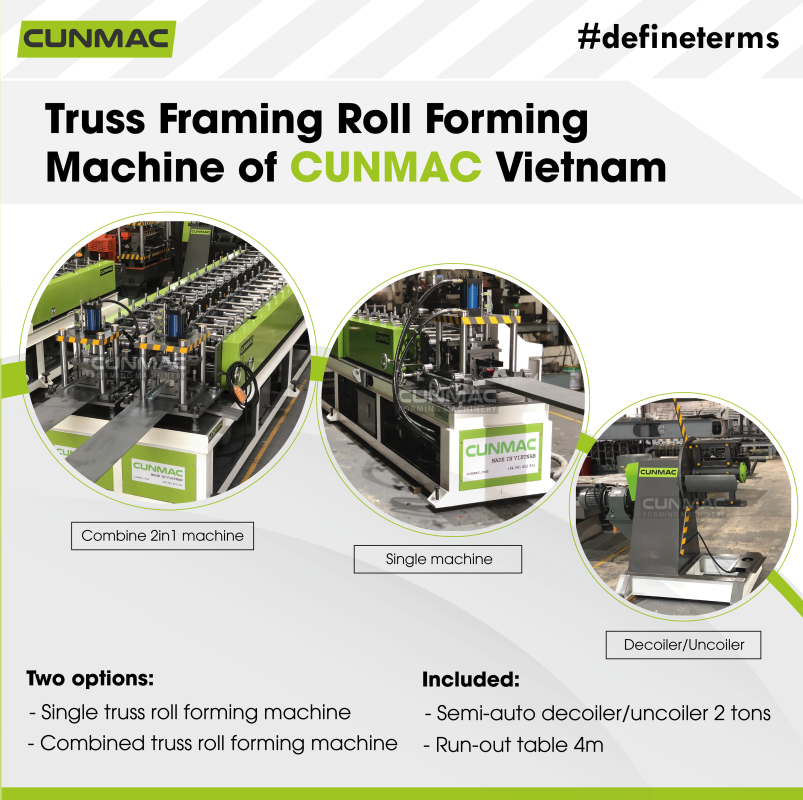 5. About CUNMAC Machinery
CUNMAC Co., Ltd is a leading manufacturer of cold roll forming solutions that addresses the demands of the modern construction industry. With over 15 years of experience, we have built a reputation for delivering high-quality and innovative roll forming solutions to customers across the globe.
CUNMAC Machinery has a wide range of roll formers, including:
All CUNMAC machines are made in Vietnam, aiming for flexibility, user-friendliness, and high quality, which can provide unique benefits and a positive product experience for customers.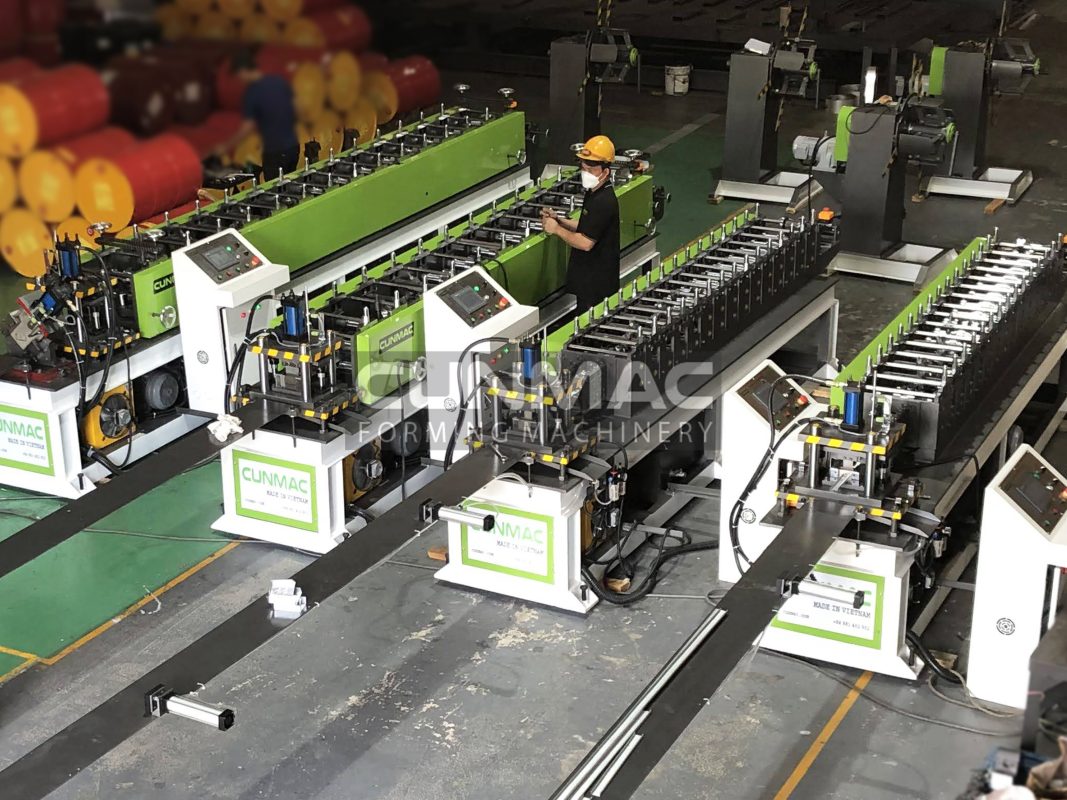 If you are ready to get more information please contact our consultants today, we would be really happy to assist you.