Have you ever been wondering that metal stud and track framing is used in ceiling or wall systems? What are the advantages when choosing it for your construction? If your response is yes, why don't you go with CUNMAC together to find out the answers today?
1. What is metal stud and track framing?
Metal stud and track framing, also called metal wall framing or metal drywall framing, is an alternative to wood framing and has been popular in commercial construction. This type of framing is mainly used in concealed grid gypsum wall of light weight structure.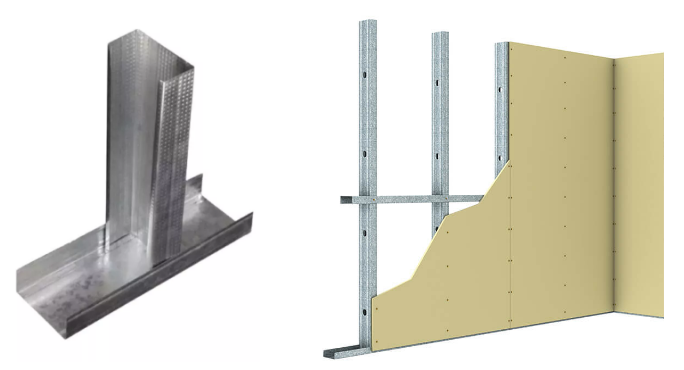 Metal stud & track wall framing system
2. Components of metal stud and track framing
Metal stud and track framing includes furring channels, carrying channels, studs, tracks, wall angle, and main frame channel.
Two most commonly used frames are metal U Track, used as the horizontal framework of stud partitions, in conjunction with vertical studs (C Stud).
2.1 C Stud (vertical stud)
Metal C Studs are lightweight C shaped galvanised mild steel sections used vertically to form a partition wall or wall lining.
It is manufactured by taking a coil of galvanised steel and shaping it into a "C" shape using a cold rolling machine.
The studs are then cut into different sized lengths – usually between 2.4m and 4.2m – in 600mm increments to suit varying partition heights. There are five standard widths of C Stud; 50mm, 60mm, 70mm, 92mm and 146mm, with 50mm and 70mm being the most popular. All C Studs we stock are available to purchase in a pack quantity of 10.
2.2 U track (horizontal track)
Metal U Track is a galvanised steel section used in the construction of metal wall framing. It forms the horizontal framework of a partition wall, in conjunction with metal C stud.
Metal U Track comes in an extensive range of sections to suit all partition systems.
This lightweight steel section is normally denoted by its width, depth and length. There are five standard widths of track; 52mm, 62mm, 72mm, 94mm and 148mm, with 52mm and 72mm being the most popular. All tracks are sold in packs of 10.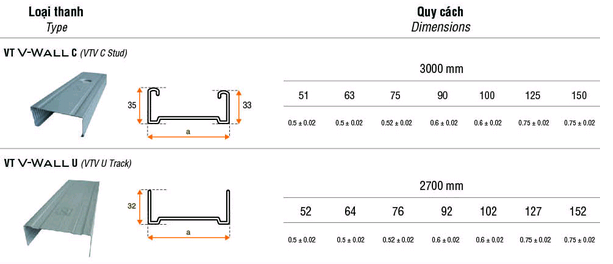 Sample dimensions of Metal U Track and C Stud
Metal U Track and C Stud are the two most important components of a complete metal stud and track framing. This is an economical steel frame system for strong, compact, lightweight non load-bearing partition walls.The track serves as both the top and bottom plates of the structure; creating a channel in which C Studs can be fixed.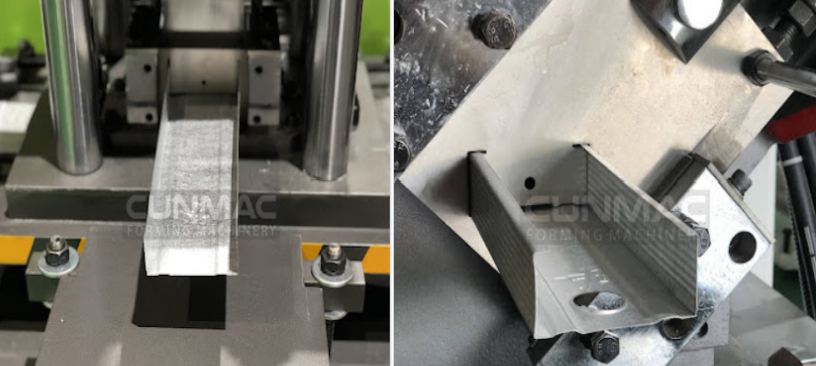 Metal U Track and C Stud
3. Advantages of metal stud and track framing
Don't warp or rot: remain straight and sturdy, not affected by moisture or humidity.
Ease of installation: attached with screws, so they can be taken apart, changed or moved if need be, lightweight and easy to carry.
Superior strength and flexible design.
Firen and insect proof: impervious to fire as well as termites and ants.
Little waste and dust: available in customs sizes, so there is about 2% waste versus around 20% with wood. Also, the metal scrap material is recyclable.
4. Disadvantages metal stud and track framing
More expensive than modular or wood framing.
Some components are sprayed with non-combustible foam, encased in concrete, or surrounded by fire-resistant drywall.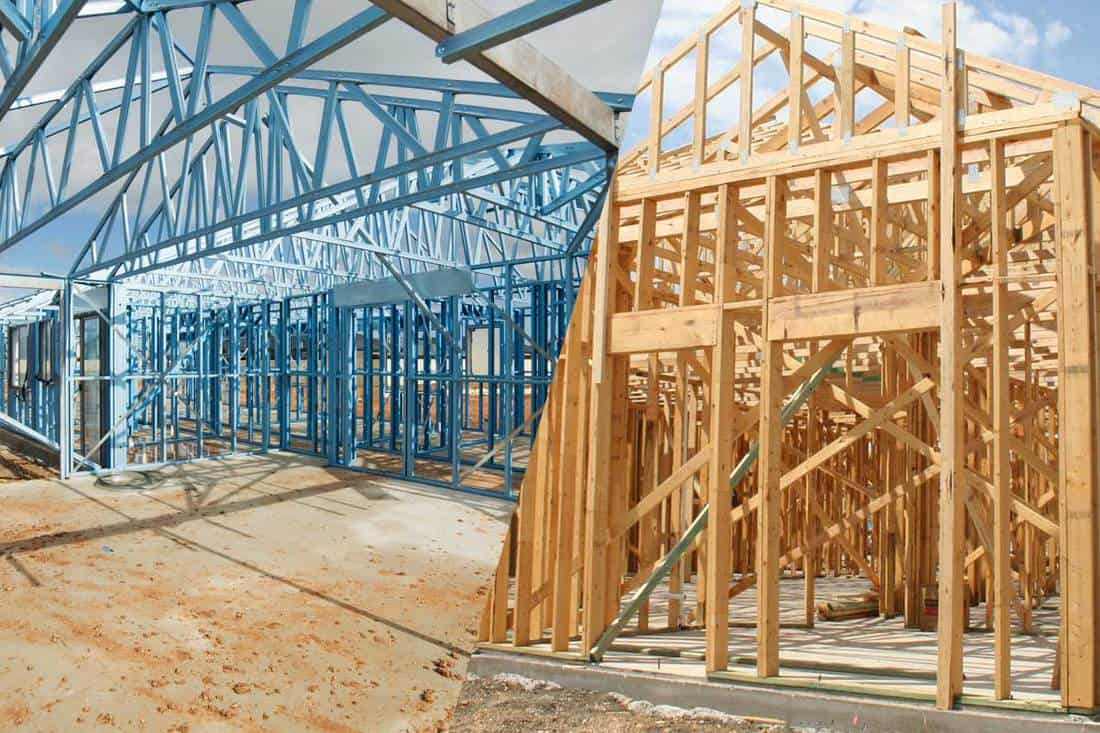 Metal frame and Wood frame
Read more: Ceiling/drywall/furring/ C line roll forming machine
5. Stud and track rolling forming machine of CUNMAC
Automatic C Stud & U Track Drywall Forming Machine of CUNMAC:
C Stud & U Track Roll Forming Machine, 100% made by CUNMAC Vietnam, is to fully produce automatically the production of C Stud and U Track with options for punching holes and embossing customer logos. Their main advantages are stable operation with a strong body frame and beautifully customized designs.

A set of Drywall stud and track profile roll forming machine of CUNMAC Vietnam
6. About CUNMAC Machinery
We, a roll forming machine manufacturer, customize design and manufacture a wide range of good solutions and products for companies operating in the sheet metal, construction and manufacturing industries. All CUNMAC machines are made in Vietnam. Our goal is to provide made-in-Vietnam flexible machines with good ease of use and high quality, where our designs and solutions give customers unique benefits and experience of our products.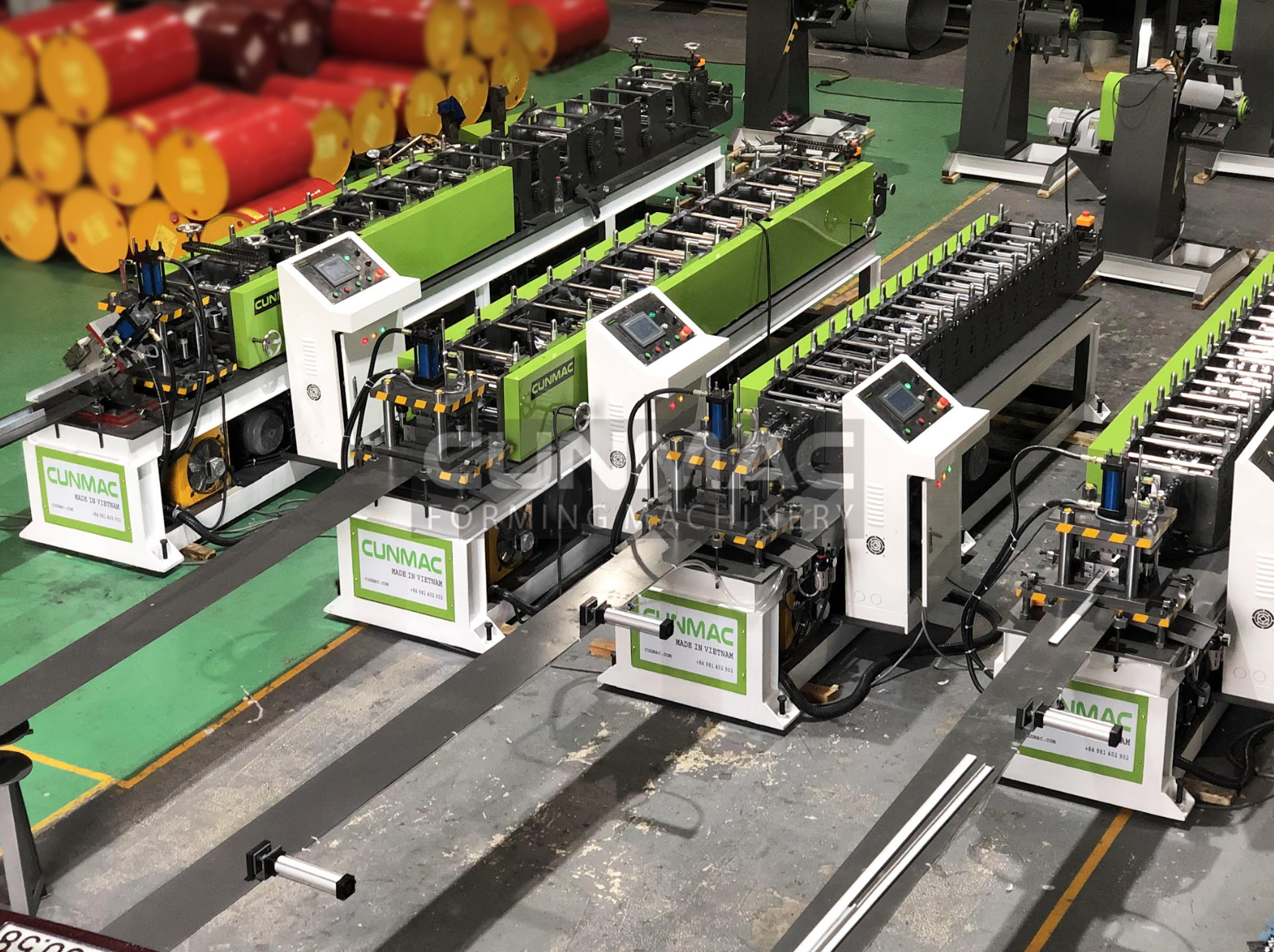 Our products include:
Roofing roll forming machine
Caping Nok roll forming machine
Louver roll forming machine
Pressing curve forming machine
Floordeck roll forming machine
Truss roll forming machine
Channel roll forming machine
Ceiling roll forming machine
Slitter & cutter
Leveling & cutting to length machine
Bending machine
Decoiler (uncoiler)
If you are ready to get more information please contact our consultants today, we would be really happy to assist you.
Hotline: +84 981 402 902
Mail: cs@cunmac.com