Go with CUNMAC – In this article, we will have a small discussion about ceiling frame: definition, structure and benefits in constructions. Let's go!
1. What is ceiling frame?
The ceiling frame is the horizontal area between the top of walls and the roof. It is the horizontal member that carries the load of the ceiling sheets and act as a tie between the rafters at their base. It consists of ceiling joists, trimmers and beams.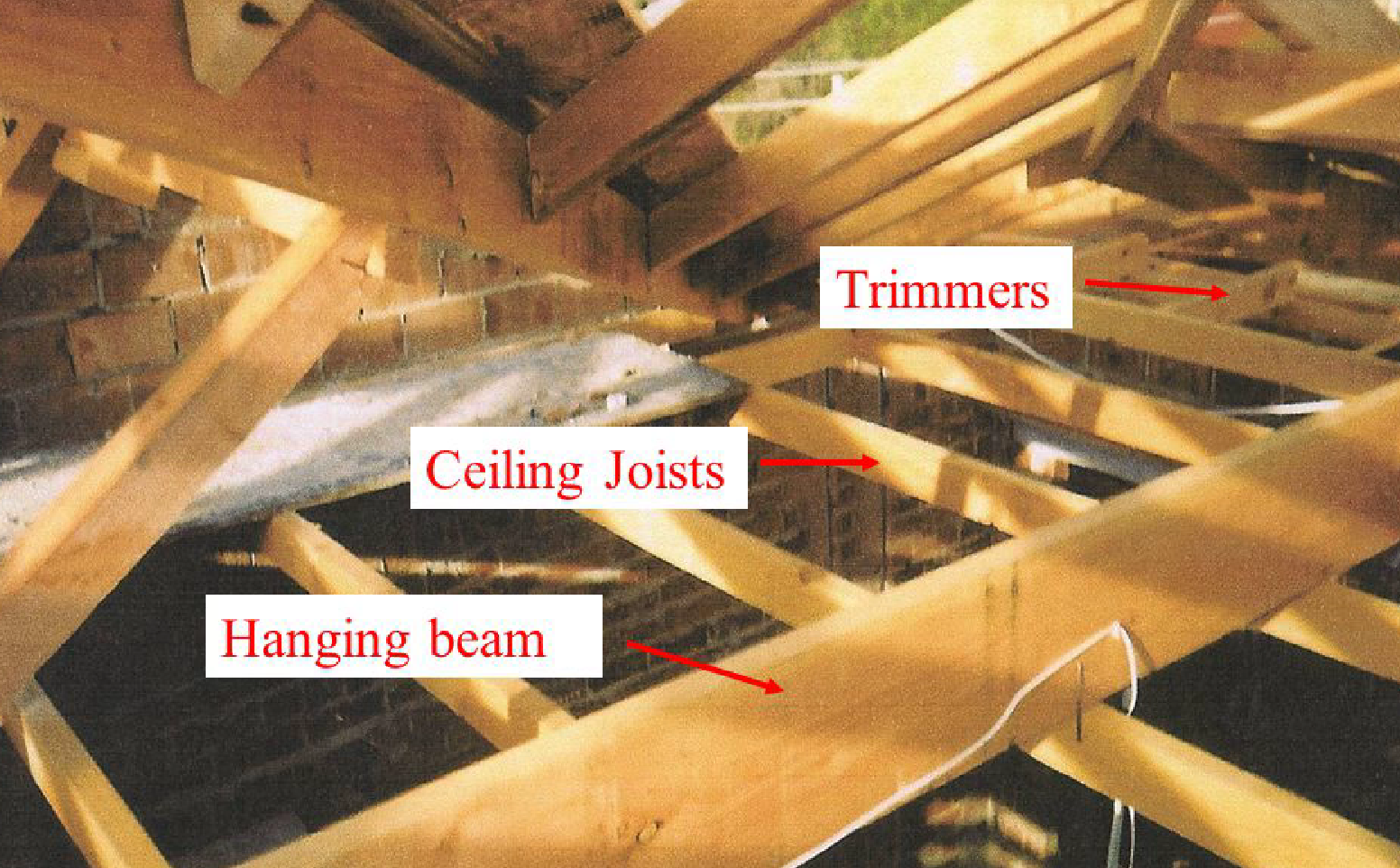 Ceiling frame in construction
2. Structure of ceiling frame
Ceiling frame includes these main elements:
2.1 Ceiling joists
Ceiling joists are the lengths of timber or metal that the ceiling is attached to. They must be at the same spacing and in the same direction as the main rafters so they can be fixed to, and act as ties between the feet of opposing rafter pairs.
The ceiling joists have a double function:
– They provide the structure onto which the ceiling is fixed
– They are the member that connects or ties the lower ends of rafter pairs. Therefore, they prevent the rafters spreading and causing the roof to sag or collapse.
2.2 Ceiling trimmers
Ceiling trimmers are also called trimming joists. They have short lengths at right angles between ceiling joists. provide fixing for ends of ceiling sheets, also internal walls where they fall between joists and help give lateral stability to frame.
2.3 Ceiling beams
Ceiling beams (also called hanging beams) are generally deep timber beams located perpendicular (at right angles or 90º) to ceiling joists and directly above them. They are attached to the ceiling joists by metal hoops or brackets. Their main purpose is to support the joists and allow for shorter joists to be installed.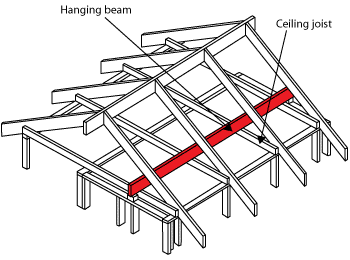 Main elements of ceiling frame
3. Purpose of ceiling frame
One of the main structural functions of a ceiling frame is to tie together the exterior walls of a building. When located under a pitched roof, the ceiling frame also resists the outward pressure exerted on the walls by the roof rafters. The tops of interior partitions are fastened to the ceiling. In addition to supporting the attic area beneath the roof, it also supports the weight of the finished ceiling materials, such as gypsum boards.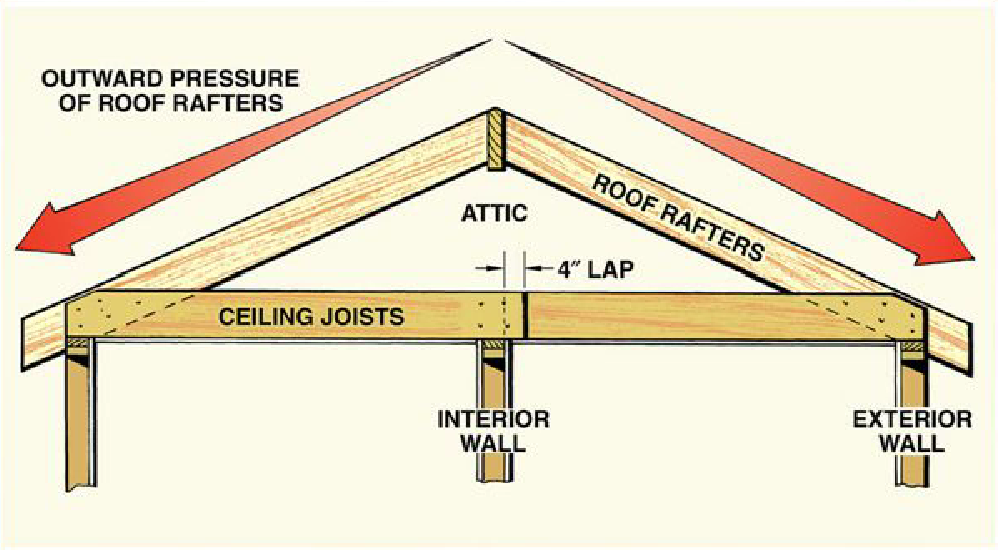 A ceiling frame ties together the exterior walls and resists the outward pressure of roof rafters
Read more: Ceiling/drywall/furring/ C line roll forming machine
4. Metal ceiling frame and its benefits
Metal framings are popular in where a seamless, non-load bearing suspended ceiling is required, especially used in concealed grid gypsum false ceiling of light weight structure.
Some benefits of choosing metal ceiling frame for your construction:
– Easy to install: metal frame weight is lighter than wood one and elements of it can be taken apart, changed, or moved without difficulty.
– Convenient: metal elements of ceiling frame are actually lighter in weight than wood so they are easier to transport and store. Also, cutting metal framing won't create a dusty mess.
– Straight and sturdy: metal does not shrink, split, or warp. The metal frame will remain straight, sturdy, and experience little to no wear and tear over time. In addition, the metal ceiling frame will not be affected by moisture, humidity, or insects.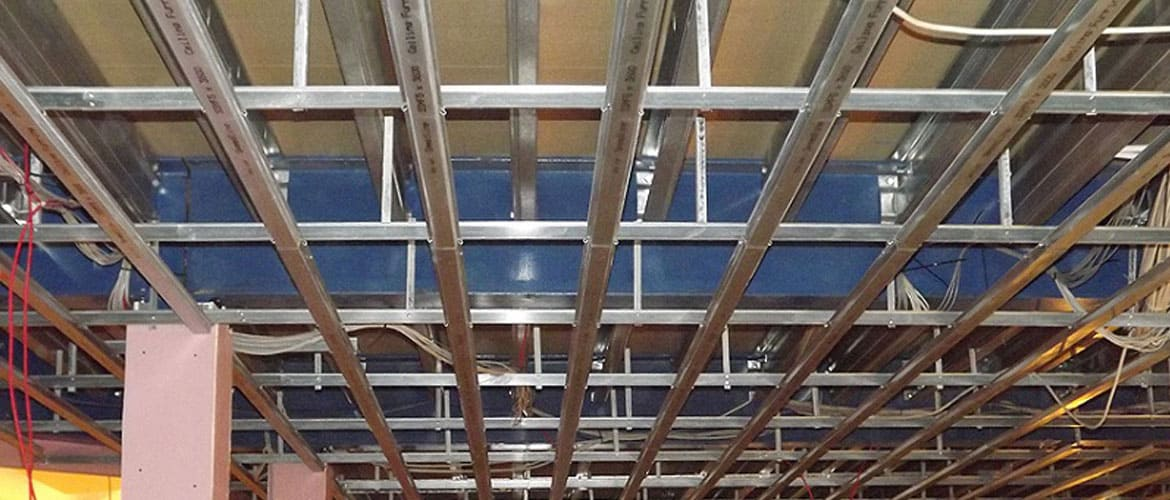 Metal ceiling frame
5. Ceiling roll forming machine of CUNMAC
Our over 15 years of experience in manufacturing roll forming machines is a result of our high-quality awareness to operate in a continuously innovative process. This process is based on market needs and desires for innovation, automation, and quality. Our quality covers not only employees and suppliers but also production methods, products, and partners. All parts of products are fabricated from alloy steel by CNC precision machines. Electrical and hydraulic components derive from reputable brands such as Siemens, Schneider, OMRON, Hitachi, Yuken…
All CUNMAC machines are professionally and reasonably made in Vietnam, our goal is to provide flexible machines with the best quality and customized designs which give customers unique benefits and experiences.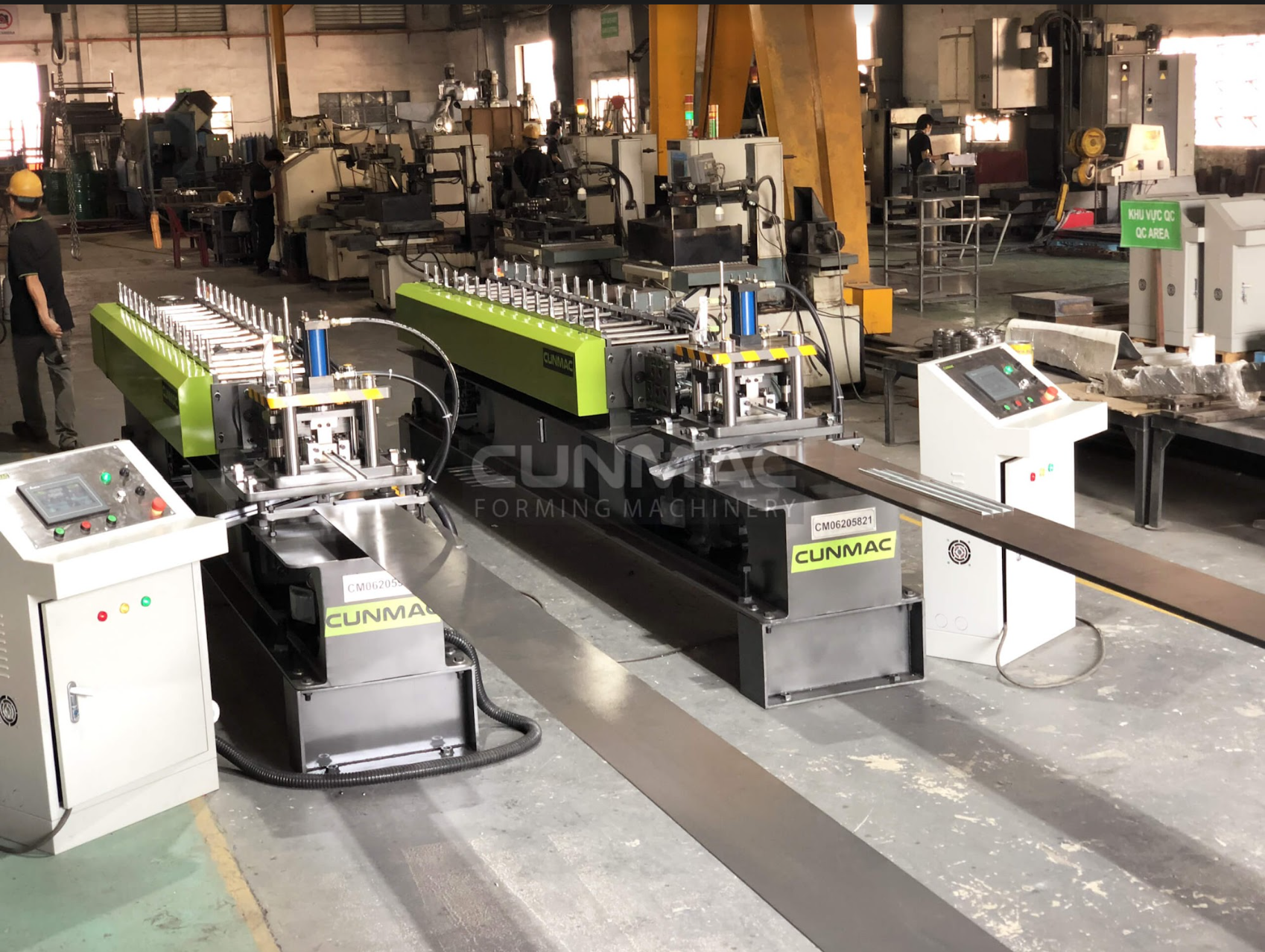 Here are 2 types of ceiling roll forming machine that CUNMAC producing:
Some specifications about these machines:
– Automatic roll forming and cutting with Inverter, PLC, HMI
– Automatic programmable length settings via the touch panel
– Roller and blade are fabricated from alloy and SKD11 steel 60-62HRC
– Electrical and hydraulic components made from Japan, Germany
– Save history for orders in 30 days
– Customize design
– Stable operation with strong power and body frame
Besides, for wall drywall frame, there provides machine called Automatic C Stud & U Track Drywall Forming Machine
If you are ready to get more information please contact our consultants today, we would be really happy to assist you.
Hotline: +84 981 402 902
Mail: cs@cunmac.com