Go with Cunmac – Today is a great day! We will have some coffee or tea and discuss more on some common types of roofing roll forming machines to choose before making any invesment decision.
What is the roll forming machine process?
Rollforming a machine is a process of forming a sheet strip of metal pass through a series of continual setup rolls to make a desired profile or shape.
More details: What is roll forming machine? How it works?
What materials can be rolled in sheet metal roll forming machines?
Steel/ Stainless Steel

: contains a high percentage of chromium, which le

nds it high staining and corrosion resistance.

Galvannealed

: the surface of the metal features a bonded coating of zinc-iron alloy.

Aluminum

: a soft, malleable, and lightweight metal with excellent resistance to corrosion.

Brass

: a copper and zinc alloy featuring a bright, gold-like color and a high resistance to corrosion.

Copper

: a ductile metal noted for its electrical conductivity.

Composites

: materials engineered from two or more materials.
How many types of roofing sheet-making machine to choose?
With advantages such as fast-rolling speed, high productivity, and automation to save labor and cost, metal roof panel roll formers are currently commonly used in the market, including:
STANDARD ROOFING ROLL FORMING MACHINE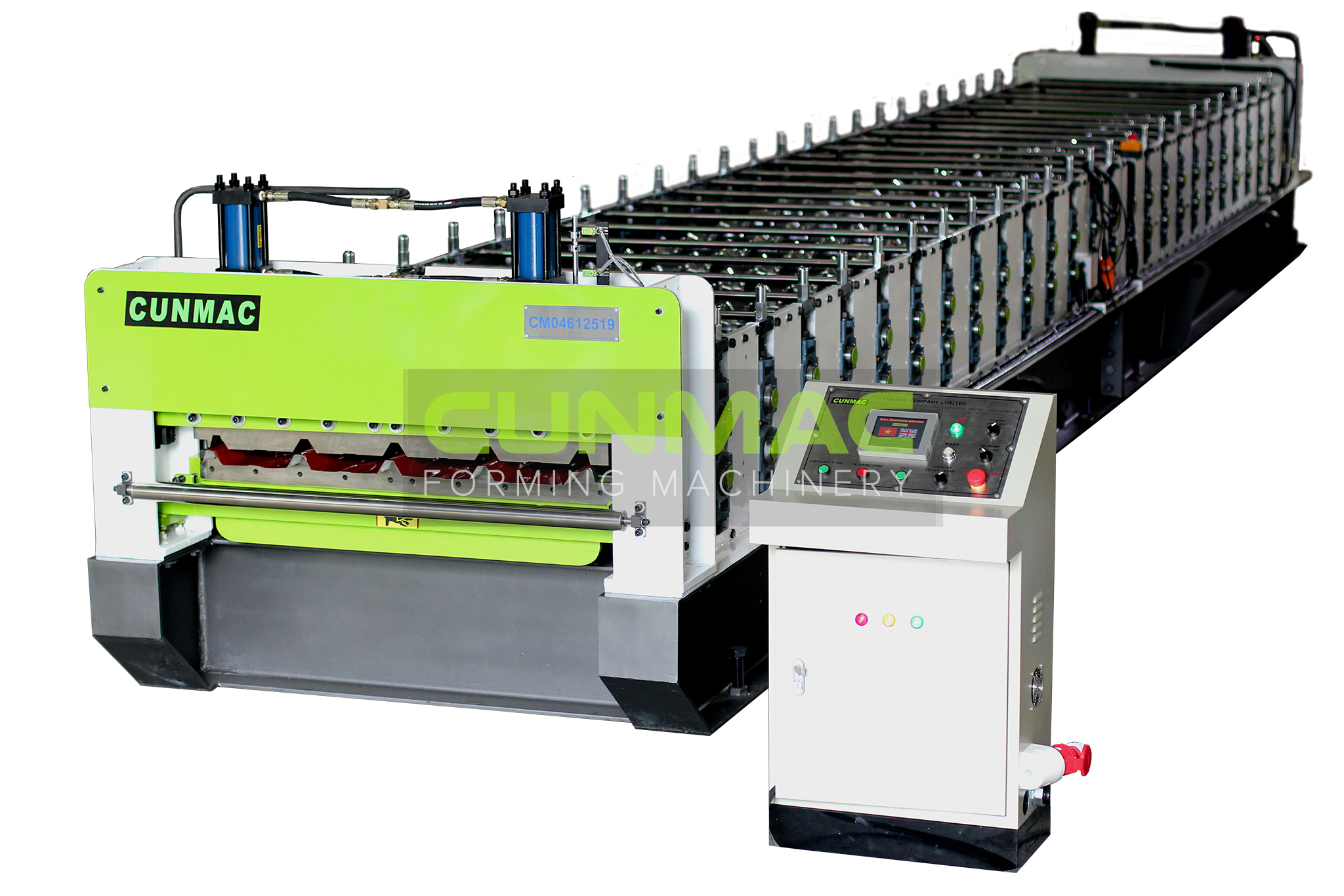 Standard roofing roll forming machine is a roofing machine, called trapezoidal/ rib type/ spandek/ trimdek/ 4 angles roofing/ waves roofing machines, which can create IBR roofing panels by forming metal/steel sheets. 
Read more: Trapezoidal Profile Roofing Sheets | Features and How to produce?
There are various rib-type profiles depending on residential or industrial usage purpose or how common they are used in each country. 
They are including 4-ribs profile, 5-ribs profile, 6-ribs profile, 7 ribs profile, 9 ribs profile, 11 ribs profile or 13 ribs profile.
This is the most commonly used type of roofing sheet in residential and industry projects that factory ownerr usually choose to start their roof factory or construction material business.
Read more: 5 must-have machines to start your roofing business
CORRUGATED ROLL FORMING MACHINE
Corrugated metal roofing sheets are rolled by corrugated roll forming machine, commonly used for roofing in a wide range of applications including roofing, wall cladding, fences, and screens such as:
Household constructions such as houses, kiosks, shops, restaurants, etc,…;

Industrial workshops such as warehouses, factories, offices, …;

Public buildings such as hospitals, clinics, schools, commissars, departments, theater or amusement parks.
Read more: Why corrugated metal roll roofing machine is best-seller?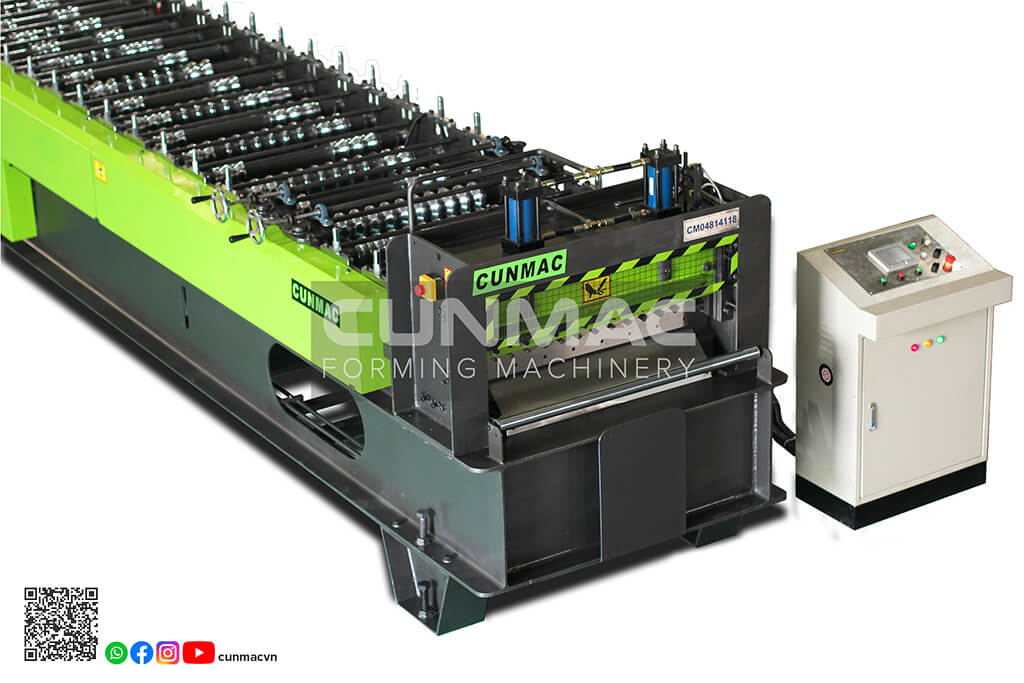 TILE ROOFING ROLL FORMING MACHINE
Step tile roofing roll forming machine or roof tile making machine is a machine can make tile roofing sheets by forming metal sheet. Step by step, the rollers inside machine will shape metal sheet and pressing system make it become a tile roofing sheet.
Glazed Tile Roll Forming Machine has many profiles: Classic tile, Master tile, Ruby tile, Roman tile, Nosen tile, Wood tile, Nuou tile, Aspirant tile, PVDF tile, Modern tile, Nopad tile, wave tile (concave), paragon tile, excellent tile, universe tile, hoduras.
After investing in rib type roll forming machine, the factory owner will continue to buy tile roll forming machine to create metal tile roofing due to higher aesthetics for villas or penthouses
More details: Classic tile roofing roll forming machine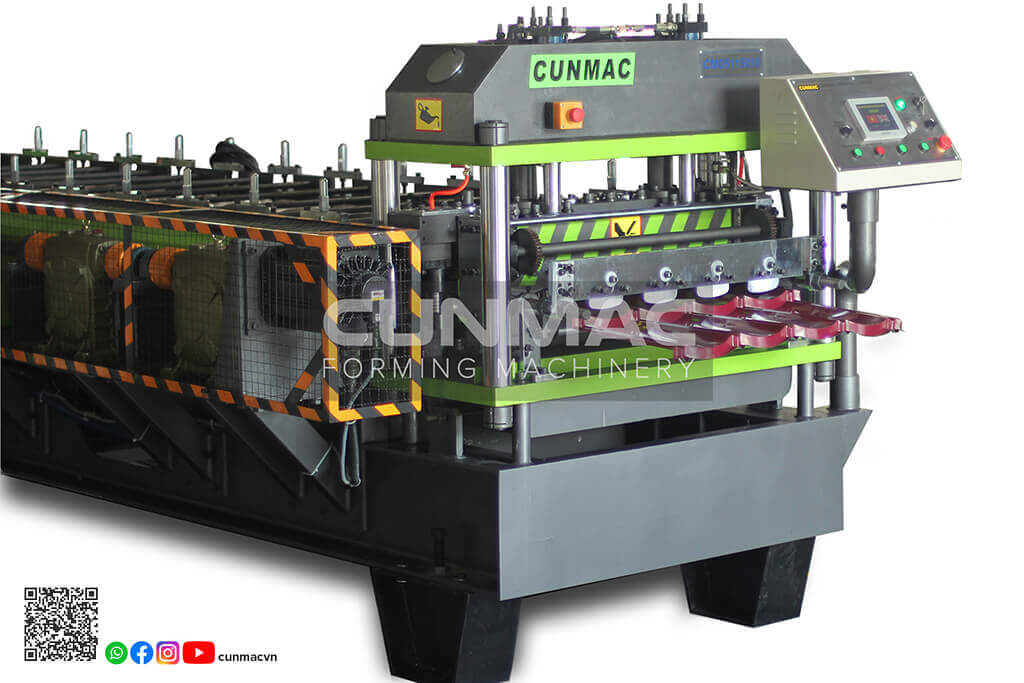 THE DOUBLE DECK ROLL FORMING MACHINE
A double layer roll forming machine has two layers or two levels of roll forming parts which give it another name dual level roll forming machine, and because this machine makes two metal sheets and double sheet roll forming machine, Double Deck Roll Forming Machine, 2 in 1 Double Deck Roofing Sheet Machine are also familiar names to people.
The Double Deck roll Forming machine will usually be combined as:
+ One trapezoidal roofing and one roof/wall cladding sheet;
+ One trapezoidal roofing sheet and one corrugated roofing sheet;
+ One trapezoidal sheet and one metal roof tile;
+ One corrugated sheet and one metal glazed roof tile etc.
Double deck machines are commonly used because they can save your space and save your budget with 2 profiles in 1 machine.
Read more: Invest in double-layer roll forming machine | 4 steps to keep in mind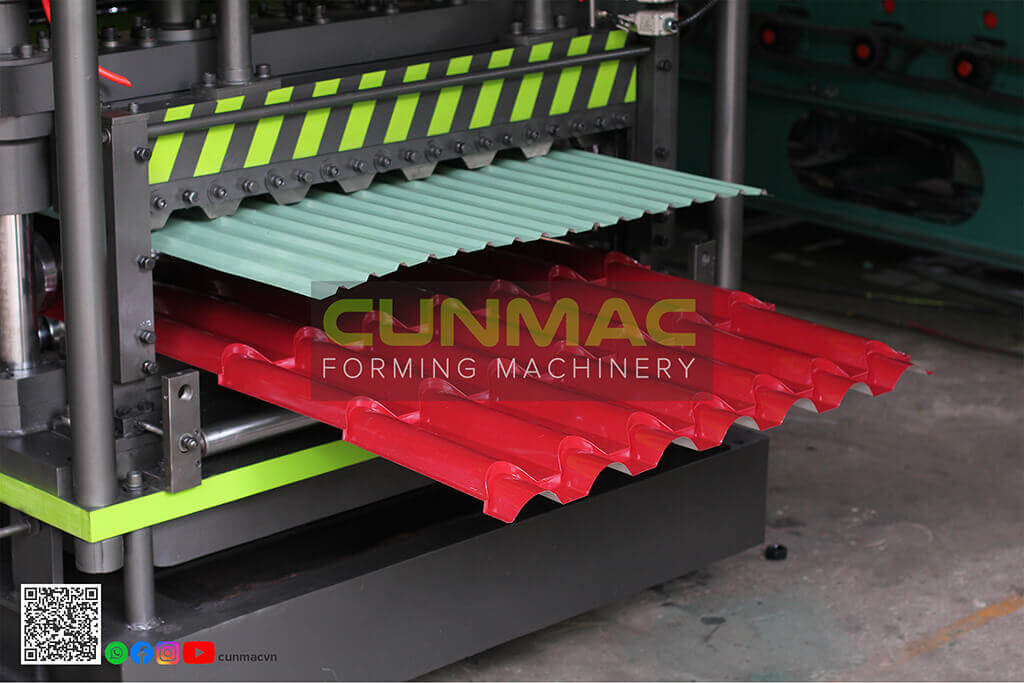 SEAMLOCK OR STANDING SEAM ROLL FORMING MACHINE
The standing seam or seam lock metal roofing look looks terrific and can handle a wide range of conditions well. Proper ventilation and an air gap between the roof and the decking must be carefully designed, however, a properly installed standing-seam roof will last for several decades.
Read more: Specifications of seamlock roll forming machine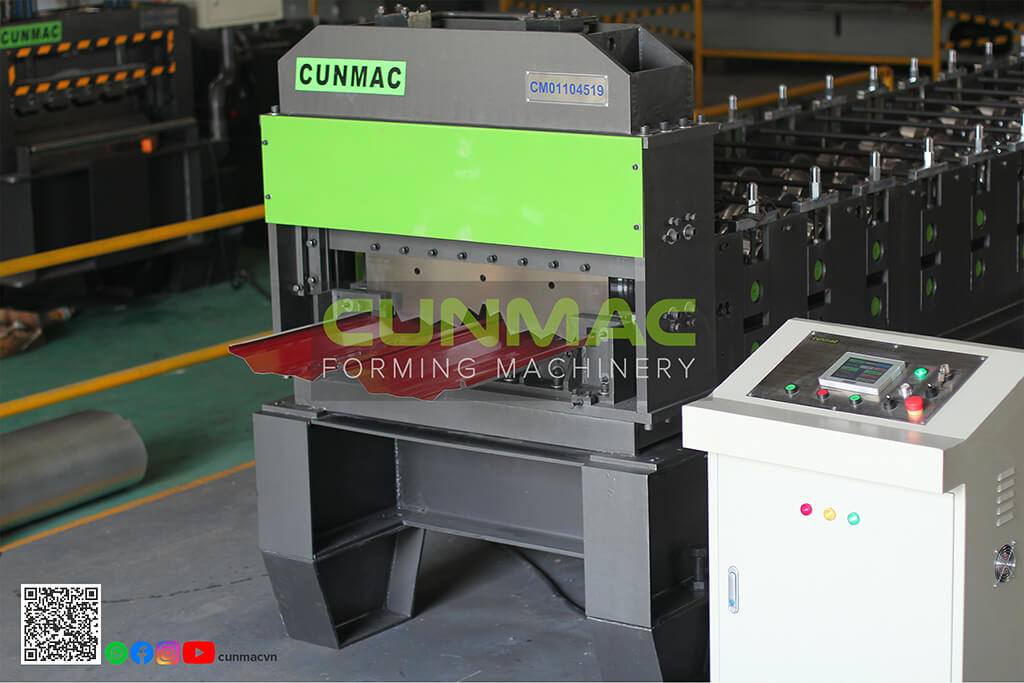 PORTABLE ROOFING ROLL FORMING MACHINE
A portable roll forming machine is a particular design of a roll shaping machine that simply on a consolidated level and handles everything a common machine does. However, simply pack it into a more modest size so it will move without any problem.
Portable roll forming machines do everything a typical metal roll former does, just in a smaller and more condensed size for easier transportation and work at job sites.
Out-standing advantages:
Portable: the machine can be taken to any place of work

Save time: you can create any length of the item hands-on location, not have to set up a timetable.

No need for transportation of sheets: all the sheets will be delivered to the gathered site and furthermore, assemble directly

Machine accessibility & versatility: With the best possible lifting system, versatile machines can be lifted to the height of a structure's rooftop if required.

Ceaseless work: the installers can constantly assemble the panels because sheets are produced on-site.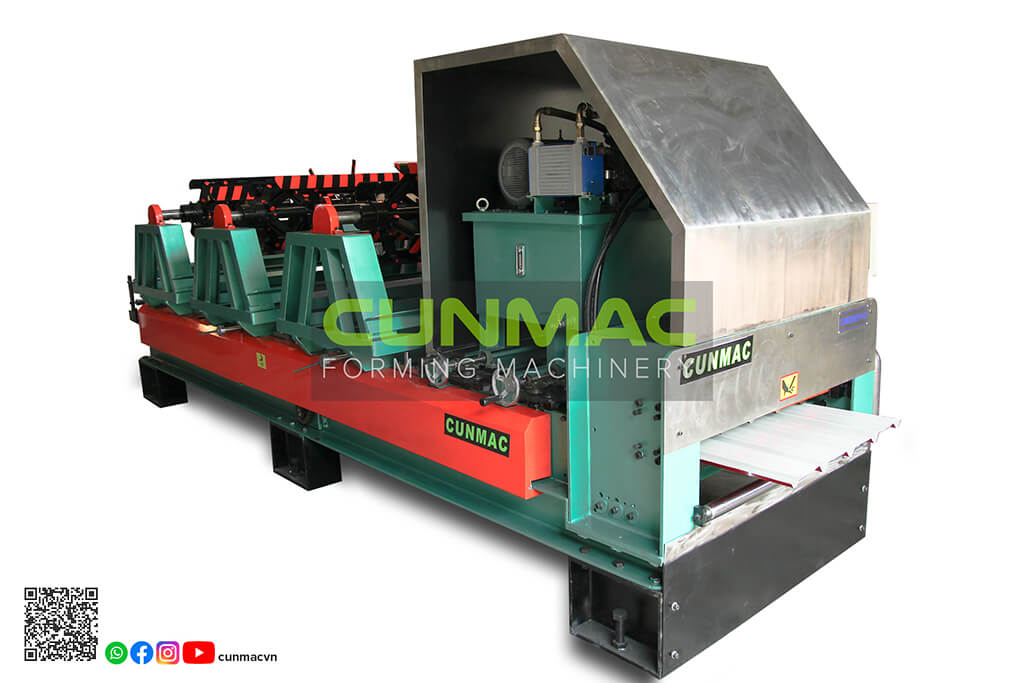 Now that you understand the How many types of roofing sheet making machines to choose before making an investment decision and you are ready to get a quotation of roll forming machinery, our sales reps have decades of experience with metal panel roll former and would be happy to assist you.
For more information on different types or you are ready to purchase please contact our consultant today. To give a better quotation and meet exactly your requirements, could you advise detailed information as below:
Which kind of roof roll forming machines do you need?
Profile or sample's pictures
Thickness and width of the coil
cs@cunmac.com – whatsapp:+84 981 402 902
WHY CUNMAC?
As a global manufacturer of roof panel roll forming machines with over 15-year experience, CUNMAC believes in building partnerships and provides comprehensive customer services. Through resources, innovative solutions, and expert service, we are committed to a stable production with good quality and great services. CUNMAC products have been trusted and used by customers all over the world, which demonstrates CUNMAC's reliability and trustworthiness.
Hotline: +84 981 402 902
Mail: cs@cunmac.com
Factory: 331, Lien Huyen street, Thuan An city, Binh Duong province, Vietnam