1. What is C purlin?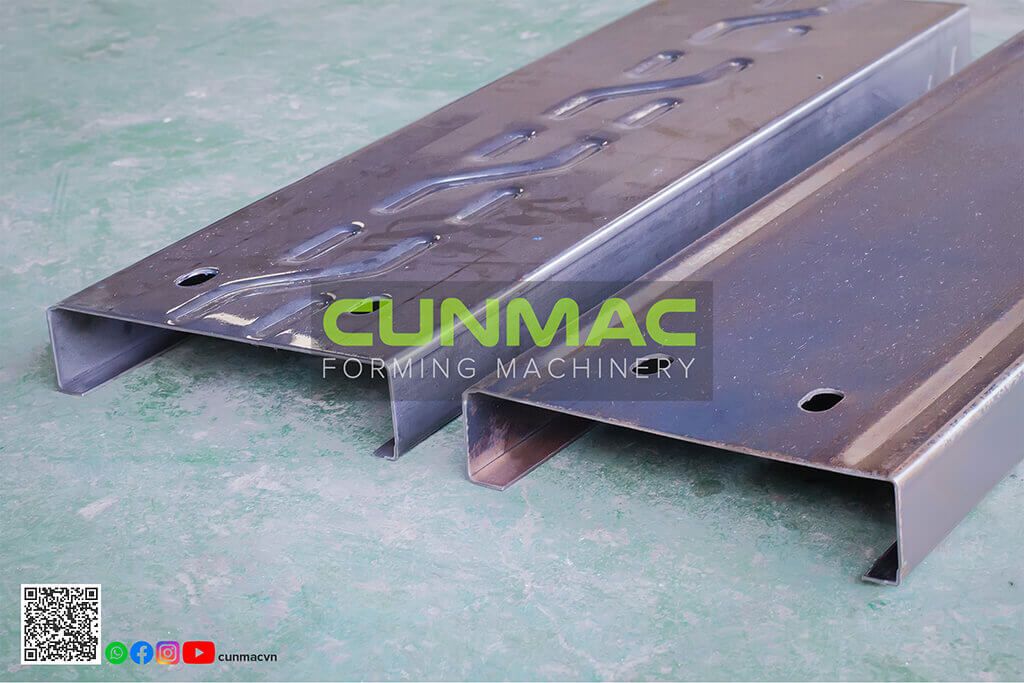 C purlins or Cee purlins is a purlin with a C-shaped cross-section, horizontal beams that are designed to form the roof and wall joists of a building shell structure.
They sit between the roofing sheets and the building, acting as a support for the sheet to ensure it is firmly attached and safely in place.
The advantage of C-shaped purlin is light-weight, easy to install and transport
What is C purlin used for? They are commonly used in designs of roofs, trusses, factories, civil houses, etc.
2. What is C shape purlin roll forming machine?
C purlin roll forming machine is an equipment that produces C shaped steel channels continuously out of galvanized or cold rolled steel strips from feeding, punching for holes, bending and cutting.
This machine is fully automatic and easy to operate with a friendly HMI panel. It consists of one decoiler, sheet guiding equipment, roll forming section, PLC control system, Hydraulic cutting, collection table.
Their main advantages are beautifully customized designs, easy and stable operation with strong body frame.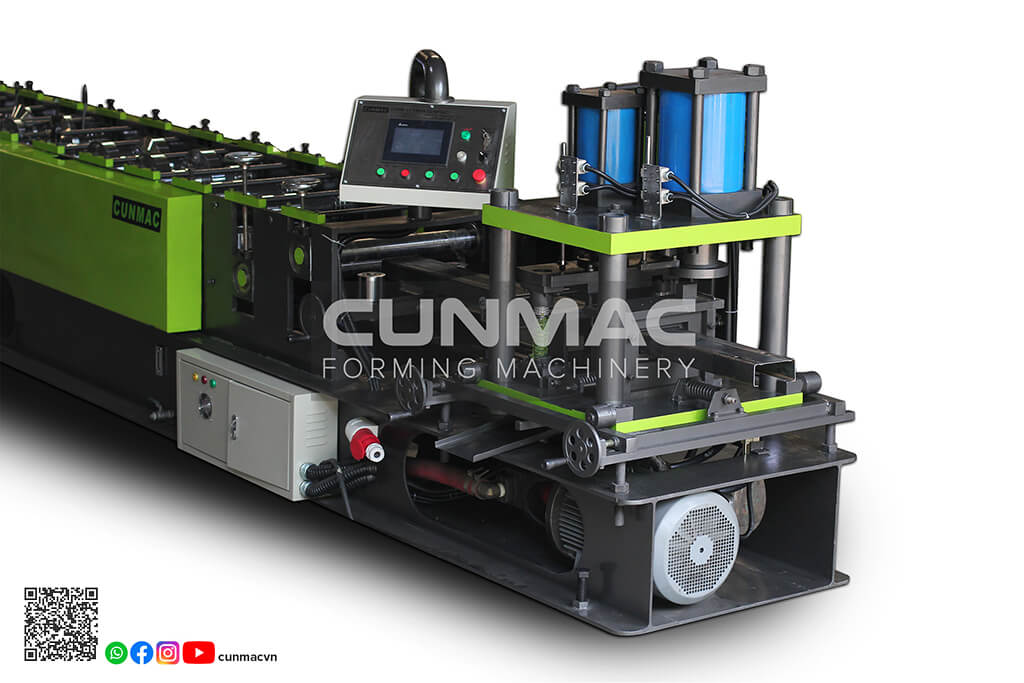 3. Cunmac C shape purlin roll forming machine
– Automatic roll forming and cutting with PLC, HMI
– Automatic programmable length settings via the touch panel
– Roller and blade are fabricated from alloy and SKD11 steel 60-62HRC
– Electrical and hydraulic components made from Japan, Germany
– Save history for orders in 30 days
– Stable operation with strong power and body frame- Stable operation with strong power and body frame.
– Customize design
Read more Z shape purlin forming machine
SPECIFICATION
 Items
ECO model
STANDARD model
HIGH SPEED model
 Total power
11 – 18kw
 Speed
16 – 18m/min
 Dimension (LxWxH)
(8-11)x(1.2-1.6)x1.6m
 Weight of machine
6 – 9 tons
 Roller station
14 – 20
 Material thickness
1.0 – 3.0mm (G300-G550)
 Material width
150 – 450mm
 Transmission system
Hydraulic motor
 Cutting system
Hydraulic cylinder (rear & front cutting)
 Punching system
Hydraulic
 Changing size
Manual with spacers
 Control system
Automatic with PLC, HMI
EQUIPMENT
  Items
Brand
 PLC (CPU)
SIEMENS (Germany)
 Touch panel (HMI)
Schneider (Japan)
 Electric motor
HITACHI/TOSHIBA (Japan)
 Encoder, relay
OMRON (Japan)
 Inverter
MITSUBISHI (Japan)
 Hydraulic components
YUKEN (Japan)
 Cutting blades
SKD11 (Japan)
 Rollers
S45C, SKD11 (Japan)
 Gear box
LIMING (Taiwan)
Cunmac proudly provides C purlin roll forming machine in domestic and international markets including Asia, Australia, Middle East, Africa, America.
Explore more: Cunmac – Z purlin roll forming machine
About Cunmac Machinery
Cunmac offers a wide range of products and good solutions for companies operating in sheet metal, construction, manufacturing industries. Our products include:
All Cunmac machines are professionally and reasonably made in Vietnam, our goal is to provide flexible machines with the best quality and customized designs which give customers unique benefits and experiences.